Bill McKibben in NYC Next Week!
JOIN US FOR CLIMATE WEEK SEPTEMBER 19 AT CITY WINERY
!
PATHWAY TO PARIS AND UNDP PRESENT:
MAINTAINING THE MOMENTUM: A CALL TO ACTION ON CLIMATE
Monday, September 19th

@

8:00pm
(Doors 6pm
)
City Winery
155 Varick Street


(between Spring and Vandam Streets)
Featuring: Bill Mckibben, David Johansen with Mercury Rev, Martha Wainwright, Nicole Atkins, Techung, Xylouris White, Lucy Wainwright Roche, Suzzy Roche, Rebecca Foon & Jesse Paris Smith (Pathway to Paris) & more!
Tickets and More Info
---
Tuesday, Sept 20th @ 6:30pm
#TNRLive: Mobilizing to Defeat Climate Change
SVA's Silas Theater
333 W 23rd St
By: New Republic
Doors open at 6:30pm; Panel at 7pm; Reception at 8:15pm
Tickets: FREE entrance; $20 VIP (including priority seating, invitation to an exclusive reception, and a 6-month subscription to the New Republic).
Here's the link to RSVP/purchase tickets.

Writer and organizer Bill McKibben, Reverend Lennox Yearwood Jr., nationally-known environmental campaigner and President of the Hip Hop Caucus and Elizabeth Yeampierre, respected environmental justice attorney and Executive Director of UPROSE will explore the latest strategies to combat climate change in conversation with New Republic Editor Eric Bates.
Read More

Panelists: Eric Bates, Bill McKibben, Reverend Lennox Yearwood Jr.
New piece by Bill published by The New Republic
---
Tuesday, September 27 @5:30pm
Fellows Lecture: In the Hottest Year, the Hottest Fight
with Bill McKibben
This free event is open to all educators (with priority given to Academy Fellows)
Hosted by The New-York Historical Society
Reception to follow with beer, wine, and artisanal cheese sandwiches

Request a seat here

The Academy for Teachers honors and supports exceptional teachers in New York. We organize Master Classes and other events that bring teachers together with prominent experts in all subject areas. Those who have taken part include Stephen Sondheim, Gloria Steinem, Billy Collins, David McCullough, Alan Alda, Ta-Nehisi Coates, Nobel laureates, Pulitzer Prize-winners, leading academics, and others.
---
Other Upcoming Events and Actions
Today! Thursday, September 15 • 5:30 PM
NoDAPL Solidarity Rally at TD Bank-NW Bronx
TD Bank 281 W. 230th Street Bronx, NY 10463
organized by BRONX CLIMATE JUSTICE NORTH (a 350.org member group)

Last Friday, the Obama administration announced that "construction of the pipeline on Army Corps land bordering or under Lake Oahe will not go forward at this time." That's great news, but we need President Obama to go further and instruct the Army Corps of Engineers to fully revoke its permits.

Ask President Obama to STOP the pipeline construction at Standing Rock and protect the Standing Rock Sioux's water and ancestral lands.
---
Saturday, September 17 @

1:30 - 3:30pm


EXTREME REALITIES; SEVERE WEATHER, CLIMATE CHANGE, NAT SECURITY




72 Greene St, NYC (2nd Flr)


between Broome & Spring St

Host/narrated by Matt Damon, "Extreme Realities" is a new episode in the Journey to Planet Earth series investigating the link between extreme weather events, climate change, and threats to national security. Featuring Pulitzer Prize-winning journalist Thomas Friedman, World Bank President Jim Yong Kim, former CIA Director James Woolsey, and environmental visionary Lester Brown, the documentary focuses on recent political conflicts and severe weather events in Afghanistan, Pakistan, Russia, India, the Middle East, the United States, and the Arctic. (60 minutes, 2014)

This is a free event. Followed by discussion.
RSVP on Facebook
An EcoCinema event organized by 350NYC Climate Education Group in association with EEF
---
Now til Sept 19th 12 - 1:30 pm
Daily Lunchtime Flyering to STOP Spectra!
Senator Schumer's Office
780 Third Avenue
---
Saturday, Sep 17 @6:00 PM EDT (6:00 PM Doors)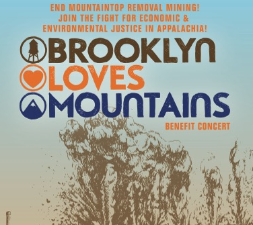 Brooklyn Loves Mountains Benefit Concert




with Gangstagrass + The Defibulators




K

nitting Factory - Brooklyn


Tickets Here

Brooklyn Loves Mountains is a group of environmental activists, musicians, and artists working to raise awareness about the destructive impact of mountaintop removal mining taking place in the Appalachian Mountains.

Learn more about mountaintop removal and its consequences:
http://www.kftc.org/campaigns/mountaintop-removal-and-strip-mining
https://www.facebook.com/pages/The-Canary-Project/206611747792
---
Monday, September 19

@ 4:00pm


Save the Sundarbans Rally




405 East 42nd Street


FB event: https://www.facebook.com/events/1854252714806794/?acti_tab=highlights

Join Bangladeshi-American community groups, FOE U.S. and allies for a rally to call for the Sundarbans to be protected and for all coal development in Bangladesh to be stopped!

The world's largest mangrove forest – home to Bengal tigers – is in danger. The U.S. government's Export-Import Bank is considering using OUR tax dollars to pay for a harmful coal plant in Bangladesh that would wreck the Sundarbans. On top of harming the environment, this plant would be devastating to the people who live nearby. And Ex-Im Bank could greenlight the project as soon as October.

Next week, President Obama and Bangladesh's Prime Minister Sheikh Hasina are in New York City for the United Nations General Assembly meetings. This is our chance to send a strong message that this coal project should not move forward!
---
Monday, September 19
Supply Drive for Standing Rock
Geenpeace is hosting a supply drive in New York City on to collect much-needed donations for the water protectors at the Standing Rock Sioux resistance camps. Can you participate?
What: Donate supplies to the Standing Rock Sioux resistance camps
When: Monday, Sept 19 from 10am-2pm
Where: Greenpeace New York City office at 134 W 29th St, Suite 606 New York City, NY
Resistance camp organizers are asking for camping, cooking, art, and other supplies to keep the growing peaceful opposition to the pipeline going as long as possible. Click here for a full list of needed supplies.
---
Wednesday, Sept 28th @7 - 9pm
Join us for our next 350NYC Monthly Meeting
to hear about Community Solar from guest speaker Gary
Skuknik,
Neighborhood Sun
New York Society for Ethical Culture
2 W 64th St
Elliott Library Room #507