Keene's New Bitcoin Vending Machine The First of Its Kind In Northern New England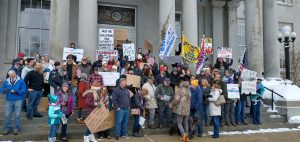 In Concord on Monday December 21st of 2020 at ten a.m., a group of over one hundred people from across New Hampshire gathered at the now-closed state house steps to invoke their Right of Revolution as specified in Article Ten of the Bill of Rights of the NH Constitution. It states:
Government being instituted for the common benefit, protection, and security, of the whole community, and not for the private interest or emolument of any one man, family, or class of men; therefore, whenever the ends of government are perverted, and public liberty manifestly endangered, and all other means of redress are ineffectual, the people may, and of right ought to reform the old, or establish a new government. The doctrine of nonresistance against arbitrary power, and oppression, is absurd, slavish, and destructive of the good and happiness of mankind.
Dan Richard of the New Hampshire Committee of Safety led the event and read aloud a new Declaration of Independence, which you can download a PDF of here. Richard says this is the first time the Right of Revolution has been invoked and that the document serves as a termination of "the state" and its various office holders.

The new Declaration cites various tyrannies, including the unconstitutional "emergency powers" statute that led to the over seventy-five emergency orders issued this year by King Sununu that has trashed the New Hampshire economy and freedoms here generally. Plus, the now-hidden nature of the state gang's activities makes them completely unaccountable, violating Article Eight of the NH Constitution's Bill of Rights which requires its government to be open and accountable. Further, the new Declaration claims the voting system was illegally and unconstitutionally manipulated out-of-view from the people and calls the entire election fraudulent as a result.

It calls out the state bureaucracy's endless harassment of the people as well as the "standing armies of enforcement agents" enacting the tyranny, and the now-secret courts. The new Declaration states that effective means for redress of grievances have been abolished and that, "Our form of government, has become a complete system of tyranny. The Same party is the legislator, the accuser, the judge, and the executioner by declaring themselves invested with power to legislate in secret in all cases whatsoever."

Citing NH's Article Ten, the new Declaration dissolves all political connections between the state and the citizenry, absolving us of any allegiance to "the state".

The crowd of revolutionaries then shouted "YOU'RE FIRED!" in unison and signed the new Declaration of Independence for New Hampshire.

Afterwards, a copy was delivered to the Secretary of State's office and the Attorney General's office. It was subsequently served on "governor" Chris Sununu hiding in his home on Christmas Eve. Here's video of Monday's visit to the state house and AG's office including nearly all of the reading of the new Declaration of Independence. I missed the first few paragraphs due to a dead camera battery:

https://youtu.be/Q8OW9Bg6liE

Kudos to the heroic folks who came out to end the failed experiment of the New Hampshire government.


Feel free to get in touch with me if you have questions or would like to interview an activist,
Ian Freeman
Blogger, FreeKeene.com
603-513-2449
Last Ten Headlines at Free Keene: