From Eugene Peterson, translator of The Message
The Best Gifts are Unexpected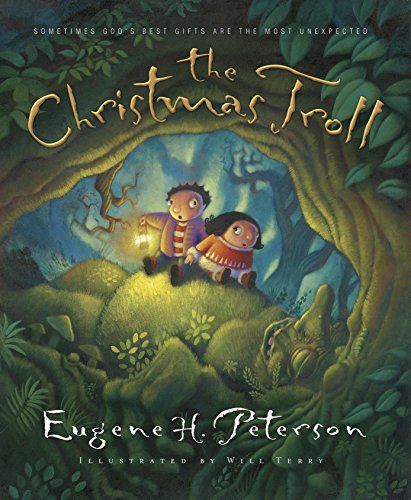 The Christmas Troll will become your new favorite Christmas book, for young and old alike. Written by Eugene Peterson, who translated the Bible into The Message, its message calls us away from this world and to Jesus. You can read it for free on the Hoopla app, which you use with your local library card.
Recipe
Mints Turn Into Brownie Toppers
Convert all those peppermint candies into thin discs to top fudgy brownies! It's a festive twist on dessert and it's fun to see the patterns they make when the melt. A craft and a dessert in one.
Watch with your extended family
Christmas Eve
Candlelight Worship
Join Parkside Church online for an intimate worship-only Christmas Eve service. The short event is perfect to enjoy with family and friends. Log onto the Parkside Facebook page for the livestream on Dec. 24 at 6pm.

Submit your family Christmas photo from this year or last for the slideshow to office@parksideauburn.com.
Outside with Rae
Auburn Adventures Start Here
This is Robie Point, the start for just about any adventure you could hope for in the Auburn State Recreation Area. At the end of Robie Drive in the oldest section of Auburn, you can head in three different directions that will lead to very different experiences depending on your wishes (and physical abilities). From the small parking area three gates invite you to explore the ASRA.

Robie Point to Murphy's Gate: Though there is nothing flat in Auburn, this is the gentlest option from Robie. It will take you over a packed dirt fire break road that leads to Highway 49 at Murphy's Gate where there is a pull out parking area (very popular on weekends). This 3 mile round trip provides views of the American River and Foresthill Bridge. Deer and turkeys, as well as fellow hikers are frequent trail companions. Another trail branches off half way and leads down to the Western States Trail that will take you past Calcutta Falls to No Hands Bridge. The American River remains in sight the whole way. This alternate route to No Hands is 4+ miles round trip.


Robie Point to Western States: Just down the steep, rocky trail from this gate it's decision time. Go left around Robie Point to the Western States Trail mentioned previously along the American River to No Hands Bridge or hang a right and follow the WST route used by the Tevis Cup 100 mile horse ride to Overlook Park. You will have lots of company as this is a very popular hiking/running route. The climb to the park is strenuous and you still have to get back to your car. Round trip is about 4 miles.

Robie Point to Marion Way: This third gate at Robie leads uphill [read more here] . . .
Spotify Playlist by Michael McDonald
Freshen Up your Christmas Music with Updated Classics


My wish is that this playlist "Rise Up Shepherd", provides songs of nostalgia and new versions of classics that can become an addition to your Christmas season. Some standouts include Come Thou Fount of Every Blessing by Sufjan Stevens, Eternal Gifts by Leigh Nash, Rise Up Shepherd by Twin Bandit, Oh, Mary and the Baby, Sweet Lamb by Elizabeth Mitchell, How You Choose to Come by Ordinary Time, Santa Claus Is Coming to Town by Keith Jarrett and Refugee King by Liz Vice and Hannah Glavor. Hope, cheer and blessings to you and yours—and to the stranger, to the poor, to the widowed and orphaned.