Welcome to the UFWDA eNews edition for October 2020

This edition also doubles as notice of the United Four Wheel Drive Associations Inc. (UFWDA) Annual Meeting and we apologize for the late notice. It has been a mixed up year that has scrambled many processes for organizations, UFWDA included. We would however really like to get a good representation at this online meeting, so please put the date and time in your calendars and register your interest in advance so we can send you meeting details.

There is an opportunity to get directly involved in UFWDA too, with nominations for three roles being invited. If you want change in how United functions, this is the time to make that move.

Please feel free to forward these editions of UFWDA eNews to other four wheelers. Because some of our member organizations don't enroll their members as members of UFWDA, we don't have email addresses of those individuals. Member numbers count when advocating for a cause.

Here at UFWDA, we are volunteer based and our Board members are geographically dispersed, so regular 'online' meetings have been our primary management tool for quite some time. Our 'overheads' are minimal, but we still need to have a good membership base. You can join or renew at https://united4wd.org/join-ufwda


Stay safe




Peter Vahry: editor
UFWDA Annual General Meeting



Notice of the United Four Wheel Drive Associations Inc. 2020 Annual General Meeting (AGM)



The AGM is to be held as a 'Zoom' 'online' meeting on...
Thursday 12th November at 5.00 pm PST


All members, individual and organization delegates are invited to attend.





Please register your interest in attending this event in advance so that you can receive an invitation, agenda and the joining details for the meeting.


To register, please email annualmeeting@united4wd.org

Nominations are invited for President, International Vice President and Director of Membership as per Section 4. TERM OF OFFICE.
Each Director shall hold office for two years or until a successor is duly elected. Terms of Directors shall be staggered, the President, International Vice President, and Director of Membership elected every even year and Vice-President, Director of Public Relations, Director of Environmental Affairs, and Treasurer elected every odd year.


To register a nomination, please email

nominations@united4wd.org

Nominations are also invited for the four Annual Awards as listed on https://united4wd.org/about-ufwda/ufwda-annual-awards

To register an award nomination please email awards@united4wd.org



Member organizations are invited to submit a report on their year for inclusion in the AGM.



NOHVCC's webinar series continues

–
join us on October 21

Title: Effective Grant Writing

Nikhil Narkhede, OHV Program Manager, Department of Conservation and Natural Resources, Off Highway Vehicle Program, has a lot of experience with grants. In his role with Nevada DCNR he reviews grant applications and has a say in projects that get selected for awards. Please join us as Nikhil presents on Effective Grant Writing during NOHVCC's October 21 webinar. Nikhil will cover basic grant writing and provide some tips and advice on how to make your grant application stand out. You do not want to miss this!
When: October 21, 2020
Time: 8:00 PM Eastern
Cost: FREE!
Register For the Webinar Here!
If you register for the webinar – NOHVCC staff will reach out to you with information on how to log in within a few days.
Primary Presenters include:
Nikhil Narkhede, OHV Program Manager, Department of Conservation and Natural Resources, Off Highway Vehicle Program
Duane Taylor, Executive Director, NOHVCC

Any questions should be directed to trailhead@nohvcc.org.
BLM California News.Bytes Issue 923
A news source for Californians....
https://content.govdelivery.com/accounts/USDOI/bulletins/2a3c386

It's Desert Tortoise week!
Did you know the desert tortoise is the official state reptile for #California? The Mojave desert tortoise, which is a threatened species, is easily frightened by human contact - sometimes a tortoise will become so scared that it urinates, which can result in the tortoise dying of dehydration. If you are lucky enough to see a tortoise in the wild, stay far enough away that the tortoise does not change its behavior - if the tortoise ducks into its shell, you're too close! You and the tortoise will both have a better interaction if you stay at least 20 feet away from it. To learn more, check out this video: The Heat is On: Desert Tortoises and Survival (BLM CA Facebook)
Jeep Wrangler Rolls Over the Edge of Black Bear Pass in Telluride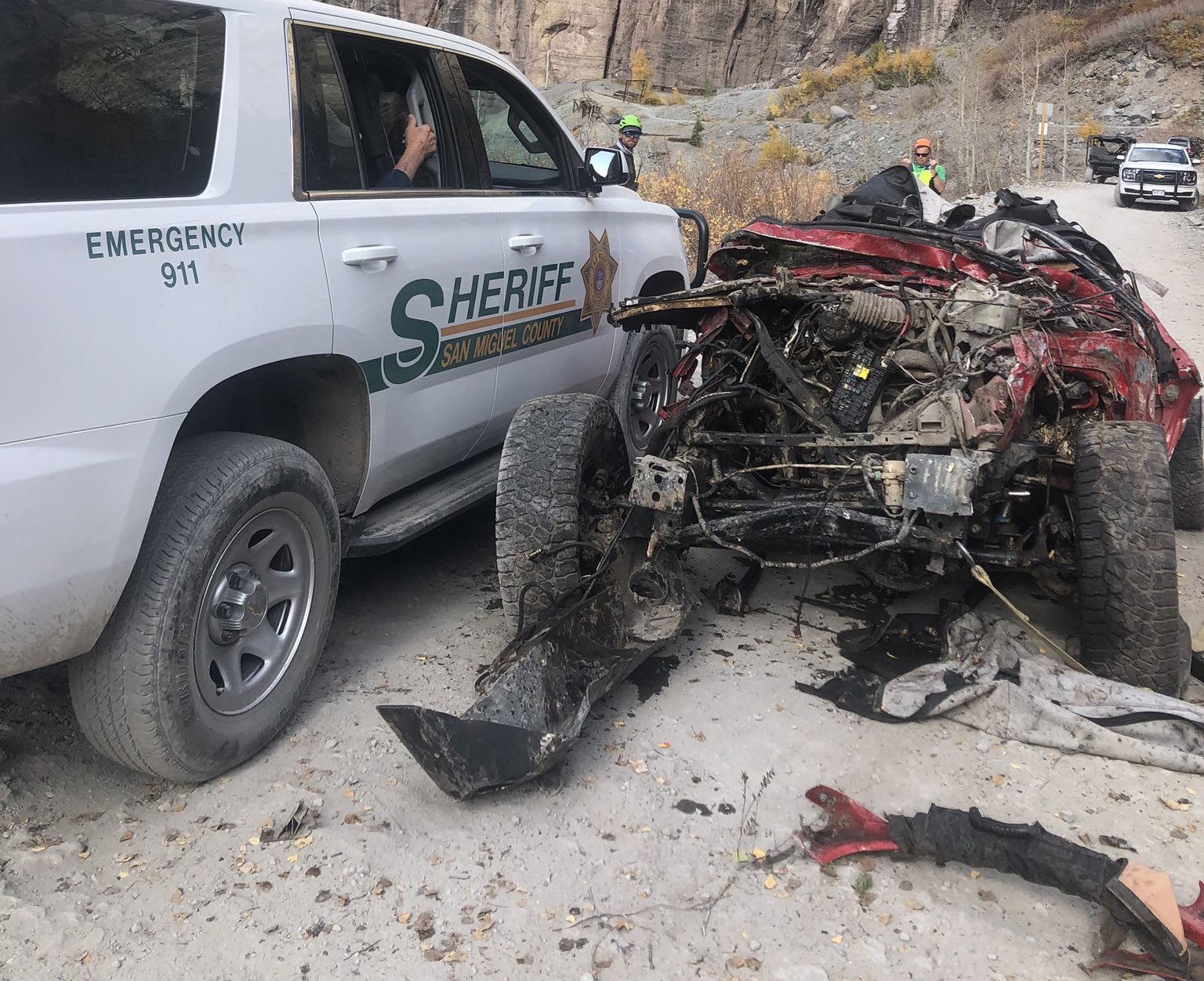 Courtesy of San Miguel Sheriff (via Twitter)
Blake Froistad 10/12/20
A sobering reminder for all off-roaders.
Colorado's Black Bear Pass provides some of the most majestic views in the world. As the 4x4 trend grows, more people are putting their nerves and rigs to the test on this iconic trail. Although the majority of the trail consists of more moderate terrain, the final descent into Telluride is more than enough to make your stomach churn and have you checking your brakes. Most of that descent is a one-lane road, with very limited room for error. Although most travelers end up safely descending down into town and conquering the beast, others haven't been so lucky.
On October 10, San Miguel County Search and Rescue responded to a Jeep that rolled off and down several switchbacks before coming to a rest on the lower portion of Bridal Veil Rd.
According to San Miguel Sheriff, the 22-year-old driver shut off the engine, applied the emergency brake, and exited the vehicle to assist a driver behind him with one of the switchbacks, leaving his passenger in the car. The Jeep then started to move forward and the driver turned and attempted to jump back in the Jeep to steer it, but was thrown into rocks and the vehicle left the road. The Jeep then rolled down several switchbacks ejecting the passenger before coming to a stop on the roadway below. The driver escaped with minor injuries, but the passenger was flown to another hospital with more serious injuries.
https://ourcommunitynow.com/news-local/jeep-wrangler-rolls-over-the-edge-of-black-bear-pass-in-telluride
Stay the Trail
Contributed By Frank Whiston from New Mexico 4-Wheelers "Trail Tales"



Here is a seemingly simple photo, but captures a huge issue we are dealing with on trail access.
1. The trail is supposed to go straight here, but the go-around was created by those who didn't want to slow down for that small rock shelf on the left.
2. The go around crosses the gas pipeline. The gas company has made it clear that they will lock the gate if the public drives across the pipeline. Let me be clear that this road only exists because the gas company obtained a permit to build it. Public safety and their USFS permit allows them to lock the gate whenever they want.
3. The go around allows drivers to go so fast that you can see the trees turning red from dust. This will eventually suffocate and kill the trees and now we have more trail widening and erosion, which will also get the trail closed to the public.

Just FYI, there are much harder non-optional obstacles on this trail, so this is not a function of vehicles on the trail not being able to clear the bump on the left. What are the solutions so that we can keep it open?

Three E's. 1. Engineering: we will replace the rock barriers that we put up this spring with larger ones, to direct traffic to stay straight here.
2. Education: we try to instill respect and @treadlightlyteam principles in all our guests, and anyone with whom we come into contact who stops by the shop for info or people we meet on the trails.
3. Enforcement: if you witness someone driving around barricades or off of the established trail, speak up. If it appears that they just don't know, I politely say "Hey, I know you're having fun, but you should know that in this area, not staying on trails is a huge fine." Some will say "oh, we didn't know", others might flip you a finger. Get photos, call the ranger station. Please do your part, whatever you can. We aren't getting any more trails; we have to take care of the ones we have.
Record, Report, Let Us Remove



If you notice graffiti, please RECORD it. Use your cell phone or digital camera and take a shot of the related damage. Note your location and if possible, your coordinates.

REPORT the damage to the Bureau of Land Management Tip Line at 800-722-3998. If possible, include photos and coordinates with your report.
If you find graffiti on BLM lands, please do not attempt to REMOVE it yourself.

In many cases, graffiti near ancient petroglyphs or pictographs is very difficult to remove and requires specialized training to avoid further damage to the site. Restoration conservators are experts in rehabilitating damaged sites. Well intentioned people who attempt to remove graffiti can cause permanent damage to cultural and archeological sites.

Vandalism of public lands and natural resources is illegal under federal law, and the potential penalties for someone who is convicted of class A misdemeanor vandalism include a fine of up to $100,000, or up to one year in jail.
#LeaveItBetter #LeaveItBetterUtah
#ReportRecordLetUsRemove
#ResponsibleRecreation
#DiscoverBLMUT
Photo Credits: BLM Law Enforcement and Employees


Land Use Update -
The Gulches

Save The Gulches! The famous Gulches Trail System(Hackett, Longwater, and others) in Park County are under threat of permanent closure! This is a fundraising campaign for the legal defense of those trails. By donating, you will be helping us through litigation to legitimize this area once and for all!
Please help us keep this area open to multi-use recreation!