Speech, Language and Oral Placement Therapy and Children with Down Syndrome
When:
Tuesday June 25th from 7:00 PM to 8:30 PM
Where:
Kimbourne Park United Church
200 Wolverleigh Blvd.
Toronto, ON
M4C 1S2
View Map: http://goo.gl/maps/Vt4AV
Registration is now open!

Click the link below to register
Overview:
Speech, Language and Oral Placement Therapy and Children with Down syndrome
Karen Thadani and Crystal Neil are registered Speech-Language Pathologist who have been practicing as a whole for 8 years. Karen and Crystal specialize in providing speech and language therapy to preschoolers, toddlers, and school-age children with oral motor, feeding, speech and language disorders. In addition, they provide consults to parents, caregivers and schools with the efforts of improving the quality of life for all of their clients. They received hands on training from Sara Rosenfeld-Johnson creator of Talktools and the oral placement approach, and are currently two of six (2/6) Level 3 trained therapists in Canada.
Karen and Crystal will present on Down syndrome and Oral Placement Therapy (OPT). This workshop will focus on the acquired functional deficits of children with Down Syndrome and how it impacts feeding and speech; as well as the important building blocks needed for language development. Various modes of Augmentative and alternative communication will also be explored.
If you have any question you can email us at web.team@dsat.ca or call our office at 416-966-0990.
Child Care:
Child care will be provided through the East End Children's Centre (EECC). The EECC has a parent-child drop-in program which runs from 4 - 6:30. Families attending the workshop are also welcome to attend the parent-child drop-in beforehand if they wish. The workshop will start at 7 pm. Families who sign up for child care should arrive by 6:45 to get their children settled. We also ask that infants who are not yet walking accompany their parents in the workshop.

Please Note: If you're taking advantage of the free child care please registration by June 21st.
Subway:
Kimbourne Park United Church is just a short walk from the Coxwell Subway Station.
Green P Parking:
1612 Danforth Avenue
Rate: $1.00 / Half Hour
Night Maximum (6pm - 7am): $3.00
737 Rhodes Avenue
Rate: $1.00 / Half Hour
Night Maximum (6pm - 7am): $3.00
1439 Danforth Avenue
Rate: $0.75 / Half Hour
Night Maximum (6pm - 7am): $3.00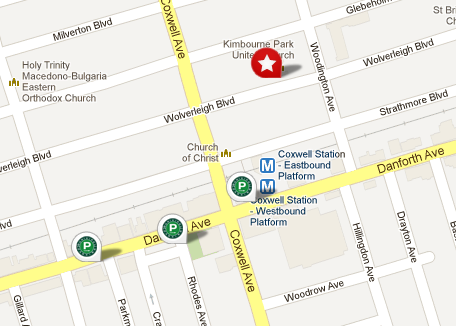 Registration is now open!

Click the link below to register