Hello Wonderful People.
Welcome to another one of our spasmodic eNewsletters. Seems like they just pop up when it's time, a bit like the gifts and lessons that appear in my life to keep things interesting.

This first couple of months of 2020 has been mostly dedicated to getting the last touches of writing and proofreading done for the 'Dynamic Teaching and Facilitation' Mini Book I.

The next couple of months will be totally filled with several exciting and rich workshops, courses and events, three of which are 'once only' opportunities, with Charlie McGee and 'Formidable Vegetable' visiting Crystal Waters and Playing a big gig very soon :) Also Starhawk will join me for a 3 1/2 day workshop in May and a tour group from the Australasian Permaculture Convergence (APC) will spend two days visiting Crystal Waters and two more days on the Sunny Coast visiting Permaculture sites.



I'm totally juiced up and delighted to be offering my annual 'Dynamic Groups, Dynamic Learning' at Crystal Waters in just over a week. There are some places left so talk to me about payment plans or refresher prices as I'd love to welcome two more people.

Hope to see some of you at one of our events or at the APC and may whatever you're doing and creating at the moment be full of joy and purpose and care for our world.

Much Love,

Robin
Facilitation, Teaching and Group Leadership
Hello Wonderful Community and Heart Centred Practitioners.
Many of you know the core work Robin offers in the world. As well as Permaculture, her key focus and offering is the 'Dynamic Groups, Dynamic Learning' courses, workshops, writings and educational resources.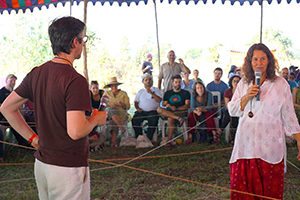 Robin and Andy Goldring Weaving a 'web of connection at a conference' in India.
She feels very strongly that to support our world, our communities and positive change in education, the environment, social and political challenges etc we need people who are well skilled and trained in facilitation and group work.
Read more here.
Intention for the 'Dynamic Teaching and Facilitation' Book Series
"I assist the gaining of skills and knowledge plus the progress of the group and each individual in an active, energetic, meaningful, smooth and progressive way. This enables outcomes of success, achievement of individual and group goals, enhanced learning, fun, motivation, support and innovation, for a better world."
Thank you, Robin Clayfield
Beautiful Artwork, Design and Formatting will add Colour and Flare to the 'Dynamic Teaching and Facilitation' Book
Robin's long awaited first book in the 'Dynamic Teaching and Facilitation' series has now gone to four proofreaders and three general readers for their review and feedback. In it's fourth draft and being 'The Foundations', it's taken awhile to get it right.
Beautiful Artwork by Brenna Quinlan and Meg Clark's Design and Formatting Work will add Colour and Flare to Robin's New Book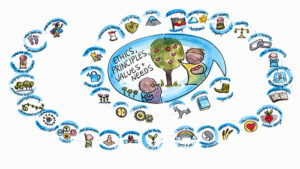 Brenna was commissioned to create seven 'Art Maps' to grace the beginning of seven of the main chapters. They are 'Mind Maps' but with the words transformed into art. The delightful and soft pastel colours that Brenna is famous for has given designer and formatter Meg an additional theme to incorporate into the creative touches and elements of the book.
The image shown is for the 'Ethics, Principles, Values and Needs' chapter and shows all the topic headings covered in the chapter.
To find out more or support the book email Robin
Activity Coding for 'Dynamic Teaching and Facilitation' Books
The Design for the book series is well under way and Mini-Book I is in progress with formatting, proof reading and last additions. It is soon to be edited before the final layout and design is completed.


A colour coding system has been designed to easily show readers all the activities. They will certainly stand out from the general text, having a distinct heading and delightful background colouring and design. The various Processes described in the book will also have their own unique heading and design, as will the quotes and the visualisations which are sprinkled throughout. This image is an example of the Activity Coding, though it hasn't had words typed over the background.

'Formidable Vegetable' Music Band and Charlie McGee at Crystal Waters Eco Village

It's been a bit of a secret but now that it's only 8 days away it's probably OK to share that Charlie McGee is making his way over in his house truck from his home in WA to be part of Robin's annual 'Dynamic Groups, Dynamic Learning' 6 day Creative Facilitation and Teacher Training.
Already a dynamic performer, teacher and professional public figure, Charlie's involvement in the course will be a great addition to the group of wonderful people coming together for the course.
Robin didn't want to promote the course based on Charlie's involvement as she wanted it to 'sell itself' and attract the people who were really keen to be there anyway.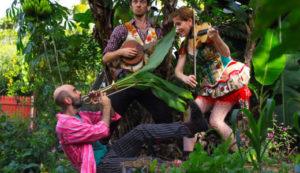 The big bonus is that Robin will be organising a super big gig for Charlie and his full band the night after the course finishes at Crystal Waters. Mal Webb and Kylie Morrigan from Melbourne will be travelling up to join Charlie and the night promises to be a huge and joyous experience for celebrating Life, Permaculture Living, Earth Care, People Care and all that's good in our world. There will be a few surprises for sure and definitely lots of dancing.
Come join in on Saturday 21st March at Crystal Waters Eco Village from 6pm for dinner, pizza, chai etc and music from 7pm. There will be a bar as a fundraiser for Crystal Waters Community Co-op. Bookings are here.
Sacred Union Labyrinth at Woodford Folk Festival 2019/20
By Erin Young

For 3 years, I've been an installation artist for a special project - the Sacred Union Labyrinth at Woodford Folk Festival. Labyrinthine swirls emerge in small standing rock formations as the pathway for this unique journey is established.

Labyrinths have been with humans for thousands of years. They well pre-date Christianity, and come in many patterns.
They are a "model of spiritual cosmology" in the form of an interactive mandala woven by sacred geometry. The movement-based mediation of walking a labyrinth echoes the twists and turns of the human experience.
Read more here.
Exciting Special Events with Special Guests
in March and May 2020

Starhawk from USA

Charlie McGee and Formidable Vegetable

Robin Clayfield, on behalf of Northey Street City Farm (and herself) has invited the much loved and respected author, activist, ritualist and Permaculture teacher Starhawk from the US to be our very special guest at the APC (Australasian Permaculture Convergence) and to also co-facilitate a 3 day and 3 night Social Permaculture in Action Immersion with Robin at Crystal Waters Permaculture Village.
Dates for the APC - 20th to 23rd April 2020
https://apc.nscf.org.au/
Dates for the 'Circles of Community' Social Permaculture in Action course are 7th to 10th May
Here's the link to the FaceBook event for more information and details for booking

Robin's annual 'Dynamic Groups, Dynamic Learning' Creative Teachers, Facilitators and Group Leadership Course at Crystal Waters Permaculture Village is fast approaching.

Dates - 15th to 20th March 2020

Immediately afterwards the absolutely fabulous, fantastic and frolicking Permaculture band 'Formidable Vegetable' will play at Crystal Waters for a night of fun and dancing. This will be their first ever appearance at Crystal Waters.

Here's the FaceBook Event

Date - 21st March 2020
Dynamic Groups, Dynamic Learning 6 Day Course at Crystal Waters
15th to 20th March 2020
Places are filling for Robin's annual Crystal Waters Teacher Training, Facilitators and Group Leadership Training for people from all different industries and walks of life.

Robin has pioneered creative and interactive learning and facilitation methods around the world since the late 80's. She has guided and mentored a whole generation of trainers and group leaders who now expand the edge of training and facilitation in Permaculture and many other fields globally.

Offering this course in her home community of Crystal Waters is a highlight and enables the fullness of resources,a great venue and the very best cooks and local food yummyness to be present.

Here's the poster for the course. Please contact Robin for an emailed full size version.
Testimonial for 'Manual for Teaching Permaculture Creatively'
given by Rob Hopkins of Transition Network
"Greetings. I love your Manual, it has completely changed how I teach over many years... Your Manual was a life-changing read for me"

Rob Hopkins


'The Manual for Teaching Permaculture Creatively' was written by Skye and Robin Clayfield in the early 90s and published in 1995. It's sold over 1000 copies without any promotion and supports teachers and facilitators in over 75 countries (that we're aware of) in creative facilitation and facilitating learning instead of lecturing and other non participatory methods..

These days it's available as a PDF. There's a link here if you're interested
Have you Done one of Robin's Courses over the Years? Did you Receive an Email Inviting You to Answer Two Questions about the Course in 50 Words... For her Book?
If the answer is NO! the email may have gone to your spam folder back in August. Erin did the work of emailing and has now sent individual email to about 50 people instead of 100's in batches of 45 at a time.
We'd greatly appreciate you providing a testimonial on your experiences with dynamic facilitation, to be displayed in the book ASAP.
The email sent originally gives more details. But in short, here's the request:
Please provide an answer to this two-part question, plus your name and professional title/work/passion/business.
QUESTION PART A – How has the 'Dynamic Groups, Dynamic Learning' methodology benefited you? I.e. What skills did you gain from the course and materials?
QUESTION PART B – How are your trainings/programs/group work/etc different now? i.e. How have you incorporated the methods and processes? Have you evolved it further in your own fields/contexts/industries? If so, how?
Please: only 50 words maximum for both questions part A & B, combined.
Here's the link to the Google Doc. form.
If you have any questions about this, please email
Robin
. Thanks so much:)