Rincón de Guayabitos in the Riviera Nayarit is a destination that you can not miss!
"ExploreNayarit.com Is Under New Ownership"
You will start seeing a couple of lovely ladies here on this site and around our bay. You folks are the lucky ones, for now instead of the ramblings of an ole fart(me), you will hear from 2 young ladies who, I think, will have altogether new thoughts and possibly directions for this well known and popular site.

The new owners are:

Rosy Martinez - Arquitecta, Director of Sales
Rosy Camacho - Lic. de Administracion, Office Administration
Norman K. Lutgen - Director of Management
You have all put up with me long enough. It is time for us all to move on to new and better, what ever that means in our lives. Nothing much will change in the operation or usefulness of the site, so don't fret. And I will be around for questions and assistance for as long as I am needed or wanted. You will also be able to find the new owners at a physical location in La Peñita, Oceano Pacifico # 30.
David Thompson
Founder and Former Owner
Welcome to all 3988
newsletter subscribers! We hope that some of you enjoy watching our numbers grow, as much as we enjoy sharing them with you. There is not much growth this time of year, though!
It almost looked like the rainy season was coming to an end. Then along came hurricane Willa. The threats and the forecasts proved to be much worse than her bite. All is still well in Jaltemba Bay and there are no new storms on the horizon.
Reservations continue coming in for this coming season and many of the hoteliers are telling me that they are already booked. It is definitely time to get yourself booked in to your favorite spot. If you have a choice, please consider patronizing one of our advertisers, if they aren't full already. Due to a technical glitch, one of the favorite rentals, Los Compadres Resort still has a couple openings. Please contact them via this link to their web page.
Announcements for any future fundraising functions will be made when I am notified of their dates, times and other pertinent information. Keep a lookout in this newsletter for your favorite events.
Note: As a community service, we at Explore Nayarit promote all charity fundraisers for free. So if you have a charity event you want to publicize, send me the particulars and we will help you get the word out.

To find out what else is happening, read through the informat

ion below and take a peek at our

online calendar.

Photographers and Writers: I sure could use some stories to share with our readers. Some of you sent in stories in the past that never made it to the newsletter, as they got lost in the upgrading process. We hope that you will not be discouraged and will again share with us your experiences here in the bay and beyond.

Click here to learn how to submit photos and articles.

To help plan your upcoming trip or your day in the bay, don't forget to check the current weather conditions on our weather page.

Watch for the next issue of the Explore Nayarit Newsletter to arrive in your Inbox some day soon, but nonetheless just in time for your morning coffee or hot chocolate.

In the meantime, keep an eye on our blog, event calendar and forum, as articles and photos are posted there on a regular basis.

Saludos!
Arq. Rosy Martinez
Editor, Explore Nayarit Newsletter
Y

ou and our other subscribers enjoy this FREE newsletter, website and our community forum solely because of the financial support from the local businesses, hotels and rentals who advertise on ExploreNayarit.com.

We want to thank them and encourage you to patronize these businesses to show your appreciation for sponsoring the best news and information in our community.

If you own a business, please consider joining our list of advertisers to ensure that this valuable resource is always available for locals and visitors alike.
Viking Real Estate & construction

Office: 327 107 0088
Océano Pacífico Sur 48, Col. Centro,
La Peñita de Jaltemba, Nay.
Christmas Started
Christmas or Christmas is an annual commemoration of the birth of Jesus Christ, which is celebrated on December 25 (in the afternoon of December 24, Christmas Eve, in some countries) as a religious and cultural festival of billions of people around the world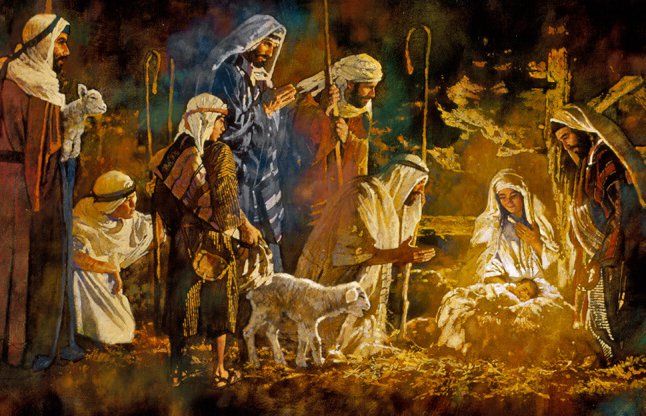 Christmas is also celebrated as a secular holiday for many non-Christians; In India, the festival is known as "the big day".
On the Alegre coast
of Nayarit

The Christmas lights
and decorations began,
as well as sales.

Photograph taken on the guayabitos cruise


Rotary Club of Jaltemba Bay
Supporting the comunity
The magazine Explore Nayarit had the honor of attending the ordinary meetings held by the Rotary club of the bay of Jaltemba, said meetings in Guayabitos.
In the last assembly there was the protest taking of 3 new members of Rotarians. There was also a magnificent presentation of a whole series of grants that have been made in the community, schools, equipment, sports areas, etc.

As well as a lot of help has been given in the communities, new projects were also shown, which obviously need financial support, for which there is a series of events to raise these funds, such as the dinner dance of January 27, and auction.

is an association only to help the community,
and you can help by attending events
At this week's Club Rotary meeting

They invite all local people and foreigners who are visiting our state, who want to contribute with something for the auction,

please bring it and contact the Club Director Mr. Gilberto Sanchez, telCel. 311 122 5210

Something that is very unusual in Nayarit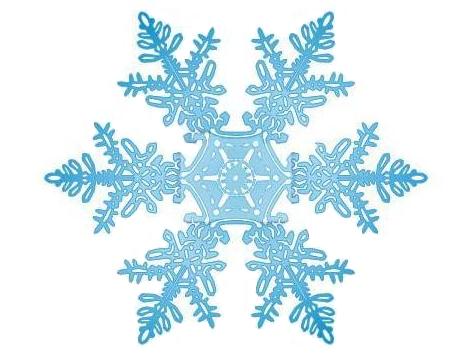 Snow fall on the tepic highway guadalajara
Something that had never been seen before,
the highway covered with a layer of ice, Incredible!
the story here
EPN is leaving a very violent Mexico
Last year of government was the most violent of which it was registered. with 28 thousand murders. It is a level that was not reached even in the years 2011 and 2012, the most violent of the six years of Felipe Calderón.
The crime incidence statistics of the Executive Secretariat of the National Public Security System (SESNSP) show that this year at least 95 women and men are murdered every day in Mexico, that is, an average of almost 4 victims per hour. It is a level that was not reached even in the years 2011 and 2012, the most violent of the six years of Felipe Calderón.
Another noteworthy fact is that of the total homicides recorded so far this year, 70 percent have been committed with firearms.
Regarding the specific victims of femicide, official data show that in October 76 more cases were registered, with the figure reaching 728 murdered women. If compared to what was registered in 2015, it is practically double the growth although, not three years ago, not all the states had classified this illicit act.

See the whole story here
MEXICANS GETS 1ST LEFTIST LEADER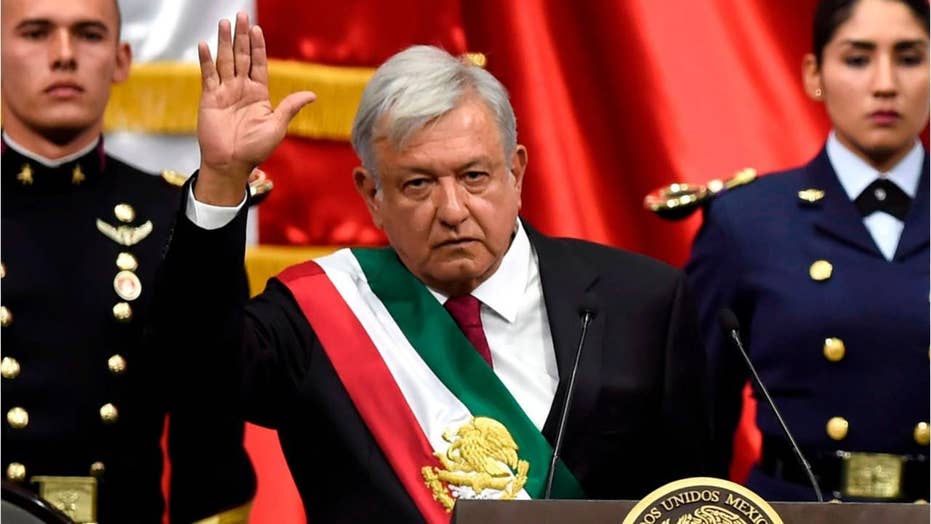 After 32 years of technocrats Andres Manuel Lopez Obrador will mark a turning point in one of the world's most radical experiments in opening markets and privatization.

His predecessor, Enrique Pena Nieto, leaves office with a historically low approval rating, which in several polls ranged from 20 percent to 24 percent. Pena Nieto failed to rein in Mexico's rising homicide rate or deal with thousands of Central American

migrants

camped out on the border, leaving both intractable issues as the biggest immediate challenges facing Lopez Obrador.

Full story here
There is a new president in Mexico
Andrés Manuel López Obrador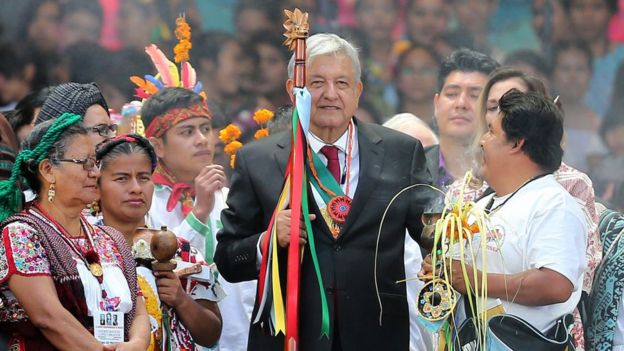 There were people of all ages and social strata: 160,000 people according to official figures.

When Mr. AMLO went up to the shrine, ready for the celebration with which he began his government, a group of representatives of 68 indigenous peoples and the Afro-Mexican performed a purification ritual.

They gave him the baton, as a sign that the indigenous peoples recognize him as a leader. It is the first time that a president of Mexico receives it.

"Here is the baton, the symbol with which you will lead our people, we want to remind you that we want to be taken into account in your plans for these 6 years," said one of the Indians.

The atmosphere in the zocalo and in the streets of downtown Mexico City was festive.
People waved flags of Mexico and others with the image of AMLO.


He also asked the new president, the first left in 70 years in Mexico, to "command obeying the people."



Full comments here
Alejandro Zedillo Therapeutic Massage
Uses massage therapy to alleviate chronic and acute aches and pains, stiffness, limited mobility and other soft tissue problems, due to aging, accidents, injuries, falls, post-surgery recovery, poor posture and workout fatigue.
Alejandro was trained and has practiced in both Mexico and the United States since 2005.
He is certified by the California Massage Therapy Council (CAMTC # 31107) and is a member of the Associated Bodywork and Massage Professionals (ABMP).
Gift Certificates are available in any size.
find it in
Explorenayarit.com
Federal police invest 23 thousand mp for the prevention of crime, but violence continues
The Federal Police allocated 23 billion pesos in 2017 to "operatives for the prevention and deterrence of crime", and although it met the planned goals such as the development of criminal files or biometric databases, this did not translate into less violence or improve the security conditions in the country, that is, it did not have a social effect.

This is the conclusion of the performance audit 22-GB to the Federal Police, regarding the component "Operatives for the Prevention and Deterrence of Crime", carried out as part of the second Public Account report of 2017.

The Federal Police program established goals that met 100%, such as 481 institutional operations based on scientific inquiries, 575 criminal files, 52 risk agendas, and entered 10,520 biometric and ballistic data into the databases, in addition to executing 7,447 operations in response to requests submitted by local authorities.
The second caravan of Central American migrants is approaching Jalisco
Jalisco prepares for a second wave of migrants During the past week, just over 6,000 migrants arrived in Jalisco to the Benito Juarez shelter in Zapopan, which was closed by the governor of Jalisco, Aristóteles Sandoval Díaz, on the grounds that they no longer expected mass arrivals.
Last week the migrants who arrived were of 12 nationalities, especially Guatemala, Honduras, El Salvador, Nicaragua, and Belize.
A total of 612 members of a fraction of the second caravan of migrants departed at 6:30 am on Sunday from the La Corregidora stadium and headed towards Guanajuato.
Civil Protection of the state, through its official Twitter account, reported that migrants who stayed overnight Saturday at the stadium continued their journey to Tijuana, Baja California.
Through the inter-institutional group that headed the state government, 1,669 people were served in different groups since their arrival on Friday, Saturday and Sunday where they received medical attention and food
US federal judge blocks President Trump's order to deny migrants asylum
A federal judge in the United States temporarily blocked a new order from the Donald Trump government that denies the possibility of obtaining asylum for people who enter the country illegally.

President Trump signed a decree this month to automatically reject asylum applications filed by people who illegally crossed the border into Mexico.

District Judge John Tigar, in San Francisco, issued this temporary ruling against the decree, in response to the lawsuit filed by civil rights organizations.


The American Civil Liberties Union (ACLU) states that the law stipulates that anyone entering the country, regardless of whether they do so legally or illegally, can file an asylum application.
Judge Tigar indicated that the Immigration and Nationality Act (INA) of 1965 establishes that any foreigner who arrives in the United States, "whether or not through a port of entry," may request asylum.

The decree "that prohibits giving asylum to immigrants who enter the country by evading a port of entry is in irreconcilable conflict with the INA and the express intention of Congress", is Tigar's ruling.

"Whatever the extent of the presidential authority, it can not rewrite immigration laws to impose a condition that Congress expressly prohibited," he added.

the whole story here
Guayabitos will receive 2019 with pyrotechnics
called: "Festival de Luces"
a great show full of lights and joy
Alejandro Chávez Bustos, president of the Hotel Association of the Municipality of Compostela, informed that Rincón de Guayabitos will offer tourists who visit it this year a fireworks show that will illuminate the Bay of Jaltemba, noting that the show of the midnight will be visible from Los Ayala, La Peñita de Jaltemba and Rincon de Guayabitos, so that visitors staying overnight in the region can see detail pyrotechnics.
Chávez Bustos cordially invites residents and tourists to visit Rincón de Guayabitos, Los Ayala and La Peñita de Jaltemba to enjoy the party specially prepared for them, recommending looking for accommodation with time (www.hotelesdeguayabitos.com.mx/hoteles) ; Authorities have prepared in a coordinated manner a security operation to protect the security of the attendees, with the support of the Tourist and Municipal Police, as well as Transit and Civil Protection and Firefighters of the Government of Nayarit.
see more:
click here
Migrants overwhelm Tijuana;
Mayor declares humanitarian crisis

,
The mayor of Tijuana has declared a humanitarian crisis due to the massive number of Central American migrants who have swamped the city.
Juan Manuel Gastélum, who has been labelled Tijuana's Trump because of anti-migrant rhetoric last week, told a press conference yesterday that the declaration is in accordance with articles in the federal Migration and Refugee laws. Attending to the thousands of mainly Honduran caravan members is costing the city more than 500,000 pesos (US $25,000) a day, he declared.

The mayor urged President Peña Nieto and Interior Secretary Alfonso Navarrete to assume responsibility for the migrants, taking particular aim at the latter's department (Segob) for leaving municipal authorities to deal with the situation on their own.
"Mexican laws establish that [Segob] is the department responsible for dealing with the issue from the beginning," Gastélum said.
"I'm not going to compromise public services, I'm not going to spend the money of the people of Tijuana, I'm not going to put Tijuana into debt . . ." he declared.
see more : click here
US thwarts migrants' attempt to cross border;
Trump threatens to close it permanently
The United States Customs and Border Protection agency also closed the border between Tijuana and San Diego in both directions for several hours following the attempted breach, and U.S. President Trump warned today that it could be shut permanently.


The Mexican government said in a statement issued by the Interior Secretariat (Segob) that it will "immediately deport" those who "in a violent manner tried to cross Mexico's border with the United States."

Some held signs with messages such as "not having papers is not a crime and doesn't take away our human rights" and "Trump, we hate you," the newspaper Milenio reported.
see more : click here
Mexico, US, Canada sign new trade deal, officially ending a tough negotiation
Mexico, the United States and Canada signed a new trade deal
officially ending a drawn-out negotiation that lasted more than a year and was characterized by hardline demands by the U.S. and repeated threats by President Donald Trump to pull out of a three-way accord.
On his last day in office, President Peña Nieto joined Trump and Canadian Prime Minister Justin Trudeau at the G20 meeting in Buenos Aires to sign the new North American trade agreement, now known as the United States-Mexico-Canada Agreement (USMCA).

see more information: click here
Tres Raíces


It is not another fancy winery in the Bajío


Incorporating parts of Guanajuato, Querétaro, Jalisco, Zacatecas, San Luis Potosí and Aguascalientes, the region actually has a long history of winemaking. Guanajuato state is reported to have been the first place in the Americas were wine grapes were grown, particularly encouraged by priest, winemaker and revolutionary Miguel Hidalgo.
San Miguel would seem ripe to become the next mini-Napa Valley. With lots of money flowing into what was once a quaint Mexican backwater, the town has exploded with gourmet restaurants, high-end boutique hotels and a mix of culture and art that attracts a substantial expat population and streams of national tourists.


Just outside of town several of the region's winemakers have decided to set up shop. One of them is the Tres Raíces project, opened this past August on the road between Dolores Hidalgo and San Miguel. As you approach the turnoff in the road, there is just a simple sign, almost hidden, that says Tres Raíces.


see more
Pantheon of the Peñita


This Picture shows how the pantheon of the peñita de jaltemba looks on "el Mirador" Street
After a few days of having passed the day of the dead, the pantheon looks little neglected,
Viking Real Estate & construction

Office: 327 107 0088
Océano Pacífico Sur 48, Col. Centro,
La Peñita de Jaltemba, Nay.
Parade of November 20
if you missed
The town of "La peñita de Jaltemba" is adorned like every year with the traditional revolutionary parade
Last Tuesday, November 20, there was a parade in tribute to what happened many years ago Parade of November 20th the Mexican nation, it is a civic act of great importance.
See more beautiful pictures: click here
"Emiliano Zapata Avenue"
still closed half part
Main street La Peñita, Avenida Emiliano Zapata, is still closed to vehicle traffic, and is treacherous for pedestrians!
You can check the construction progress:
This link goes to a new set of photos and are found in the blog click here.
Half Marathon Sendero del Café in Xalisco
Start the new path in the Half Marathon Sendero del Café in Xalisco, now you have to explore Nayarit and run in the coffee area and enjoy its landscapes. Check the bases and sign up at: www.nayaritcorre.blogspot.mx and at ROOTS Cross training #trailrunning #traildelcafe #Xalisco #Nayarit #nayaritcorre #NayaritEnamora Xalisco Town Hall Tourism Secretary of Nayarit Fiprotur Nayarit
" Nayarit"
You are invited to participate
Next Thursday, December 13 in Compostela there will be a solemn session at the congress in the municipal seat and pilgrimage in the afternoon from 10:00 am to 2:00 pm there will be trucks for foreign tourists who want to attend, they just have to register in the newspaper.
All this is in honor of the centennial anniversary of the poet historian and political Salvador Gutierrez born in the head of compostela who made great contributions to the laws and culture Nayarita.


Information by: Lic. Rosa Mirna Mora Romano
Nayarit is progressing
In the city of Mexico within the congress of the union and the senate with the senator president of the commission of equity of gender and family
in this struggle, advancing equity, the Lic. Rosa Mirna Mora Romano has been fighting for 10 years to rescue women's rights
The gender parity in political positions has won 50% men and 50% women
that not only the positions of pupular election but also in the public positions
as at present there are very few women in political positions
another achievement: this week a second reading will be given to a new bill proposed by the lic. Romy mentioned above that says that all Nayarit have participation to vote for their rulers from 2021 even those who do not live in the state, such as Canada, USA, Russia, Austria, etc.

the lawyer Romy also requested that the tax of 3% of lodging for hoteliers for each room that previously went directly to the governments, later in the government of Ney Gonzales was changed so that the tax went to private institutions like OVC, where it would be used for infrastructure However, this goal is not fulfilled.
now there will be a committee charged with managing that money to direct it to infrastructure or tourism promotion,

Such is the case of san blas that has 3 annual events such as sanblasazo, tournament sporting fish and motomania but lacks capital pra power to propara pormoicion
Next Thursday, December 13 there will be a solemn session at the congress in the municipal seat and pilgrimage in the afternoon from 10:00 am to 2:00 pm there will be trucks for foreign tourists who want to attend, they just have to register in the newspaper.
all this is in honor of the centennial anniversary of the poet historian and political Salvador Gutierrez born in the head of compostela who made great contributions to the laws and culture Nayarita.


Diputada del congreso del estado
Lic. Rosa Mirna Mora Romano
AMLO signs a decree
creating the commission for the Ayotzinapa case;
will resume research by PGR
The president Andrés Manuel López Obrador signed the decree for the creation of a Commission for the truth and that will begin to operate no later than 30 days and whose objective is to solve the case of the disappearance of 43 normalistas of Ayotzinapa.






"With this agreement, we began the search process for the youth of Ayotzinapa. With this decree the whole government is ordered, in what corresponds to the Executive Power, so that all the support is given to you, to the commission, to arrive at the truth. The whole government is going to help in this purpose, "the president said.

After the signing of the document, the fathers and mothers of the disappeared students of Ayotzinapa said that the decree gives them hope, although "confidence is going to gain as the search for the truth advances".


the whole story here
USA is in Mourning

The 41st president of the United States, George H. Bush, has died at the age of 94 years.


The flags are flying at half mast in the United States and the United Kingdom on Saturday in honor of George H.W. Bush, 41st president of the United States.

After the announcement of his death, tributes were multiplied to this decorated war hero and former CIA director, who saw his son George follow in his footsteps and reach the White House.
His son, also the ex-president George W. Bush has announced the sad news in a statement from the whole family. Bush Sr. ruled in the US between 1989 and 1993, a period that coincided with the end of the Cold War, the fall of the Soviet Union and the reunification of Germany, after the demolition of the Berlin Wall. In addition to the first Gulf War and the invasion of Panama.

the whole story here




Christmas Stocking Campaign 2018


With December just around the corner, it´s time to kick off our annual Christmas Stocking Campaign, but this year there´s a difference.
All of us in the Jaltemba Bay Area dodged a bullet when Hurricane Willa missed us, but unfortunately there was a great deal of damage done in the Northern part of Nayarit. There have been several caravans of aid collected in our area and delivered to the areas hardest hit, but these have focused on basic needs like food and shelter. Now, it's time to look at other needs.
With that in mind, we decided that the proceeds from this year´s Christmas Stocking Campaign will be sent to the schools most affected by the Hurricane. They are Centro de Atención, Múltiple Nu. 3 in Tecuala, Primaria Surco Nuevo in Huajuquilla, Municipio de Tecuala, and Primaria Miguel Hidalgo y Costilla, in Agua Verde, Municipio de Tecuala. Community members and other volunteers are working hard to get the schools ready to re-open as you can see in the photos below. Once the physical facilites are ready, teachers and students will need supplies.

So, what can you give? The short answer is ANY SCHOOL SUPPLY will be appreciated - whether it be basics like notebooks, crayons, pens and pencils, or more 'exotic' items such as markers, glue, colored paper, scissors, teaching aids, or craft items. And of course, PESOS would be greatly appreciated to 'fill the gaps'.
The stockings will be hung at the following locations, from November 29 (Thursday) until December 21 (Friday):
In La Penita: Armando's Joyería, Chasite Cafe, Petra's Community Cultural Centre, Única
In Rincon de Guayabitos: Las Tres Banderas (George's Coffee Shop), Pina Colada
To get the ball rolling, we will have a Kick-off this coming Thursday, November 29 at 10 am at Chasite Cafe. When you are finished shopping in tianguis, drop in and drop off whatever you can offer, and enjoy some of their wares while you are there.
This year in particular, we encourage you to be generous. THE NEED IS GREAT.
With our thanks,
Helma and Nora (Las Tres Amigas)
WhatsApp will not work on some cell phones in 2019






Mexico City: WhatsApp reported that as of January 1, 2018,
some mobile users and platforms will not be able to create new accounts or verify existing ones, although they will be able to use the application.


check in https://www.elheraldo.hn/suplementos/tecnologia/1239298-466/whatsapp-2019-moviles-dejara-funcionar-no-podra-utilizar-
The Tianguis

GUAYABITOS
It will be open weekly, on Mondays from 9:00 am to 2:00 pm.
The Tianguis Lo de Marcos Returns for a new season on November 3rd.
It will be open weekly, on Saturdays from 9:00 am to 2:00 pm.
There will be live music every Saturday.
The Tianguis in La peñita
Returns for a new season on November 3rd.
It will be open weekly, on Thursday from 6:00 am to 2:00 pm.
Circo De Los Niños
Circus Kids San Pancho

We ask volunteers interested in participating in activities with children and adolescents during the cycle from October to December...

Please contact by phone 322 779 1519
Circo De Los Niños
Circus Kids San Pancho

DANCE @ maestr seek. For the cycle, which starts in October and ends in December.

Experience working with children and adolescents. Please send your CV and video shows mail to: circodelosninossp@gmail.com
More info: 322 779 1519
Upcoming Fundraisers in the Jaltemba Bay Area
January 19, 2019 - Cancer de Mama Fundraiser at Zapata 32
January 23, 2019 - J.E.E.P. Fundraiser at the Refugio
January 27, 2019 - Annual Rotary Club of Jaltemba Bay Fundraiser
January 30, 2019 - Women to Women Gala Fashion Show
February 1,2,3, 2019- Cancer de Mama Clinic
February 6, 2019 - Tacky Toorist Fundraiser at Guayabitos Plaza, 5:30pm for The Community Centre

February 7, 2019 -

Horseshoe Tournament Sign up at Mateja's
February 9, 2019 - 20th Annual El Famosa Horseshoe Tournament
9th Annual Jaltemba Bay - La Penita Rotary Club Dinner and Dancing

The Rotary club of Jaltemba Bay will be holding it annual extravaganza again to be held at the baseball park near the Pemex station.

There will be live music, dancing, raffles and an auction. The festivities will begin at 2:00 pm on Sunday, January 27, 2019 with all the proceeds going to local charities.

Women To Women Gala
This year's event is scheduled for January 30th in the Guayabitos Plaza. The theme, for this year, is Lady In Red, so you can bet that there will be a sea of beautiful ladies dressed in many shades of red.

For more information plus some photos from prior years, click here.



Cancer de Mama Fundraiser at Zapata Club 32

Cancer de Mama fundraiser will be at Zapata Club 32 on January 19, 2019. The Oktober-Fiesta will run from noon until 3:00 pm. Cost is 200 pesos, which includes 1 brat and 1 bier.

Wear your finest German attire for a chance to win a prize.



20th Annual & 12 Memorial El Famoso Horseshoe
Tournament

Yes folks, it has been that long. The fun, games and celebration will begin with the signup on February 7th at Mateja's. You must be there to sign up or you cannot play. Sign ups begin at 3:30pm.

The tourney registration begins at 8:30 on the 9th, with play starting at 9:45.

The money raised in this tribute to Roberto Howell goes to the Community Cultural Center.
Charity BINGO was such a big hit last year and raised lots of pesos for GEMA, that the considerate volunteers will once again be hosting it this year.

It will be held at the Seniors' Centre located on Calle Guayamus in La Peñita.

Come on in and check us out on Tuesdays from 2:00-4:00 pm. We have all new games plus a Progressive Jackpot.
GEMA
is a program for abused and abandoned women and children of our community.
The Bank of Mexico (Banxico) reported that in October 2018, remittances from Mexicans abroad amounted to two thousand 940 million dollars, with a growth of 3.4% compared to the same month last year with which they accumulate 31 months with annual rate increases.
Microsoft unseats Apple as the most valuable company
The man who has done the magic is the CEO Satya Nadella, who took his company 3,800 million higher than Apple
Starts sale of presidential airplane of Mexico.
Low temperature warning. The wind will increase the feeling of cold and even some snow is expected in the northern mountains.
Puerto Vallarta will close the year with 20 cruises less than scheduled, although this was not due to a factor of insecurity but to the rescheduling of routes, according to the director of the Port Administration Integral (API) Vallarta, Miguel Ángel García Beltrán.
Puerto Vallarta will close the year with 20 cruises less than scheduled, although this was not due to a factor of insecurity but to the rescheduling of routes, according to the director of the Port Administration Integral (API) Vallarta, Miguel Ángel García Beltrán.
A

Big Thank You
to everyone that's feeding me with your wonderful photos and stories. Please send more as my inventory is running very low, so if you have some photos or stories you would like to share, please send them in for future issues of this newsletter. Smile!
Muchas Gracias.

email: rossie182@hotmail.com




Start the season
Handmade Tianguis
Tianguis markets are the place to shop in Mexico for just about anything you can imagine. View the list of tianguis below under what's happening to see which are open and which are about to open..
It is worth your time for a fun visit. For more information visit here.

Place your business, rental or for-sale add here for maximum exposure.
Contact:
Office: 327 107 0088

Arq. Rosy Martinez: 322 139 2895

Lic. Rosy Camacho: 322 140 9657

normstir36@hotmail.com
normanlutgen@gmail.com
What's Happening

Upcoming Holidays & Events
December 1 - New President of Mexico Takes Over

December 2 - Hanukkah

December 3 - International Day of People with disabilities.

December 7 - International Civil Aviation Day.

December 9 - International Day against Corruption.

December 12 - Our Lady of Guadalupe Day

December 18 - International Migrants Day

December 20 - International Day of Human Solidarity.

December 24 - Nochebuena

December 25 - Navidad / Christmas

December 26 - Boxing Day

December 28 - Dia de los Inocentes

December 31 - Pyrotechnics in Guayabitos "festival de luces"

January 1 - Año Nuevo - New Year's Day
Ongoing Events
Mondays – Tianguis Market in Guayabitos
Tuesdays

–

Mercado San Pancho
Thursdays – Tianguis Market in La Peñita Open all year
Fridays -- Tianguis Market in Las Varas Open all year

Fridays -- Sayulita Market, Closed for he season

Saturdays - El Tiburon Market, Guayabitos Plaza, 9:00 to 1:00

Saturdays - Tianguis Lo de Marcos

Sundays -- La Cruz Sunday Artisan's Market
Notes: Mondays & Thursdays – AA Meetings in English, Guayabitos
Tuesdays - Beach Cleanup, Guayabitos near Estancia San Carlos Hotel, 7:00 am and everyone is encouraged to pitch-in
There are too many upcoming events to share here.
View the Explore Nayarit calendar for a complete list of upcoming events,
classes, tours and other activities...
and don't forget to add your event for everyone to see.

No matter whether you're looking for an upscale resort, all-inclusive hotel, beachfront rental home, quaint Bed & Breakfast or RV park for your rig – here at Explore Nayarit, there's something for everyone and every budget.



We want to recognize the following rental clients for their
continuing confidence in and recent support of ExploreNayarit.com
for their advertising needs.

SPONSORED LISTING
Condos Casa Rey
Los Ayala

8 spacious oceanfront condos with granite countertops, stainless appliances, satellite TV, WiFi, daily maid service, laundry room, outdoor barbecue and swimming pool.
Read More

SPONSORED LISTING
Los Compadres Resort
La Peñita

1-2 bedroom spacious suites with fully-equipped kitchens, private balconies and views of the entire bay. Restaurant onsite. Stay for a week, month or longer.
Read More



Hotel Estancia San Carlos
Guayabitos
Our colonial and modern beachfront hotel offers the best quality, warm service and a quiet place to relax.
We have 58 spacious and comfortable rooms, bungalows, junior suites, master suites and duplexes to choose from – all surrounded by beautiful manicured grounds, paved walkways, shaded palapas and two swimming pools with ocean views.


Bungalos Las Iguanas
Los Ayala
Located in the small picturesque town of Los Ayala, just south of Rincon de Guayabitos, this rental complex has just 11 - 1 & 2 bedroom units. Complete kitchens a large pool and air conditioners, you will find this your perfect place to relax and enjoy small town Mexico.
Guayabitos Casa Encantada
Guayabitos
A place to relax and renew your spirit!
Guayabitos Casa Encantada awaits your arrival for a relaxing holiday at the beach.
We have 3 deluxe suites for your enjoyment. Two are overlooking the pool and beach and the third enjoys a spectacular view of the mountains.
Click here
for more information.
Casa Ayala Beach House




Los Ayala


Just a few st

ep

s to the beach at this 3 bedroom, 2 bath beachfront home. Fully equipped kitchen, outdoor gas grill, satellite TV, WiFi. This casa is ideal for groups up to 20 persons. The pool next door at Condos Casa Rey is also available.
Learn More




List YOUR Hotel or Rental or your Home For Sale Here

Add your hotel, home, condo or other vacation rental here to reach our entire community, plus hundreds of daily visitors.
Learn More







Did you enjoy a great meal, find a great deal or get great service? Why not take a few minutes to write a recommendation for your favorite places to help other locals and visitors in their trip planning and research. Here's what people are saying..
Los Compadres Resort
We stayed here a while ago for four weeks. What a joy it was to get up and drink our coffee every morning on our balcony with the incredible view of Jaltemba Bay. The suites are a great size, have everything that you need and George and Loretta are the most wonderful hosts. It is a ten minute walk into the town and an easy twenty five minute walk to Guayabitos. Don't forget to visit George and Loretta's Hilltop Refugio as well and see the incredible facility they've built to help rescue and treat all kinds of animals. We highly recommend Los Compadres.
Hamaca Maya
This is your one stop shop for the largest and most beautiful selection of hammocks in all of Mexico. Don't bother wasting time elsewhere. If you're looking for a hammock-THIS is the place. If you're looking for a lame Tshirt or trinket that can be found anywhere else in Mexico, then move on. If you want unique and fun take home prezzies for friends, family and yourself... then don't miss this amazing little gem in La Penita. And the bonus is the owner is as colourful and vibrant as the cool stuff she carries. We love it and never miss an opportunity to check it out when we're there. Absolutely FIVE star worthy.
Buhardilla Restaurant
- Guayabitos
My wife and I ate here Saturday night Feb 10, and it was great. Our table wasn't the best but I was late making the reservation and it was the only table for 2 left so you take what you can get. My wife had the raviolis and they were excellent although a very small serving. If it would have been me who ordered them I would have been left hungry and upset. For her, it was barely enough and she ate several pieces of the delicious bread they served with the meal to fill up. I had the fettuchini carbonarra and it was delicious and almost more than I could eat. The sauce was excellent and the pasta was cooked to perfection. Service was prompt and courteous from a waitress who spoke perfect English, and prices were certainly not out of line. All in all a very enjoyable evening! Murray Dryburgh
---

Restaurants, Shops, Activities & Businesses
Please support these and other local businesses that make our website and these newsletters possible through their advertising. Thank you!
For a listing of restaurants that are open and ready to serve you, click here.
We want to recognize the following clients for their continuing confidence in and recent support of ExploreNayarit.com for their advertising needs.
* * *
We have been in the business of serving our neighbors here in the Jaltemba Bay area for over 20 years.
Call us for all your construction projects, or if you are looking for that perfect casa or empty lot to live out your dream.
Visit our web page here.
---

Explore More of Nayarit, Mexico

Whether you're visiting for the first time or live here full time, Explore Nayarit has everything you need to know...
From quaint fishing villages to secluded hideaways, the charming coastal towns and beaches are waiting to be explored.




Our team has put together our TOP 10 favorite things to make sure you take advantage of everything our area has to offer.




Eat + Drink


Search our Restaurant Guide to decide where to eat, drink or dance the night away.