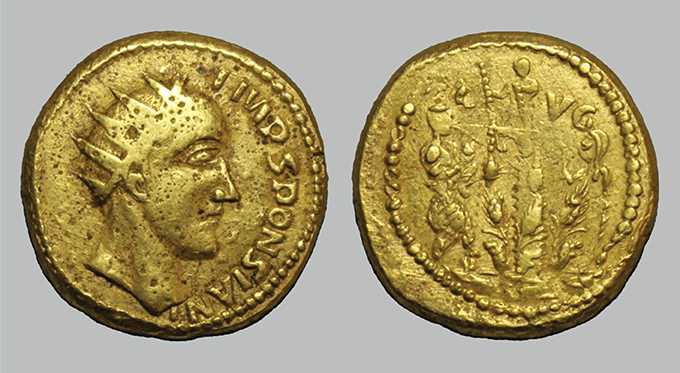 Essential Reading
Spectroscopy Strikes Gold
A handful of non-destructive spectroscopic techniques have authenticated a collection of Roman coins – validating the existence of a "new" emperor, called Sponsian. The team, led by Paul Pearson, University College London, proposed a new hypothesis: "Sponsian ruled Roman Dacia, an isolated gold mining outpost, in 260 CE, at a time when the empire was beset by civil wars and the borderlands were overrun by plundering invaders."

Read more

!
Hot new technique
The first triage of a burn injury is crucial in forming successful clinical treatment plans. However, accuracy rates of burn depth evaluation are currently around 60-75 percent, suggesting that the most appropriate treatment is not always given. With this in mind, researchers from Stony Brook University, New York, USA, have employed a neural network model that uses terahertz time-domain spectroscopy (THz-TDS) to non-invasively triage burns. The new technique was combined with a handheld imaging device, named PHASR, to rapidly image in vivo burn injuries using THz-TDS. Results showed an average accuracy rate of 84.5 percent when estimating burn severity, and predicted the outcome of the wound healing process with an accuracy rate of 93 percent. Researchers hope that – with further testing – the handheld device may be integrated into point-of-care settings for clinical burn assessment.

PRODUCT PROFILES FROM HAMAMATSU, BRUKER, WITec AND AIR PRODUCTS
NEW Compact FTIR spectroscopic module
This new, palm-sized device contains a MEMS-based Michelson optical interferometer and a near-infrared detector, allowing OEMs to create portable or handheld FTIR for analytical applications. It is sensitive to 1100-2500nm wavelengths.
State-of-the-art microscope to feature technologies that were previously unavailable. In fact, this most advanced microscope now offers FT-IR (Fourier-transform infrared spectroscopy) and QCL (Quantum Cascade Laser) technology in a single instrument.
The alpha300 series offers modular, research-grade microscopes for 3D Raman imaging, AFM, SEM and SNOM. Almost any application can benefit from their exceptional speed, sensitivity and resolution.
Most users only consider the cost of the cylinder when it comes to high purity gases, but additional costs can add up, use our online calculator to see how BIP® gases can reduce your overal spend
SPECIAL PROMOTIONS FROM HAMAMATSU AND ID TRANSMISSION
Fourier Transform Infrared Spectroscopy solutions
This method is used in various fields, including chemical analysis, medical treatment, environmental analysis, and material analysis, in the form of an FTIR analyzer or an FTIR spectrophotometer.
Introducing ID Transmission!
ID Transmission explores humanity's ongoing battle against infectious diseases. Find out more by visiting the brand new website!
More From The Analytical Scientist
More than Meets the Eye
Functional near-infrared spectroscopy identifies brain region associated with social symptomology in autism spectrum disorder – potentially paving the way for biomarker discovery.
In One Ear, Out the Other
How a portable NIRS technique rapidly and non-invasively detects malaria.
Losing (Cognitive) Control
High-demand cognitive work causes a build up of glutamate in the brain – according to real-time magnetic resonance spectroscopy analysis – which, in turn, may alter economic decision making.
EVENTS FROM WATERS AND ACD LABS