Wednesday, September 22, 2020
BILD Lethbridge Region Board of Director Positions
General Member 2020-2022
(Supplier, Trades or Professional Services)
Dear Members,

Are you interested in being part of shaping the vision of the Association and being engaged in the industry at a higher level as a member of the Board of Directors?

To be eligible to run for a position on the Board you must meet the following criteria:
Be an employee of a BILD Lethbridge Region member in good standing
Be a BILD Lethbridge Region member for a period of one year
Participated on at least one committee prior to nomination
Commit to a minimum of 6-10 hours a month on Board and Committee work
Available to attend monthly board meetings 4th Wednesday from 11 am - 2 pm (except July & August)
Understand the expectation of the position of Director - See Position Description and be available for a two year term 2020-2022
THURSDAY - SEPTEMBER 24, 2020 9:00 AM - 10:00 AM
CHBA FALL WEBINAR SERIES PRESENTS:
High Performance Building Enclosures - The Key to Energy Efficiency in New & Existing Residential Buildings
Salvator
e Ciarlo of Owens Corning and Andy Cockburn of NAIMA Canada join CHBA CEO Kevin Lee to discuss the latest advances in high performance building enclosure solutions, to help the building industry navigate the path to achieve higher levels of energy efficiency in new and existing residential buildings.




Topics include:
Importance of the building enclosure in energy efficiency – smart ways to meet code requirements and voluntary higher levels of performance

High performance, durable and resilient building enclosure solutions

Managing heat, air and moisture in building enclosure systems

Benefits of continuous insulating sheathings and critical details

Air barrier systems and the importance of air leakage control

Design tools and practical guides

Training programs and projects under development at NAIMA Canada
How do municipal processes, approvals, and government fees and charges affect housing affordability in Canada?
Yesterday the Canadian Home Builders' Association (CHBA) released its first Municipal Benchmarking Study that examines how local development processes, approvals, and charges contribute to housing affordability and supply issues in major housing markets across Canada.
The study reviews and compares the approaches of 23 Canadian municipalities as they relate to approvals and development of new housing. The study also looks at the direct costs on new housing developments, as well as the potential implications of approval processes and the typical approval timelines by estimating the indirect costs on residential construction.
"This report is intended to support the important conversation with all orders of government on a major challenge to housing affordability and the efficient delivery of much needed new housing supply. We've undertaken this work to showcase where municipal governments have the policies and systems in place to support supply and affordability, and to provide a path forward for improvements where things aren't working as well." – Kevin Lee, CEO, CHBA
Rankings for each studied municipality are available in
the full report
. The rankings show at a glance which municipal governments are leading in each of the three areas as well as an overall ranking. A municipality's ranking does not assess anything beyond what was analyzed and may not reflect the quality of the relationship between industry and local governments.
Weekly Economic Review- September 18, 2020


Weekly newsletter containing economic commentary, analysis and statistics examining Alberta's economy, labour market, price indices, household sector and business sector.

Weekly Economic Review - September 18, 2020
Alberta Economy - Indicators at a Glance - September 18, 2020

Council seeks more feedback on Westminster plan
Tim Kalinowski - Lethbridge Herald

After holding a sparsely attended public hearing on the Westminster Area Redevelopment Plan (ARP) at this week's city council meeting, councillors decided to defer decision on approval of the plan for another four weeks to give local residents more time to provide feedback on whether or not they believe in the document's direction.

"There was extensive community consultation and several open houses," stated Mayor Chris Spearman. "What was disappointing was we only heard from three people (today). It would be great if people who attended those open houses; that we heard their feedback as well. We would then have a better sense of if we were meeting the expectations of the neighbourhood."

Westminster has one of the greatest population densities of any neighbourhood in the city. It is also one of the city's older neighbourhoods. Common complaints by community advocates include rampant crime, too many absentee landlords and too many illegal secondary suites. READ MORE...
CMHC to Get New Name, Maybe "Housing Canada"
Canadian Mortgage Trends

What's in a name? Well, in the case of the Canada Housing and Mortgage Corporation, "mortgage" likely won't for much longer. The housing agency announced last week that it will be undergoing a rebranding in the coming months to better reflect its mandate. CEO Evan Siddall says the current name overemphasizes homeownership financing and doesn't highlight the agency's work related to housing affordability. The name "Housing Canada" has already been floated, but federal legislation would be needed for an official name change.

READ MORE...
Equifax Rolls Out Change to its Mortgage Inquire Process
Steve Huebl - Mortgage Broker News


Equifax Canada has implemented changes to its mortgage inquiry process to enhance the protection of consumer information.

The changes, which were first announced to the industry earlier this year, came into effect on September 14, including:
Requiring all lenders to have an identifying Member Number if they want to continue receiving files from brokers.
Only brokers who have signed amended contracts will be able to obtain credit files through industry connector platforms, such as Newton and Filogix.
Each and every inquiry will be posted with both the broker's and lender's name when using all industry connector platforms. Access to these files will be restricted to credentialed lenders. READ MORE...
Non-residential building construction slows in Alberta
ATB Economics The Owl
Seasonally adjusted spending on the construction of buildings in Alberta edged up by 0.5 per cent in July. While moving in the right direction, especially compared to the 24.6 per cent drop in April, spending was still down by 10.4 per cent compared to the same month last year.

Led by single dwelling homes, residential construction spending increased by 3.6 per cent in July while non-residential spending contracted by 4.7 per cent.

On a year-over-year-basis, residential spending was down by 5.5 per cent compared to 18.3 per cent for the non-residential sector.

Unlike residential spending, non-residential construction did not experience a major drop in April followed by a large rebound in May. The non-residential sector has, instead, seen spending drop by between 0.2 and 4.7 per cent in each of the last 13 months.

Nationally, spending increased by 1.8 per cent in July over June and by 0.5 per cent on a year-over-year basis.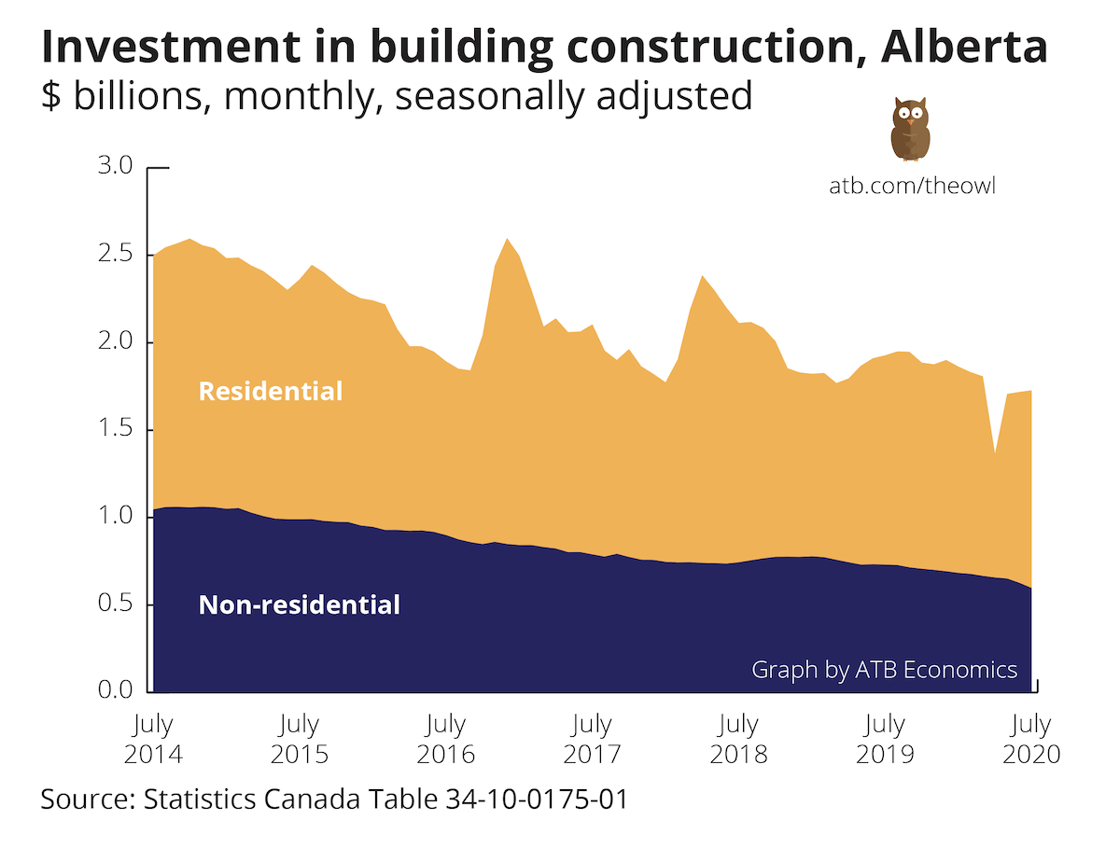 COVID-19 Resource List
The BILD Lethbridge website has a dedicated page that contains links to the provincial, federal and municipal programs and updates for your easy reference. You can find it HERE .
Other helpful main links:
QUESTIONS? CONCERNS? COMMENTS?