Your Opinion Matters To Us!
The month of May brings warmer weather and an opportunity to get outdoors and enjoy the sunshine. Keep these local places in mind as you plan your next adventure!
Re-Bicycle Lenawee Adrian, MI

Need a bicycle or a bike repair?
The mission of this non-profit, volunteer-run community bicycle shop is to support and encourage people to ride bicycles for fun, fitness, and transportation. They're open every Wednesday & Saturday, 12pm-4pm

Re-Bicycle Lenawee is a non-profit, volunteer run bike shop organized to get donated bicycles into the hands of those who need them. The Covid pandemic has altered the Build-A-Bike program due to social distancing requirements. Instead, we are keeping bicycling alive by meeting the community need for repairs since Adrian Lock & Bike closed in June 2020 for a well-earned retirement. Re-Bicycle Lenawee was established in September 2010 and has distributed nearly 2,000 bicycles in Lenawee County. Stop by to check out our shop at 313 E. Maumee Street in Adrian, Michigan. We have new parts for repairs and for sale as well.
---
Tecumseh Paddling Co. Tecumseh, MI

Looking for water adventure?

Tecumseh Paddling Company offers river trips, kayak rentals, paddleboarding and adventure! They're located along the River Raisin, considered one of the world's crookedest rivers. The natural terrain will keep you on your toes as you paddle through twists and turns, ducking under trees and sliding over them as well.

Kiwanis Trail Adrian to near Tecumseh

Love to walk, bike, run?

The Kiwanis Trail is a rail to trail conversion in Adrian, Michigan that roughly follows the River Raisin. Kiwanis Trail is a 12.7 mile moderately trafficked out and back trail located near Adrian, Michigan that features a river and is good for all skill levels. The trail is primarily used for hiking, walking, running, and road biking and is best used from April until November. Dogs are also able to use this trail but must be kept on leash. A 1 1/2-mile extension to the Kiwanis Trail that will bring the trail into the city of Tecumseh is planned for later this summer. The Kiwanis Trail currently ends at the Green Highway and Ives Road trailhead. The extension will follow Ives Road before heading north on Raisin Center Highway and ending at Cal Zorn Recreation Center.

---
Hidden Lake Gardens Tipton, MI

Want to surround yourself with the natural world? Michigan State's Hidden Lake Gardens is a wonderful place to enjoy the beauty of nature.
Hidden Lake Gardens remains open to the public but with limitations and restrictions: six-foot physical distancing, face-cover wearing, and indoor public gathering space closings. The grounds and trails are open for visitors on Tuesdays, Wednesdays, Thursdays, Fridays, Saturdays, and Sundays from 9 am to 5 pm. Walking, hiking, biking, and driving through are permitted. All buildings are closed including the Restroom Building; however, outhouse-style restrooms are available. No professional photography is permitted. No food, picnics, or tailgating is permitted.
Patrons can now borrow digital magazines through Overdrive Libby. Check them out here:
https://woodlands.overdrive.com/woodlands.../magazines

Congratulations to the winners of the 2021 All-County Bookmark Contest
for Tecumseh District Library Participants!
Second Grader
MALLORY STEWART

Second Grader
OLIVIA WATKINS

Third Grader
BRIELLE ROMERO

Fourth Grader
KELSI LONG
Sixth Grader
EMILY ANDERSON

Sixth Grader
KAILLEY DAVIS

Sixth Grader
NOELLE KULHANJIAN

Seventh Grader
JADEN ROMERO
Audiobooks With Sonja
The Switch


by Beth O'Leary
read by Daisy Edgar-Jones and Alison Steadman
May is my favorite month of the year. The air smells like spring, flowers are peeking out their heads, and there is a feeling of reawakening all around. Here is an enchantingly gentle romance perfect for this special time.

Eileen Cotton, 79, is leading a fairly idyllic English country life puttering in her garden and organizing village festivities. The slightly dark cloud in her seemingly bright existence is the fact that she would like to date again, but eligible candidates are few and far between in the tiny Yorkshire village.

Meanwhile in London, her twenty-nine-year-old granddaughter Leena is trying to meet the demands of her high-powered job while trying to cope with her sister's death less than a year ago. Recovering from a recent break-down, Leena proposes a switch with her grandmother. For two months, Eileen will come to live in the city and try her luck in love. Leena will retreat to the country for some much-needed rest, taking over Grandma's various village tasks.

Will they both succeed in finding love and tranquility? Well, a cast of loveable, quirky, grouchy, and clumsy characters both on two legs and on four is on stand-by to make sure that "The Switch" goes anything but smoothly.
What a delightful story! This is a gentle romance that is carried by the beautifully carved cast of characters who become dear friends to the listener during the course of the audio book. This is in no small part due to the rendition of Daisy Edgar-Jones and Alison Steadman. Googling both actors, I found that they looked exactly as I pictured Leena and Eileen. It seemed to me that the author wrote her book with them in mind as performers. I loved Eileen's attitude of "anything goes at my age" which was conveyed perfectly by Alison Steadman's narration. Equally engrossing was Daisy Edgar-Jones's performance. I particularly enjoyed the note of humorous self-deprecation with which she brings Leena to life.

Beth O'Leary created an immensely loveable cast of characters and masterfully put them all in situations that are at the same time funny, sad and just so relatable. This romance was a delight from beginning to end.


TDL owns this title in

Large Print

and on

Audio

.
An Introduction to YA
by Teen Librarian Miss Amanda
---

Just inside the front doors, we have a colorful teen space full of interesting books, but many adult readers may not have stopped to browse these books before. The books in the teen section are referred to as young adult novels. Although young adult books are written with teens in mind, many of these stories are still fun to read as an adult.
There are some key differences between young adult novels and adult fiction. The main characters are almost always teenagers, and the problems the characters face are geared toward the things teens are thinking about (their identity, evaluating their place in society, friendship, romance, and what they'll be doing in the future). Young adult books tend to feel more fast-paced and focused on the present than books written for adults. If a young adult book discusses romantic relationships or violence, it will usually be less graphic than if the same story was written for adult audiences. Young adult books contain stories in a variety of genres, from mystery to romance to fantasy, so there's something in young adult fiction for every type of reader.
---

This book has become a young adult classic, and for good reason. This is a haunting and poetic story narrated by Death as he remembers a young girl, Liesel, living in Germany during World War II who stole books and told stories to comfort herself and her loved ones.
For mystery readers:
Firekeeper's Daughter
by Angeline Boulley

This story is set in Sault Ste. Marie, Michigan and the nearby Ojibwe reservation, so this is also a great read for anyone who likes reading books set in Michigan. This suspenseful mystery follows the complex character of Daunis, who was supposed to be getting a fresh start at the University of Michigan but had to defer to take care of her mother, as she becomes a confidential informant to the FBI in a string of drug-related deaths.

---
For outdoor enthusiasts:
Be Not Far From Me
by Mindy McGinnis


If you loved Hatchet when you were younger, definitely check this book out. This is a fast-paced and gritty story of a high school senior separated from her friends after a party in the Smoky mountain wilderness who has to fight to survive without any supplies.
Tuesday, May 4, 2021
Prohibition: Booze, Cars, Cops & Crimes
on Facebook Live
7:00 pm - 8:00 pm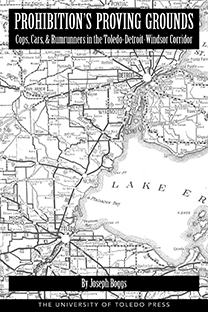 Many people in southeast Michigan and northwest Ohio are proud of our motorcar culture and history. And countless others are fascinated by the widespread criminality that was so prevalent in our local region during the Prohibition era.
Joe Boggs, author of Prohibition's Proving Ground, a book recently published by University of Toledo press, will demonstrate how our region's automobility played a large part in the successes of local rumrunners and the difficulties of dry enforcers.
Booze, cars, cops, and crime: an interesting mix and a presentation you won't want to miss!
Wednesday, May 5, 2021
Michigan Railroads: A History
on Zoom
(Registration Required)
1:00 pm - 3:30 pm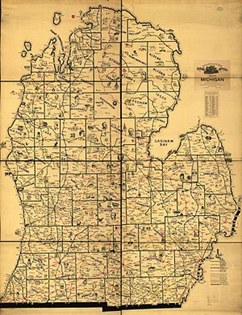 In 1836, Michigan's first railroad began operation between Toledo and Adrian. The first trains were pulled by horses. From that humble start, a network covering both of Michigan's peninsulas grew and prospered. From the mid-1800s to today, mainline railroads have served the state's industries, and have carried passengers both intrastate and on long-distance journeys. Branch lines and small railroads have served rural areas. While Michigan's rail network has shrunk in recent decades, the transportation benefit of today's system continues to be enormous. Five of North America's eight major railroads operate in Michigan. In this virtual presentation, historian Bill McKnight will discuss railroads of all eras, illustrating them with maps and photos. He will also tell us about Michigan's logging railroads and car ferries.
This special event will also be streamed on Facebook Live, which can be viewed from the library's Facebook page, https://www.facebook.com/Tecumseh-District-Library-192148050127/.
Tuesday, May 18, 2021
Recipes from a Big-Hearted Bakery in Detroit
on Facebook Live
7:00 pm - 8:00 pm
Author Lisa Ludwinski, owner and head baker of Sister Pie, will share her story of her small, but phenomenally successful bakery. Lisa will talk about her cookbook Sister Pie: The Recipes & Stories of a Big-Hearted Bakery in Detroit, which was featured as one of the Best Fall Cookbooks by the New York Times and as a Michigan Notable Book.
Thursday, May 20, 2021
Legacy of the War of 1812
through the 19th Century
on Facebook Live
7:00 pm - 8:00 pm
Learn about the role of Chief Tecumseh in the War of 1812 and his legacy in terms of how American history views him and why so many places are named after him with retired educator and park ranger Ron Jones. Find out about the "immediate" legacy of this war, which includes giving national identity to Americans and Canadians and the national anthem as a result of the battle at Ft. McHenry. Explore the rise of the Cotton Kingdom, the Monroe Doctrine, Manifest Destiny and the Spanish-American War (1898).
Thursday, May 27, 2021
A Shining Light in Tecumseh:
Neighbors of Hope Women and Children's Ministry Center
on Facebook Live
7:00 pm - 8:00 pm
Learn about Neighbors of Hope Women and Children's Ministry Center with Cass Hollenbeck, Women and Children's Ministry Director, and Pastor Steven Palmer, Neighbors of Hope Executive Director. Find out about the Women's Fresh Start program, the Good Neighbor Center Campaign 2020, Word Made Flesh podcasts and its vision for growth and development of the center. Discover ways that you can partner with the center.
Teen Book Box
Each month's Teen Book Box will include a surprise library book hand-selected for you to borrow, and some treats for you to keep. Register here to order your Teen Book Box.
On the registration form, you'll answer questions to help library staff select a book tailored to your interests. You'll get an email or phone call once your Book Box is ready to pick up. Then you can stop by the library and pick up your Book Box like any other reserve.
By checking out a Book Box, you agree to be responsible for any fines and fees for late returns or damaged books, just like checking out any other library book.
Please return the book and box by dropping it in the outdoor drop box. Everything else is yours to keep! Returned books will be quarantined for 24 hours before being checked in.
Teen Grab and Go Art
Stop by the Teen Space to pick up a free Teen Grab & Go Art Project kit from the library. There's a new kit available every month. Supplies are limited, so grab one while they last.
For more information about
all upcoming events,
CLICK HERE
---
06/01/2021
June Teen Book Box
---
06/01/2021
Teen Summer Reading Program begins
---
06/01/2021 7 pm
History of Michigan Opera Houses
On Zoom
Registration Required
---
06/03/2021 7 pm
Extraordinary Octagon House
On Facebook Live
---
06/08/2021 1 pm
An Afternoon Of Music With Elvis,
The Beatles, And Other Favorites
at Tecumseh United Methodist Church
---
06/08/2021 7 pm
The Legacy of Chief Tecumseh
And The Prophet
On Facebook Live
---
06/10/2021 7 pm
Memories Of Mayhem:
Seen Through The Eyes Of Emergency Services
at Tecumseh United Methodist Church
---
06/14/2021
Children's Summer Reading Program Begins
---
06/14/2021
Tween Summer Reading Program Begins
---
06/16/2021 3 pm
TDL Afternoon Book Club
The Book Woman of Troublesome Creek
at Tecumseh District Library
---
Music Moves Me
A Virtual Concert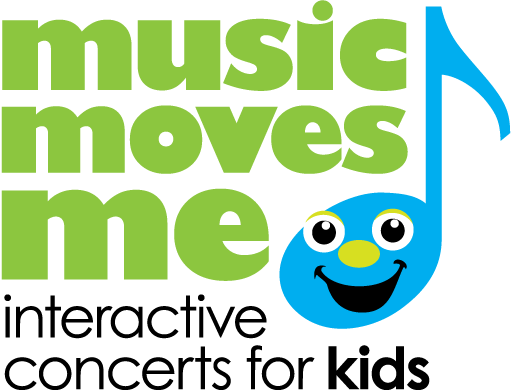 A Virtual Free 30-minute program featuring short solo selections by musicians from the Adrian Symphony Orchestra.
Stay tuned for link information in early May

For more information, click here.

"Music Moves Me" is made possible through a grant from the
Michigan Council for Arts & Cultural Affairs
as well as the Arts Alliance.
Tutor.com
offers online tutoring, homework help, paper review, practice quizzes, test prep, and career support for all grade levels (adults included), and it's now available for free with your library card!
Go to
https://www.tutor.com/woodlands
and enter your library card number to get started!

Ancestry.com has graciously allowed our patrons to access the library edition of Ancestry remotely for the past year. We are happy to announce that they have extended remote access until June 30, 2021.
Click here for instructions.

Outdoor Photographer is an iconic publication dedicated to exploring nature's most fascinating landscapes and wildlife. It features columnists and contributors who are among the most celebrated names in the field, along with the equipment and techniques for enthusiasts and pros seeking to master the art.
Summer Hours

Monday- Thursday
10 am - 8 pm

Friday-Saturday
10 am - 5 pm

Sunday
Closed
May
Meetings
TDL Board of Trustees
3rd Tuesday
May 18, 2021
5:30 pm
Friends of the Tecumseh District Library
are very excited to announce that they will resume in-person meetings on
May 10, 2021 at 6:30
Tecumseh District Library
lower level
Wednesday, May 19, 2021
TDL Afternoon Book Club
3:00 PM - 4:00 PM


We are reading:
THE TWELVE LIVES OF SAMUEL HAWLEY by HANNAH TINTI

Please come and join us for a spirited discussion.
CONTACT: Sonja Downey
(517) 423-2238
sdowney@tecumsehlibrary.org
LOCATION: Meeting Room A-2
Wednesday, May 19, 2021
Book Bingo
1:00 PM - 2:00 PM
Play bingo to win books and other prizes, have fun and make new friends. All adults are welcome to play.
All players will be required to wear masks while in the library. Social distancing will be practiced.
We invite you to enjoy our many services, including:
CDs
DVDs & Blu-Ray
Audio books
eBooks
Periodicals
Video Games
Public access computers
WiFi
Printing
Fax Service
Copy Machine
Quiet study rooms
e-Reader Help
Take-Read-Return Books
Early Literacy Stations
Notary Public
Ancestry Library Edition
THS Digitized School Yearbooks
For more information, CLICK HERE.
The following benefits are always available to

TDL Cardholders

:
Discounts on copies and faxes: 10¢ B/W copies, 50¢ Color copies and 50¢ FAX
Discount on Notary services: $1.00/document
One-on-one assistance with personal electronic devices including e-readers and phones
Overdrive for free e-books, audiobooks, & magazines.
Unlimited internet access on public use computers
Online and remote access to

America's News database
hoopla Digital for

ebooks, music, movies & more
Michigan Activity Pass "Check out" FREE or discounted admission passes to hundreds of Michigan state parks, campgrounds, museums, trails, arts & cultural destinations, and more.
"And into the forest I go,
to lose my mind
and find my soul."
―John Muir