Who and Where?
Art At Work was created by the arts non-profit Terra Moto Inc, and is led by the award-winning theatre artist Marty Pottenger. Projects engage various municipal employees and citizens. Art At Work has worked in partnership with the City of Portland, Maine since 2007, and also partnered on municipal projects in cities across the United States.
What and How?
Art At Work begins by interviewing key stakeholders to identify critical challenges. They then design a strategic arts project to address that issue, engaging the city workers, elected officials and union members that are connected to the issue.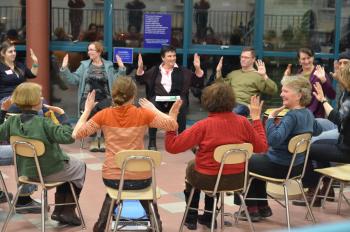 "The process of making art - poetry, collages, photographs, or music - dramatically increases participants' ability to actively engage, function as a team, envision a positive outcome, remember their connections and be willing to take inspired risks that lead to innovative solutions." – Marty Pottenger
Art At Work employs creative intelligence as a vital tool for municipalities to leverage the talents of their own workforce as well as the communities they serve. In the face of increasingly complex municipal challenges and diminishing resources, Art At Work has successfully demonstrated that artmaking is a valuable, cost-effective, sustainable tool to both address intransigent municipal problems and deepen the public's awareness and appreciation of local government's role in creating healthy, educated, engaged, economically vibrant communities.