Green Bean Connection
Happy Holidays with Lots of Green HUGS!!
It is such a blessing to be connected with each and every one of you! Thank you for sharing so much, the support you give, for engaging your Spirit with our community. Please intentionally shop and give green.

May it go well with you and yours now and in the New Year!





Delightful DECEMBER Holiday Harvests!


Purple Carrots! Orange or Purple Core!
Waffle Gardens, The Roots of Square Foot Gardening!
Special Gardener-Style Holiday Gifts!
Christmas at a Milwaukee DMZ Community Garden!
Events! In Santa Barbara Jan 2 La Sumida Nursery Bareroot Everything!


Dear Pilgrim Terrace Gardeners, Garden Friends,

FREE GARDEN SPACE! Montecito Union School has 6 raised garden beds with irrigation available for planting! The school kids might help, but mainly they want the kids to see things grow. The chef does hot lunches, so he would want to use the garden as an educational resource and get a little of the veggies. He would be happy to work with the gardener doing composting. Of course, in summer, the produce would all be for the person using the beds. Contact Alex Bayet alexisbayet@hotmail.com

or call him at the school.

Heroes Announcement! Nov 1 Ralph's Goleta store Manager, Manny, so generously donated 9 straw bales from their Halloween pumpkin display! Louie Casanno hauled them to the garden for us! Please give them big thanks for their generosity! That

FREE STRAW

is in our new storage area, Plot #1,

available for all to use!



The Greenhouse is good to go! The shelves have been replaced, compliments of Louie Cassano! Thanks again, Louie! Louie built the new shelves with spacing to drain off water. Currently they are supported by crates because the flooring is uneven and weak. The lowest crate openings are deliberately facing the walls so nothing will be stored on the floor, holding moisture in the floor. The crates above them are open for holding additional plants when we have overflow. We ask that you not store personal items in the greenhouse. When you put your trays/6 packs in, label them with date, your name and plot #. We ask that you treat the door gently and keep it closed when there are plants in the house! See project images!

Good news! Plot #1 IS now designated for 'storage' of unused items that are free to be shared, and for storage of items you don't have room for. Things you want to keep, securely waterproof label with the date, your name and Plot #. Since the fence is easily jumped, don't put anything there you couldn't live without or replace without grumbling. Please only put things there that are in good condition, for example, no beat up, falling apart, old wire tomato cages. Please, no toxic plastics or painted items. THANKS, SUSAN for making this space available to us! Reusing and sharing are a major part of Community!

See November images around the garden!

If you or a friend would enjoy gardening at a community garden, get going right now - December is a fabulous lettuce planting month as well as some other quick growing tasty treats! See below! Also, it is perfect timing to get ready for spring planting, which may come very early this year! A 10 X 20 spot is only $64/year! YES! Go directly to the Louise Lowry Davis Center, Parks & Recreation office, to sign up. That's at 1232 De La Vina St, Santa Barbara. We will be delighted to meet you and share friendship, sunshine, and garden craft!

---
---

Delightful December Holiday Harvests!


Chard, Bright Lights!
Love your Mother! Plant winter bee food! Capture water! Grow organic!
September/October plantings are coming in, perfectly in time for your holiday table! For many, December brings the biggest fall harvests, is Winter's June! I put the date I planted on my ID tags, along with the # of days to maturity. From time to time I check them. If it is beets or carrots and it's about time for them to be ready, I poke my fingers into the soil to see how they are coming along.
With shorter and possibly cooler days, what you plant now will take a bit longer to mature, more than that 50, 60+ days. So December plantings will be coming in late February, March. That's still in good time for soil preps in March for the first spring plantings in April.

You have planting timing choices to make this year. So far, here in Santa Barbara, we have been having a super mild winter, hot, in fact, with no frost in sight. If that keeps up, we can start planting some spring crops very early, ie zucchini! Some crop's fruits won't mature well because the day lengths aren't long enough yet. For those it's better to wait. You can use that area for other quick growers until it's their time. If you love your winter crops, amend your soil immediately and plant one more round, from transplants if you can get them or have starts of your own. They will mature faster than usual.

Check your 2015 seed catalogs for drought and heat tolerant varieties or look in southern states or world areas that have desert tolerant plants and order up! The seeds of these types may need to be planted deeper and earlier than more local plants for moisture they need. They may mature earlier. Be prepared to do second plantings and use a little water.

Besides beautiful bareroot roses, decide now where you will be buying any January bareroot veggies you want! Consider: grape vines; artichokes; short-day (sweet) globe onions; strawberries; cane berries such as raspberries (get low-chill types); low-chill blueberries; and rhubarb, asparagus, and horseradish.

Plant these delicious morsels now! Artichoke pups (give them 3' to 4' space), arugula, asparagus, beets, brocs, Brussels sprouts if you get winter chill, bunch onions, cabbage, carrots, cauliflower, celery, chard, culinary dandelions, garden purslane, kale, kohlrabi, head and leaf lettuces, mesclun, peas, potatoes, radishes - especially daikons, and turnips!

GARLIC LOVERS Same as with Brussels Sprouts, these stinkies need good winter chill. December is the last time to be planting garlic, with the special date being Winter Solstice day, Dec 21! Use the fattest cloves, give them super rich soil. Some say give them lots of water, others say little. Up to you. Try both? Also, you have the choice whether to plant with the skin on or presoaked skin off. Skin on protects the clove; skin off grows faster if it doesn't get eaten or rot. Again, up to you. But all agree, choose the hefty cloves!

Plant green manure where you will grow heavy summer feeders like tomatoes, potatoes, eggplants, peppers, chilis, squash, pumpkins, cucumbers, melons, and corn; hungry stalk vegetables like celery, fennel, rhubarb, and artichokes; or continually producing green, leafy vegetables like lettuce, spinach, Swiss chard. Green manure can be beautiful favas or a vetch mix to boost soil Nitrogen. Favas are big and you get a lot of green manure per square foot. If you change your mind, you can eat them! :) Or cover an area you won't be planting with a good 6" to a foot deep of mulch/straw and simply let the herds of soil organisms do their work over winter. That's called sheet composting or composting in place - no turning or having to move it when it's finished. If you are vermicomposting, have worms, add a few handfuls to speed up and enrich the process. Next spring you will have rich nutritious soil for no work at all!

Excellent Winter Garden Practices:
When you put in new transplants, sprinkle a bit of Sluggo type stuff around immediately to keep snails and slugs from seriously damaging them while they are small. Before you anticipate your seedlings coming up, sprinkle some pellets around the plant, along both sides of rows. That keeps the creatures from mowing them overnight, making you think they never came up! Do this a few times, and there will be no tiny vegetarian predators for a while.

Cover carrot, beet, radish, turnip, exposed shoulders with soil.
Keep watch on your chard and beet leaves. Pull away those blotchy sections the leafminers make; remove whole leaves that are too funky for rescue. Harvest the bigger outer lower leaves more often to stay ahead of the miners. Water a tad less so the leaf is less soft and inviting.

Thin any plants you intentionally over planted - carrots, beets, turnips, kale, chard, mustard. If you planted too close together, take out the shorter, weaker plants. They are all great in your salads along with small tender Brassica leaves.
SideDressing – that's feeding your plant during its growing time! Your plants will love a liquid fertilizer, like a stinky fish/kelp, that is easy for them to uptake in cooler weather. Sprinkle fertilizer around your plants or down a row, and dig it in a little, especially before a rain! Water it in. Use ½ the strength of your summer feedings. Rabbit manure can be scratched in directly with no composting. Pretty box mixes are fine! Lay in some of your fat compost in the top 3 to 6 inches of your soil. If you haven't been a fertilizing mid-season person before, think about how hard your plant is working. Big brocs, for example. Heading is your cue to help them along. Worm castings, though not food, work wonders!
Especially feed your
cabbages
, lightly, time to time, because they are making leaf after leaf, dense heads, working hard. I often see
kales
lose their perk. You would too if someone kept pulling your leaves off and never fed you. Feed them too, please, while feeding your cabbages.
Don't feed carrots, they will fork and grow hairy! Overwatering makes them split. Your peas and favas are busy gathering Nitrogen from the air, feeding themselves, so little to no feeding is needed for them.

Glance at beet roots, turnips, in general, for low soil, especially after rains. Maybe you aren't quite planting your seeds deeply enough? Anyway, cover up beet, carrot, radish and turnip shoulders to keep them from drying and getting rough looking and tough.
In SoCal, winter is not a time for mulching except for erosion control. Its purpose in summer is to keep the soil and plant roots cool, and retain moisture. In winter, we pull the mulch back to let the soil warm up during the short days. Also, it's good to remove pest habitat, let the soil dry a bit between rains to kill off the wilts fungi, and let Bagrada bug eggs die. Bag up summer straw, mulches, for compost pile layers during winter.

Just in case, have old sheets, light blankets, old towels handy in case of hard freezes. If a freeze is predicted, for small plants, like tender lettuces, just lay tomato cages on their sides and put your coverings over them. Secure them well so wind doesn't blow them around and damage your plants. Santa Barbara's average First Frost (fall) date is December 19, Last Frost (spring) date is (was?) January 22.
Veggie Predators
Gophers You can still put in wire protective baskets or barriers, especially now while the soil is softer after the rains. If you see a fresh mound, trap immediately.
Aphids? Watch for leaves unnaturally curled along the length of the leaf, particularly broccolis, cauliflowers, kale, cabbages. Squish or wash any or the colony away immediately, and keep doing it for a few days to catch the ones you missed. After that, water less so plant leaves will be less tender and inviting.
White flies Flush away, especially under the leaves. They are attracted to yellow, so keep those Brassica yellowing, yellowed leaves removed pronto. Again, a little less water.
Slugs, Snails Sluggo, or the like, before they even get started, right when your seedlings begin to show, immediately when you put your transplants in! Once stopped, there will be intervals when there are none at all. If you notice tiny children snails, lay down another couple rounds.
COMPOST always! Pile, in a bin, trench in, lay layers on top of your garden with a light covering of soil so all the nutrients are contained and it doesn't draw flies! Giving back to Mama Earth is nature's natural way! Ask neighbors or kin to save non-predator type kitchen veggie scraps for you.

Start getting your summer garden layout in mind. Peruse seed catalogs and order up for your entire year's plantings! :)
---
The Green Bean Connection started as correspondence for the Santa Barbara CA USA Pilgrim Terrace Community Garden. We are very coastal, in the fog belt part of the year, so keep that in mind compared to the microclimate niche where your veggie garden is. Bless you for being such a wonderful Earth Steward!
---

Introducing Purple Carrots! Orange or Purple Core!


The ORIGINAL carrot was white or purple! Oh, yes, it was! The World Carrot Museum says 'Carrots were originally purple or white with a thin root, then a mutant occurred which removed the purple pigmentation resulting in a new race of yellow carrots, from which orange carrots were developed.'

Daven Hiskey says

'

The modern day orange carrot wasn't cultivated until Dutch growers in the late 16th century took mutant strains of the purple carrot and gradually developed them into the sweet, plump, orange variety we have today.'

It is thought the carrot 'came of age during the food scarcity of the two World Wars when people were forced to be more inventive with fewer resources.'

Nutrition! Would you believe purple carrots (usually orange or white inside) have even more beta carotene (good vision) than their orange cousins?! Yep. Purple carrots, like blueberries, get their purple pigment from anthocyanins, powerful antioxidants that protect key cell components. They grab and hold harmful free radicals in the body, help prevent heart disease by slowing blood clotting, and are anti-inflammatory (arthritis). So, they are cheaper than blueberries, higher in beta carotene, and you can grow them just about anywhere!

Carrot Care

You can grow your own easily, in a big tub, in the ground, between other plants.

They need full sun and soft soil.

As with all carrots, don't overfeed or plant in too rich soil, or they get hairy! Here's a great link The return of the purple carrot from Sydney, Aus ~ read the comments!



Waffle Gardens, The Roots of Square Foot Gardening!
Museum of New Mexico. Photo by Jesse Nusbaum, 1911
Drought, a hot dry, maybe windy, climate requires creative response. Consider an old technique!
The Zuni people developed this waffle-garden design, which is still used today as an ecological method of conserving water. The garden was surrounded by a clay or adobe wall that rose 30-50 cm above the ground. The waffle plot may have had a gravel mulch as well. Both methods served to hold the water in the soil longer, to retard evaporation.
In a cooler climate, a wall, maybe of berry producing shrubs with dwarf fruit trees behind, can
reduce cooling and drying winds, allowing the warmth of a food forest! The waffles still reduce water use. Mulch in summer keeps weeds down and the plant roots cool and moist though the plants are getting lots of heat.
Waffle gardens at the Zuni Pueblo were planted near the river.
Photographer: T. H. O'Sullivan. Expedition of 1873.
About those walls! Study this little diagram...better to make a porous windbreak!
This Zuni field, left, takes advantage of the shade of the trees. Notice that the pattern follows the contour of the land, and the waffles are not all the square. Shape them as suits your needs.
OCTOBER 28, 2014 The University of Arizona plans a simple Community Garden that incorporates water conservation structure where the higher ground acts as waffle berms.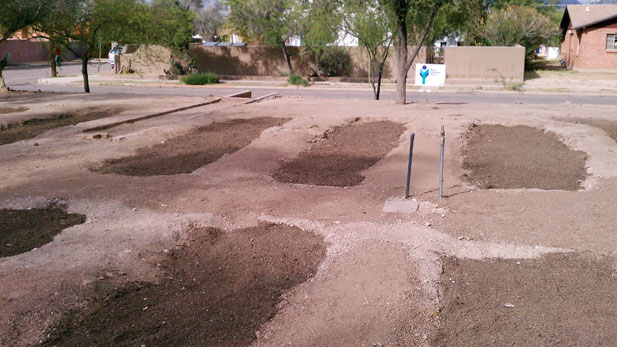 June of 2002 the A:Shiwi A:wan Museum and Heritage Center had put in a waffle garden to help the children of Zuni understand the ways of their ancestors. July and August, Zuni usually experiences monsoon season with afternoon thunderstorms coming from the south, a common (hoped for, prayed for!) occurrence. When we visited Zuni in August we found that the garden had changed significantly and that there had been lots of growth to all the crops!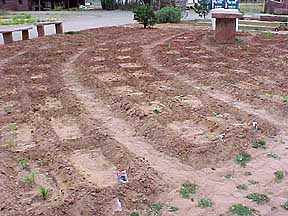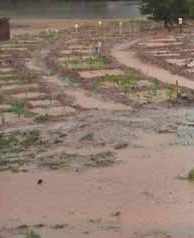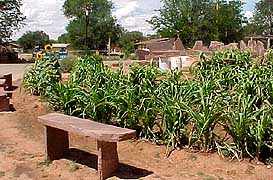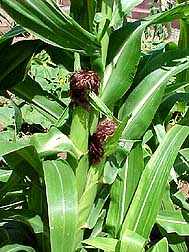 Use and modify your areas to good advantage. High berms deflect the prevailing drying wind. Deep basins hold water where it is needed.
Teach!
Visit local historic native gardens in your area
. In Santa Barbara CA that would be our Mission Garden, called La Huerta, The Orchard. The Albuquerque Demonstration Garden, at the Open Space Visitor Center, is a hands volunteer effort learning feature designed to teach about historical foods and methods of farming in the Rio Grande Valley.
Pointers
Squash and corn starting in a single dug down Waffle! Give it a try! You can do it anywhere!
And that, became this! Happy Planting!
Back to top
---

Wonderful Gardener-Style Holiday Gifts!


Gifts From Your Garden, Heart to Heart!
Seeds! Spring planting is next!
Plants, with a bow on the container
Canned or dehydrated favorites, dated and labeled
Herbal seasonings, teas, dusting powders, salves
Herbal pillows, sachets
Scented candles, soaps
Oils & vinegars
Spicy Orange Pomanders
Winter Wreath
Fresh bouquet garni
To Your Favorite Gardener with Love!
A Gift Certificate for your help!
A Gift Certificate to a garden supply house
Catalogs for Organic Seeds
Garden supplies - soil amendments
Garden tools - maybe some specialty clippers?
Garden clothes, from rain boots to summer hat!
A fantastic Garden Basket
A trip to visit a fabulous garden
A garden club membership
Garden books - cookbooks, historic gardens
Oh, you will be SO loved and appreciated!
---

Christmas at a Milwaukee DMZ Community Garden!
Residents Andre Lee Ellis, Darius Williams and a group of neighbors put up Christmas decorations in this community garden on the corner of 9th and Ring streets in Borchert Field. (Photo by Sue Vliet)

DMZ Gardens: Healing Garden, Perennial Garden, Backyard Garden, The Orchard
In the fall of 2012, we planned the healing garden. In 2013, with a grant from the NIDC, we started creating it.
What a pleasant surprise to our already growing neighborhood. This garden is truly an inspiration to all. The significance behind the healing garden delivers a strong message. It is a place where people can come for peace and serenity. It is in memory of all the unfortunate loss of children's lives right here in Milwaukee and the children from Sandyhook Elementary in Newtown, Connecticut as well.

Our name came from the neighborhood violence. We wanted the hood to heal, so we called these the DMZ Community Gardens to stop violence and create a safe environment for neighbors and families to socialize. The founders wanted to also educate the community about healthy food from the land. The gardens enhance neighborhood beautification.

Our big dream? Start many more gardens in the neighborhood because people wanted healthy food.
Written by Dawn Powell

Blessings to all. May you be healed too, and if you like, start a community garden near you in 2015! More about the gardens and people (scroll down the page)
---
---


Upcoming Garden Events!
Walk or bike to Holiday events as possible!

---
Santa Barbara/Goleta La Sumida Nursery shoppers
, remember, they close Christmas Day and
reopen Friday Jan 2, 2015!
They will then have BAREROOT plants! Roses, FRUIT TREES, BERRIES, asparagus, grapes, Sequoia STRAWBERRIES! (805) 964-9944 Check their site page for
upcoming events
and subscribe for email notices.
---
---
Leave a wild place, untouched, in your garden! It's the place the faeries and elves, the little people can hang out. When you are down on your hands and knees, they will whisper what to do. All of a sudden an idea pops in your mind….

Winter beauty and super nutrition to you!
Cerena



In the garden of thy heart, plant naught but the rose of love. – Baha'U'Uah
"Earth turns to Gold in the hands of the Wise" Rumi