Pink Champagne Cake Pops–A New Years Eve Treat!
Dec 02, 2013 06:00 am | Keep It Sweet
These Pink Champagne Cake Pops are going to be your new go-to celebration treat!  Make them to ring in the New Year or for your next birthday party.  They are as delicious as they are pretty!
This is one of the most fun photo shoots I've ever put together and I'm excited to finally post all about these gorgeous cake pops!
The recipe was put together for this year's holiday issue of Celebrity Cooking Magazine.  I was so honored to be featured in the magazine amongst great chefs like Giada De Laurentiis and Fabio Viviani.  If you skip to page 72 of the magazine, you will find a Keep It Sweet Desserts feature along with a couple of my holiday dessert recipes.  Since they didn't include the recipe for these Pink Champagne Cake Pops (just a photo), I figured I just had to share them here!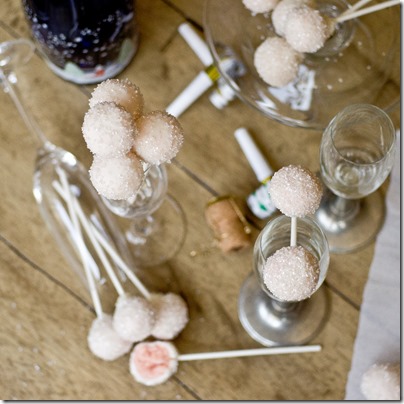 Cake pops are a fun treat and can take a little bit of time to put together, but when you use a good recipe, they will taste just as delicious as they look (you can't say that for all store-bought cake pops and mixes).  Also, since they are dipped in chocolate, the cake balls retain their moisture for a little longer than cupcakes or regular cake so they can be prepared up to one week in advance.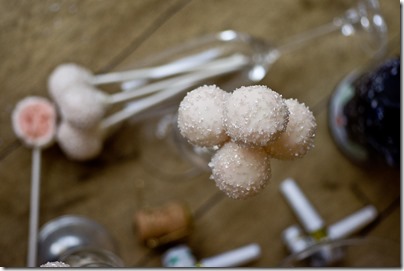 New Years Eve parties, bridal showers and 21st birthdays are just some of the occasions to celebrate with these cake pops.
And imagine your guests delight when they bite into the sweet champagne flavored cake pop and find a pretty pink center!
Sorry for the photo overload, I just couldn't resist!
[print_this]
Pink Champagne Cake Pops
Makes 60 cake pops
Cake & buttercream slightly adapted from Booze Cakes
Cake pops inspired by Bakerella
Cake Pops
Ingredients:
1 Pink Champagne Cake
1 batch Pink Champagne Buttercream
60 6-inch lollipop sticks
32 ounces white chocolate or white chocolate melts, roughly chopped
½ – 1 cup diamond sugar (optional but recommended)
Directions:
Line a baking sheet with wax paper and set aside
Break cake into pieces and place in a large bowl; crumble cake into small crumbs with fingers
Add buttercream to cake and mix with a spoon until all cake crumbs are coated
Use a small cookie dough scoop or large spoon to scoop balls of dough onto wax paper
Use your hands to roll the cake scoops into balls
Cover with another sheet of wax paper and place in freezer for at least two hours
Prepare another baking sheet with wax paper for finished pops, alternatively, have a large piece of styrofoam available for drying cake pops
Once cake balls are frozen, you can make the cake pops
Put white chocolate in a heat-safe bowl and place in over a pot of simmering water; stir chocolate constantly until melted (you can also melt the white chocolate in the microwave)
Remove balls from freezer; dip the top of each lollipop stick about 1/4 of an inch into the white chocolate and immediately press into cake ball two thirds of the way through
Once complete, dip each cake pop, one at a time, into white chocolate; lightly tap off excess chocolate and place cake pop on wax paper or stick into styrofoam; decorate with diamond sugar immediately before chocolate hardens
Repeat until all cake pops are dipped and decorated
Allow to cool and for chocolate to harden before serving
Pink Champagne Cake
Ingredients:
13 7/8 ounces (3 cups) all-purpose flour
3 teaspoons baking powder
½ teaspoon salt
8 ounces (1 cup / 2 sticks) unsalted butter, softened at room temperature
15 ounces (2 cups) granulated sugar
1 teaspoon vanilla extract
6 x-large egg whites at room temperature
4 drops red food coloring
2 cups champagne (make sure to choose champagne that you like the taste of)
Directions:
Pre-heat oven to 350 degrees; grease and flour 9×13-inch cake pan or baking dish; set aside
In a medium bowl, whisk together dry ingredients (flour, baking powder and salt); set aside
In the large bowl of an electric mixer, beat butter and sugar until light and fluffy
Reduce speed to medium and add egg whites, one at a time; add vanilla
Mix in food coloring
Stop mixer and scrape the sides of the bowl with a spatula
With mixer on low speed, add dry ingredients and champagne in three alternating additions, starting and ending with dry ingredients
Pour into prepared cake pan or baking dish and bake 25-35 minutes or until knife comes out clean from center
Pink Champagne Buttercream
Ingredients:
2 ounces (1/4 cup / ½ stick) unsalted butter, softened at room temperature
1 1/4 cups powdered sugar
2 tablespoons champagne
¼ teaspoon vanilla extract
1 drop red food coloring
Directions:
Beat butter for several minutes until light and fluffy
Add sugar, champagne, vanilla and food coloring and beat for several minutes until light and creamy
Notes:
Cake can be made one day before making cake pops; just make sure it is covered tightly with seran wrap overnight
Cake pops can be made up to one week in advance of serving
[/print_this]