Message from the Alumni Board
First Annual Distinguised Alumnus/a Award
by Sarah Boxley Beck '98
Every year the Alumni Association gives out the Alumni Service Award which recognizes service to the school. This year the Alumni Board created an additional award, the Distinguished Alumnus/a Award. The purpose is to celebrate significant achievements by a North Cross School graduate in his/her field of expertise.
The Alumni Association is pleased to announce that the first recipient of the Distinguished Alumna Award is Katherine Fulton '73. Katherine's accomplishments, talents, and accolades are almost too numerous to list. She has been a main stage speaker at TED national conferences. Her official bio from the Monitor Group's website includes the following description:
"Katherine Fulton is a partner of Monitor Group, and president of the Monitor Institute, the Group entity dedicated to helping innovative leaders develop and achieve sustainable solutions to significant social and environmental problems. She has spent three decades chronicling and catalyzing social change as a leader, strategist, teacher, editor, writer, speaker and advisor."
Katherine is passionately interested in how private resources can be used more effectively to create public good; and in recent years, her work has increasingly focused on how philanthropy and social investing can adapt to a rapidly evolving global context. She has advised many of this generation's leading philanthropists and foundations, given dozens of major speeches about the future of philanthropy, and co-authored noted publications."
North Cross School is honored to have Katherine Fulton on campus January 29-30th. On January 29 at 5:30 p.m. in Fisburn Auditorium, Katherine will serve as moderator for a forum titled "Education 2025" focusing on the future of education in the Roanoke Valley. The panel members include local educational leaders Dr. Christopher Howard, President of Hampden-Sydney College; Dr. Robert Sandel, President of Virginia Western Community College; and Dr. Rita Bishop, Superintendent of Roanoke City Public Schools.
The forum is open to students, parents, alumni, and the entire community. I hope that you will be able to attend this unique and innovative program and learn from Katherine Fulton and honored panel members.
Remembering Ripken
In early December we said "goodbye" to Ellie and Chris Proctor's dog Ripken, a friend to everyone who stepped foot on our campus.

Ellie shared her thoughts and thanks to the entire community on her Facebook page. "Thanks to everyone for all of your thoughts and concerns for our Rip. It has been a really tough week for the four of us. We will miss him so much but no one more than Chris who was rarely seen without him. Ripken hasn't missed a day of school since our arrival at North Cross, and I can't thank the NCS community enough for loving him as much as you did! His greatest joy was walking to school in the mornings, wandering the halls visiting the kids in their classrooms and going to games…he even sat in the stands at basketball and volleyball games! Gotta love a dog friendly campus! Thanks to all of you for making his golden years so special."

Thank you to Robert Robillard for providing this photo from his archives. The photo was taken on Ripken's first day of school at North Cross in September 2011.
Community Service Update
Alex Hash, Community Outreach Coordinator, is extremely proud of the service North Cross has shown to the community during the holiday season. "We started the holidays off by providing Thanksgiving meals to over 40 local families and had over 30 participants from North Cross help at the Drumstick Dash. In addition, we were able to provide a heaping amount of toys and clothing to the Salvation Army "Forgotten Angel" project and donated over 350 coats for the Rescue Mission. For a community as small as ours we were able to be a huge blessing to our region, and I want to thank everyone in the North Cross community for their contributions."

In photo above, Jane Ward '16 (left) and Olivia Hanson '16 (right) helped deliver Thanksgiving meals.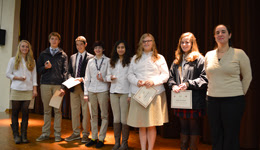 French Honor Society Induction Ceremony
On Tuesday, December 9, seven students were inducted into the French Honor Society.
The aim of the Société Honoraire de Français is to stimulate interest in the study of French, to promote high standards of scholarship, to reward scholastic achievements, to create enthusiasm for and an understanding of francophone culture and civilization, and to reward efforts toward furthering solidarity in the French-speaking world. In order to be eligible, the candidates must have maintained an average cumulative grade of A- or higher for all French work at the secondary level. Moreover, they must also have maintained an average cumulative grade of B- or higher in all other subjects at the secondary level.

In photo above, Mrs. Greenwell (far right) welcomes (from left) Mary Kate Graeff '16, Tristan Johnson-Hodges '16, Daniel Habib '18, Gabrielle Peppers '18, Narmeen Rasul '18, Ashtyn Gerhart '17, and Meghan McDonnell '15. These students join seven other members who were inducted in May 2014.

Two North Cross Students Accepted to the Virginia Page Programs
Two middle school students were accepted into the Page Programs offered in the Virginia House of Delegates and in the Virginia Senate. This is the fourth consecutive year an Eaton Hall student has been accepted into the program. Pages spend the session in Richmond and are required to keep up with their classes during their time in the program.

Ann Ashley Daniel '19 (left), daughter of Catherine Lesko Daniel '88, earned acceptance into the Virginia House of Delegates Page Program. House Pages work various jobs including assisting delegates and the House of Delegates Clerk's Office staff, running errands, answering phones, and other general office duties.

Emmy Graham '19 (right) was accepted into the Senate of Virginia Page Program. Pages in the Senate assist during floor sessions and committee meetings. They also answer telephones, retrieve bill copies from the bill room, sort and deliver mail, support the Clerk's Office, and assist in the public information office.
Teacher Features

Victor Lamas
We all know you are a history buff. Where did your love of history begin?
Both of my parents grew up in Spain, and I grew up going to Spain every summer to visit my family. The Spanish culture is so rich with history, so I learned to love it by living it; but it also comes from a love of reading and storytelling. I always saw my parents with a book. History is a story, and I always liked to escape into that world. Everyone thinks history is my favorite thing to teach, and it is, but secretly I am proud of teaching my students to love good books and to write and to diagram sentences as well. I get as much a kick out of seeing them identify a prepositional phrase or a dependent clause as I do anything. It is rewarding to see them succeed in anything.
Photos: Mr. Lamas at Commencement (left); and with his family after receiving the 2014 Morris Award for Excellence in Teaching, from left: daughter Juvissa (15), son Jimmy (18), wife Roxana, Victor, and son Joaquin '27 (5).

Click here to read the full feature.
Mary Semler

What was your first impression of North Cross?
I loved it right away. I automatically felt like I was right at home. I was teaching fourth grade with Victor Lamas, who was just starting his second year at North Cross and he was full of great ideas. I loved working with such a special group of people in the lower school; but what stood out to me the most was the fact that every single person in the lower school embraced me, and I immediately felt that I was part of a big family here.

Jennifer Luckay

What do you enjoy most about teaching three-year-olds?
I love the innocence of the kids, and I am amazed at how much they can learn - they are like sponges. You get to show them things they have never seen before like the old erupting volcano for science. Not to mention they are hilarious! I keep a book of all the funny things they say.
Can you share some of those funny moments?
Sure, these are some of my favorites…
Click here to read the full feature.

Photo: Ms. Luckay with her children. From left: Ms. Luckay, Lauren '07, Ryan, and Heather '10
Nationally Renowned Jazz Musician Performs with Lower School

Nationally renowned jazz musician and composer, Bradley Sowash, was on campus the week before winter break to help students prepare for the annual Lower School Holiday Performance.

Bradley Sowash is a composer, creative pianist, multi-instrumentalist, recording artist, author, and educator. He arranged five selections for the program. "The focus was on African-American Christmas spirituals as a method to gain a parallel understanding of the history and culture which produced these heritage selections and their value as American music treasures," said Mr. Sowash.

In November, the students began studying the art of jazz and spirituals with their music teacher, Richard Rudolph. "This unique hands-on experience allows students to be part of live music making and learn the process of music from inception to a final performance. It also gives them an opportunity to learn about the job of a composer and arranger from a nationally recognized individual," said Mr. Rudolph.

Click here to watch a montage from the holiday performance.
Swim Teams Starts Strong

The 2014-2015 season is off to a fantastic start. Last week both the boys' and girls' teams had very tightly contested conference battles. The men's team lost an incredibly close meet to Roanoke Catholic by one point and swam to a tie against Liberty Christian, moving their overall record to 3-7-1. The women's team beat Roanoke Catholic and lost to Liberty Christian moving their overall record to 8-3. Over the weekend a small contingent of Raider swimmers competed at the All-Timesland Invitational. The women swam to a 4th place overall finish (out of 16 schools), and the boys swam to an 8th place finish (out of 15 schools).

The following swimmers and relay teams have already qualified for the State Championships:
Emma Cartledge '18—50 Freestyle, 100 Breaststroke, and 100 Butterfly
Joseph Cartledge '16—50 Freestyle, 100 Freestyle, 100 Butterfly, and 200 Individual Medley
Zach H'Doubler '17—100 Breaststroke
Andrew Lorens '19 (top photo)—200 Freestyle, 500 Freestyle, 100 Backstroke, 100 Butterfly, and 200 Individual Medley
Maddie Robinson '16—50 Freestyle, 100 Freestyle, 200 Freestyle, 500 Freestyle, 100 Backstroke, and 100 Butterfly
Margo Winn '18 (bottom photo)—50 Freestyle, 100 Freestyle, 100 Backstroke, 100 Butterfly, and 200 Individual Medley
In addition both the girls' and boys' teams have qualified for all three relays available—200 Medley Relay, 200 Freestyle Relay, and 400 Freestyle Relay.
Three More Milestones for Boys' Varsity Soccer
Boys' Varsity Soccer coach James Brown (right) was named VISAA Coach of the Year while Kennedy Nwabia '15 (left) was announced Virginia Independent Conference Player of the Year.

In addition, Nwabia was also named to the All-Mid-Atlantic Region Team for Fall Boys High School Soccer. The team is named by the National Soccer Coaches Association of America and includes players from North Carolina, Virginia, Maryland, and Delaware.
Hooper Field
The holiday season is an appropriate time to reflect on the name of Hooper Field where we gather for our annual tree lighting and bonfire. Grayson Banks Hooper '96 (in photo from the 1996 yearbook) loved sports and the people around him. He played football for four years at North Cross and joined the wresting team as a senior to help the team fill an important weight class. Grayson died suddenly during wrestling practice on January 16, 1996, a few months before graduating from North Cross. Writing in the 1996 yearbook, his friend Bradley Densmore '96 wrote that "people who knew him fairly well would always say that there is nobody nicer. This may be the most simple but perfect description of Grayson for most who knew him, but for me, he was my best friend." Richard Cook lived near the Hooper family in Salem and remembers Grayson fondly. "Grayson was a great kid who smiled a lot and was loved by most everybody because he did not have a mean bone in his body," he said.

Ed Dickenson was the wrestling coach in 1996 and remembers Grayson as one of the most agreeable athletes he has ever known. "Despite his lack of experience, he embraced the sport and made rapid progress. He brought so much enthusiasm and energy to every practice, and he wanted to improve as quickly as possible to support his teammates and represent the team well. He was one of those rare and wonderful individuals who never seemed to have a bad day and whose enthusiasm for life was utterly contagious. After a period of illness, Grayson passed away during one of our afternoon practices. He did not feel well enough to participate but wanted to watch what we were covering in practice that day. When I spoke to Mrs. Hooper later that week, she told me with great kindness that Grayson passed away surrounded by a group of his caring friends, and that is the way he would have wanted it to be. I never forgot those words, and to this day, I feel lucky and blessed to have known him."

Grayson's parents, Bob and Bonnie Hooper, currently live in South Roanoke and remain close with many of Grayson's friends. His brother Charles Hooper '99 is a real estate developer and restaurateur in Roanoke and is engaged to Leah Boardwine. "It was special to show her Hooper Field and express how important the North Cross community is to me and my family. We love North Cross and are still blown away by the grace and kindness of this amazing group of families," he said.

Willis Hall
Gordon Willis served as the chairman of the North Cross School Board of Trustees for 14 years. He held a position on the board for more than 49 years either as board member, chairman, or trustee emeritus. During his time on the board, the campus grew from one building housing students grades kindergarten through seven to a 77-acre complex, which includes six buildings and several athletic fields.

When the old high school, now Eaton Hall, became overcrowded in the early 1980s, Jerry Maycock was sent out to tour a number of high schools in the East. His task was to help create the best possible space for laboratories with flexible space for experiments and lectures. The new bulding included 13 classrooms, a small workroom, faculty lounge, conference room, a college counseling office, publications room, darkroom, senior lounge, and a commons area.

Generations of the Willis family have attended the school and continue to give back through the gifts of their time and resources. Since the founding of the school at the Colonial Avenue location, a member of the Willis family has been closely involved with its success. This family tradition all began with the vision and commitment of one man: Mr. Gordon C. Willis. Four of Willis' children attended North Cross School: Julia Willis Crump '64, Cynthia Willis Creamer '66, Gordon C. Willis Jr. '68, and Mary Vaden H. Eisenstadt '78.

Other members of the extended Willis family who attended or currently attend the school include: Tom Rutherfoord '67, Elizabeth Willis Revette '74, Keith Willis '76, David D. H. Willis, Sr. '77, Mary Vaden Eisenstadt '78, Mary Holman Willis '80, Marie Shockley Waller '87, Sarah Woolwine '90, Benjamin Shockley '92, David D. H. Willis, Jr. '04, Marshall Willis '06, James Willis '09, Taylor Woolwine '12, Emily Woolwine '14, Keith Willis '15, Blake Willis '17, and Lucy Woolwine '17.
In 1985, the upper school building was completed and named in honor of Mr. Willis.
Let's Hear it for the Girls
Athletics are a significant part of the North Cross School experience. As a small school that currently fields over 30 teams, nearly every middle and upper school student participates on an athletic team during their time on campus. When Donna Satterwhite came to North Cross in 1971, the only options for girls' athletics were cheerleading in the fall, basketball in the winter, and tennis in the spring. Donna recalled that in 1971 "girls' basketball was played with six players. Two players stayed on the offensive side, two played on the defense, while two were allowed to roam the entire court." In 1972 after the passage of Title IX, Donna was instrumental in the expansion of athletic opportunities for girls on campus and the formation of the Blue Ridge Conference for Girls in 1975.

Blair Trail '95, Assistant Director of Athletics, was coached by Donna and remembers her as an excellent motivator. "She had high expectations for her players and held everyone accountable. She was tough, but fair. I could not have asked for a better coach, mentor, and friend," she said.

Donna achieved several athletic milestones during her time at North Cross. She led her teams to eight softball conference championships, volleyball conference championships, undefeated seasons, and won the first ever independent school state volleyball title in 1994. Along the way, she was named Coach of the Year both by the Blue Ridge Conference and the Virginia Independent School Athletic Association. Donna retired in 2011 after a 40 year career at North Cross School.

In photo above from 1979 yearbook, Donna poses with (from bottom left) Barbara Kiley '80, Anne Revercomb '82, Anne Martin '76, Betsy Hollingsworth '81,Meredith Coleman '80, Coach Donna Satterwhite, Amy Umbarger '80,Robin Clough '80, Laurie Fishburn '81, Margaret Grayson '82, Anne Hurt '79, and Assistant Coach Meade Martin.
Class News & Notes
Please send your updates for Class Notes to
Whitney Aldridge
at
waldridge@northcross.org
. If you wish to include a photo, please attach it to your email.
Blair Huffman Ellis '99 and her husband, Chad Ellis welcomed their son, Oliver Redding Ellis on October 3, 2014. Oliver joins his older brothers, Grayson and Everett. The family lives in Bartlesville, Oklahoma where Chad is a scientist for Phillips 66 and Blair is a legal consultant and takes care of the kids.
Holly Bucher '05 and Grey Hamlin '06 were married on November 15, 2014. Members of the wedding party included Jack Hamlin '03, John Pendleton '05, James Revercomb '06, David Callis '06, Mike Corswandt '02, Alex Butler, Kate Beedie '05, Ainsley Cooper Revercomb '05, Caitlin Clompus Anderson '05, and Katey Houck '05. Colleen Carroll Hamlin '78 is the mother of the groom.

There was a large gathering of North Cross alums as evidenced by the photo above. This was the

all NCS

picture.