A Heartfelt Path for February
February is a month with heart. The World Heart Federation along with the American and Canadian Heart Associations call our attention to Healthy Heart Awareness, Valentines Day is association with the heart and the lure of
Amore
and an overall consciousness about our relationships become the focus for February. With such opportunity, we might take a humorous note from Mae West... "Too much of a good thing....is wonderful". Whatever your focus this month, it can't help but have a little heart in it so we decided to find a heart in our path as well.
Februarius (February) was not part of the original Roman calendar. Prior to its addition, there were only 10 named months with December (Latin decem = 10) was the last month of the year and March was the first. Februarius may have even had only 23 days until the calendar was standardized where all 12 months were apportioned 29 or 31 days. That is of course, except for February with 28 (unless it's a leap year)!
February is a decidedly shorter month as we have but 28 days to enjoy the heart of the matter and what matters to our hearts, so this month we thought it might be a somewhat enjoyable past time to take notice of where you might find the paths of heart. Notably the labyrinths that give us pause and open the heart as well as those that are shaped in the heart. We have all seen them, though it might be nice to create our own little collection of them together. Share what you find by submitting links and images to our new blog (info below), or just email us photos and images and we will put a collage of them together. Site the names, locations and credits for each so it is easy for others to find them and give credit to them too. (Look for these heart shaped labyrinths and more on our blog)
We have a New Blog
In attempts to create a vehicle could be developed for those who wish to share and dialogue more frequently and save on all our "inboxes" email
wise, we created a blog for some sharing and conversation of the daily walk. Feel free to add your thoughts, post photos and links and join in. We have even added a page for February's Heart Mission to upload the images you find that our heartfelt and heartshaped! In this way, those that want to take part can and those that d
o
not care to, are not inundated with excess posts. It is also a private blog site so that only the members of the 365 Club are welcomed by this link: http://tls365club.wordpress.com Do let us know your thoughts and for those who journal, share a daily wisdom!
From our survey results, too many did not use the TLS forum, so hopefully this will be a helpful tool to begin our journey with. Know that we are unfolding
the year slowly so that we find what works and what doesn't.
Designed with Heart
In the spirit of this month of hearts and love, we share the gift of A Heart Labyrinth from TLS member Jerry Etzkorn of British Columbia, our 2013 Labyrinth Society Gathering destination! Jerry and his wife Janett have been Lightkeepers for over 30 years at five different Lightstations on the coast of British Columbia. Jerry works for the Canadian Coast Guard and for the past 26 years has lived at the Carmanah Point Light station, on the south west coast of Vancouver Island. In addition to plenty of beach to draw and walk labyrinths, Jerry and Janett have a 51 foot diameter Chartres style labyrinth on their front lawn. In his "About the Author" Jerry states that one of his present passions is …"designing alternate Labyrinth shapes and patterns that can be relatively easily drawn into the sand, laying them down and walking them to the heartbeat of the breaking ocean swells." Here's to Jerry and to some Vancouver dreaming and walking! He tells us he will be drawing heart labyrinths in the beach at the TLS gathering in the fall. Enjoy!
Jerry Share's his seed pattern:


Starting with the seed pattern of three lines radiating from a point, three angled inserts and three dots as seen in Fig. 1. Adjust the top portion of the pattern to match Fig. 2. (the top angled insert became two dots (green) and top dot (red) became curved arm connected to right central arm. Fig 3 shows center and innermost circuit. Fig 4 shows complete design. To get full heart shape, keep lines closer together at bottom and widen at the top.



We extend our gratitude to Jerry for sharing A Heart Labyrinth, creating powerful possibilities and connectedness on the Labyrinth. Let us know how A Heart Labyrinth touches or inspires your labyrinth walks and ways that you share your labyrinth love!



This Month in Walking......................................................................................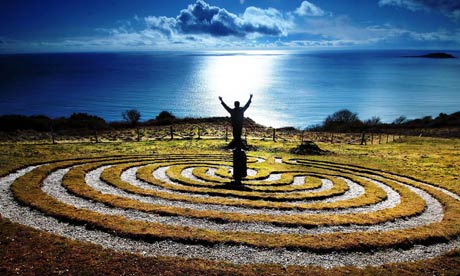 We may look for new ways to enhance our walk to keep the steps alive, fresh and purposeful each month. There are as many ways to walk a labyrinth as there is imagination and creativity. Share your ideas and what you may have done to keep things interesting. When in France at the Chartres Cathedral, many know the chairs cover the labyrinth much of the time. It was a challenge, but I found a new way to walk the labyrinth each day...some across the labrys', some in the petals, and some days were found on the lunations. This month as we walk in the steps of love and the focus of heart healthiness, consider watching others walk and notice how much you are moved. There is a profound feeling of simply watching and flowing along with another or others as they walk and it is a different experience because it causes us to listen and be with the experience differently. Enjoy the opportunity!
For the Love of Labyrinths!
Step into February with Love...
Stay in touch, contribute and let us know how to be service
Lynda Tourloukis
Lynda@youcansayyes.com
(847) 401-5787
Mary Silvaroli Daul
mgsd50@comcast.net
(651) 762-4654
May we walk through the holidays with love, peace and joy of the season,
Mary Silvaroli Daul and Lynda Tourloukis
TLS 365 Club Chairs
Visit the blog:
http://tls365club.wordpress.com