SCORPIO NEW MOON and
TOTAL SOLAR ECLIPSE
LUNASCOPE

Sunday 3rd November 2013 12:50 GMT

As life becomes more chaotic and unstable, we try and find safety in what we know rather than embrace the inevitability of change. The Moon and Planets are here to help us navigate our way through the fear and now more than ever we must make use of their energy to find the happiness and inner joy we seek.

Contents of this Lunascope
Scorpio New Moon - 3rd November 07:50 EST/04:50 PST
Scorpio New Moon Ritual
Mercury Retrograde - 21st October - 10th November
Samhain (Halloween) - 31st October - 1st November
Readings/Coaching/Shamanic Services
The Shaman's Last Apprentice Book
Astrology Readings
---
Dear Lunascopers, to honour this time of new moon I am facilitating a cacao sharemony in Waterloo, London on Sunday 3rd November for more details please visit
http://www.rebekahshaman.com/cacao/
wishing you all a peaceful and harmonious Scorpio new moon.
When things go wrong, as they sometimes will,
When the road you're trudging seems all uphill,
When the funds are low and the debts are high,
And you want to smile, but you have to sigh,
When care is pressing you down a bit
Rest if you must, but don't you quit.
Life is queer with its twists and turns,
As every one of us sometimes learns,
And many a fellow turns about
When he might have won had he stuck it out.
Don't give up though the pace seems slow
You may succeed with another blow.
Often the goal is nearer than
It seems to a faint and faltering man;
Often the struggler has given up
When he might have captured the victor's cup;
And he learned too late when the night came down,
How close he was to the golden crown.
Success is failure turned inside out
The silver tint in the clouds of doubt,
And you never can tell how close you are,
It might be near when it seems afar;
So stick to the fight when you're hardest hit
It's when things seem worst that you must not quit." ~
Gerard Haughey
It has been an intense complete moon cycle starting with the Libran new moon that brought to the surface hidden issues and conflicts within our relationships, the Aries full moon then heightened the powerful processes by opening up the wounds, and now this coming Scorpio new moon is putting on the salt and with it the often painful healing.
The fiery Aries full moon blew everything into the open so that we had to face our deepest issues and wounds. For those who are still finding your problems unresolved this watery, emotional and passionate Scorpio moon will almost certainly bring all issues to a head where a solution has to be found.
Ruled by Pluto, the planet of transformation and awakenings, this moon is going to force the change upon us. However, we have all been preparing for this shake up and now we are entering the eye of the storm.
Over the year I have been advising that this year it has been important to get clear who you are and where you are wanting to go. When we know what we want we are able to make more conscious decisions, from a place of integrity and heart, rather than tie ourselves up in logical, rational, ego knots.
The Scorpio moon illuminates our deepest emotional responses and patterns and any issues and fears we may have around passion and intimacy, especially trust. When we are aware of who we are we can embrace these hidden parts of ourselves and use them to our advantage.
When we are in denial of our issues they are expressed what I call 'Ninja Style' with a sharp aggressive kick, creating all sorts of problems, and even more so over this moon. It can also bring up the 'negative critic' that inner voice that constantly keeps us feeling inferior and disempowered.
Letting go of negative thinking is harder over this moon, enhancing feelings of jealousy and possessiveness as emotional ownership comes into question. If we feel betrayed it can also spark off feelings of revenge and vengeance, and in the process destroy the trust that has been built up.
A total solar eclipse on the new moon is making it all the more intense, as it illuminates what needs to change in order for the transformation to occur. We can no longer pretend everything is ok and go along with the status quo.
We are now being forced both personally and generally to accept that things are just not working and do something about it. New moons are a time for new beginnings and rather than see what is breaking down take a different perspective to see what is breaking through.
Mercury retrograde that started on Monday 21
st
October is also adding its own chaos to the mix. A breakdown in electronics, communications, plans, meetings, everything seems to be slowing us down, which may well be bringing up some stuff too.
On top of all that we have the Cross Quarter festival of Samhain or Halloween as it is more commonly known, now a commercial festival for kids, but in ancient times, this very powerful festival celebrated the Celtic new year, the coming of winter and the moving into the darkness/underworld, when the veil between our world and the world of the ancestors becomes very thin.
This was a time to commune with the dead, to learn from them and to acknowledge that we are here because of them. This honouring was considered very important to maintain balance and harmony. In Central America, especially Mexico, they still celebrate this time with the Day of the Dead festival and in Europe it is called All Saints day or All Souls day.
Over this time many of us feel more psychic, aware and in tune with what is happening on an energetic level. Our dreams can be more intense and we can feel the presence of those who have died around us. This may make us feel more vulnerable, sad, lonely, and even shake our idea of reality and illusion.
For this reason I have shared the 'Don't Quit' poem because it may seem like things just seem insurmountable during this moon period. You may also feel desperate and hopeless, but this energy will pass and the Taurus full moon will bring a more positive determined energy, so if things do seem to go dark, take a deep breath, surrender and ask for help.
The key this moon is to find self-mastery and self-acceptance. When we stand in our power we become less controlling and less influenced by what is happening around us. Rather than judge what is happening as either good or bad, see it as experiencing. When we can step back and view the moment as just another experience, we can sail more easily through it.
You may also feel more empathic and connected with the suffering of others over this moon. Use this to inspire you to do something within your community and share your talents and skills with those who are less fortunate. Sometimes, when we focus our attention outwards we can put our own problems in perspective.
Scorpio is about endings and beginnings, the power is in discerning what to let go of and knowing what still needs to remain. It gives us the strength and passion to let go of anything that has been toxic so that we can create a new space in order to manifest a new experience.
I will end this Lunascope with the wise words of the Tao Te Ching:
"When I let go of what I am, I become what I might be. When I let go of what I have, I receive what I need."
Love and Blessings
Rebekah Shaman
xxx
---
NEW MOON RITUAL
You can do these rituals from Samhain on Thursday to the new moon on Sunday as all four nights hold the power of this time.
Over this New Moon/Samhain if you can, gather together with a group of conscious people and share your visions, dreams and passions. Create a sacred circle with the intention of connecting with your ancestors for messages.
Set your altar and honour the four directions (north, south, east, west), the energies above and below and within. Once you have opened the circle offer the Talking Stick around so that everyone gets an opportunity to share what is on their minds and in their hearts and share their ancestors and those who have died, with the group.
Everyone gets comfortable and shares three deep breathes. The host guides people to relax the body as mentioned in my past new Moon Rituals starting from the tips of the toes and slowly moving up the body to the top of the head. Once everyone is relaxed, peaceful and quiet there is silent time to connect with themselves and their ancestors.
In the silence thank your ancestors, the angels and spirit guides for their protection and love. Imagine being surrounded by your ancestors and loved ones that have passed on and tell them one by one what is in your heart. End old feuds or misunderstandings that can no longer be resolved in the physical world. If this ritual is done with the right intention and respect you can find peace. (If you are not in a group find a quiet place either in nature or the place where you feel most at peace and safe. Light a candle and thank the spirits and ancestors…performing your own private ritual).
Give people enough time to really spend with their ancestors and those loved ones that have passed on. Slowly, when you feel it's the right time, call people to the circle and invite them to share their experiences. Often we can help others when we just share our stories.
Ideally, make a fire and burn something symbolic that you want to let go of to create new space. This is also the time for divination so consult with the tarot, runes, ogham stick or any other tool that best works for you.
Glennie Kindred in
'The Earths Cycle of Celebration'
suggests a beautiful Samhain ritual. Hold hands in a circle. Pour a spiral of salt on the floor and in the centre leave a lighted candle and some nuts. Each person walks into the centre of the spiral and leaves something from the old year and picks up a nut that represents a new seed to grow. Walk out of the spiral inspired with a new direction for the New Year.
Happy Journeying...
---
EMPOWERMENT READINGS / SHAMANIC COACHING / SHAMANIC SERVICES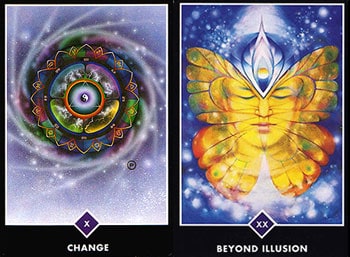 Using various shamanic practices learnt over fifteen years after apprenticing to a Peruvian Shaman in the Amazon, My aim is to empower you to find your own inner answers, giving you the courage, faith and support to discover your passion, reignite your creativity, follow your dreams and boldly leap into your future.
When we choose to take personal responsibility for our actions, we understand it's up to us to make the changes that we want to see in our life, and not need to rely on others, or the external world to change. Life effortlessly becomes more loving, happy and harmonious.
*EMPOWERMENT READINGS
When we are at a crossroads in our life and uncertain of the next step to take, an Empowerment Reading is a good starting point to find the clarity we have been seeking and realign our intentions and goals. Readings cost £45 for 30 mins or £65 for an hour in person or £30/50 on Skype. To book please email
rebekah@rebekahshaman.com
"You are like a wise woman, an honest friend, a guidance counselor, and a cosmic advisor all in one."
Chele, USA
COACHING
If you feel a need for more long-term practical guidance, coaching sessions are tailor-made to your needs. Each week we will use shamanic practice with 'homework' to break through old patterns and behaviour. Cost: £50 per session.Please email me at Rebekah@rebekahshaman.com if you would like to book a session.
To say Rebekah has changed my life completely would be a serious understatement! I feel lighter in every way – emotionally, mentally and physically. I know where I am going and more importantly I am really enjoying my journey and my life." S. Rothwell, Cookham Interiors
SHAMANIC GUIDANCE
Stand-alone shamanic guidance sessions last approx 90 mins and cost £100 or £75 when part of a coaching session. I offer: • Chakra clearing and healing
• Space, home, office energy clearing • Energetic healing • Cutting the Ties that Bind • Connecting with our inner wise wo/man • Soul retrieval • Past Life Regression • Finding your Power Animal • Shamanic Journeying. Please contact me to discuss your needs and requirements.
"Using a soul retrieval process, we met the people who were carrying pieces of my life force energy with them. As I journeyed towards the people who were connected to my feelings of stuck
energy, I felt very safe. I could hear her shamanic rattle accompanying me everywhere I visited,
releasing stuck
energy and returning it to my body"
R. Henderson
*Concessions available
More testimonials:
'I'd never had a Tarot reading before, and despite a little 'left-brain' sceptical resistance, I followed my feeling to seek one with Rebekah. After all, for several years now, I have resonated strongly with, and received huge comfort and help from, her bi-monthly Lunascopes. Because of circumstance/synchronicity, we did the reading via Skype and, technical hitches aside, it actually added to the experience of following intuition; I think this was because, when the video camera conked out, I had to feel much more than relying on visual instinct in choosing the cards. I completely trusted in Rebekah's confident, upbeat and skilled approach. She shows the true hallmarks of a professional in that I felt I was her complete focus, while knowing that she offers assistance and guidance to many on a regular basis. The pointers the cards I 'chose' gave and her knowledgeable interpretations, were immensely helpful and spot on, grounding me more firmly in the present and accepting certain things that are unfolding in my life. If you feel drawn to work with Rebekah, honour that feeling and follow through. It was so worth it!'
Rob Hilder, UK
"I've let quite a few moons pass since we met in Jan but I wanted to thank you for the insightful reading. Time and time again, I think back to the messages you passed on and the beautiful images of Osho's tarot deck vividly bring them home in my mind. I feel they are very important for my journey and that they will continue to serve me well as I navigate some important changes this year." Thank you and may your gifts continue to serve many!
~ Junko
My reading with Rebekah was both insightful and accurate. I booked the reading with the intention of gaining clarity around myself and my work and that is exactly what I got. I recommend Rebekah whether you are a novice to "Osho" tarot readings or not. You will get a spiritual direction that cuts through the veil of superficial psychic readings – Rafah Sabbah (UK).

'Thanks so much for the reading Rebekah. I really feel that you were very intuitive and experienced with your interpretation of the cards, and I have come away with a much greater sense of clarity regarding what I need to do next in my life, to get me to the next stage of my life. It was a really worthwhile experience.' ~ Helen (Australia)

"It was a real pleasure working/playing with you today. I could feel the connection between us and the universal energy and i feel we did something that I hope can be a springboard into the new reality I have been aiming to manifest for a while now." ~ Matt UK
---
THE SHAMAN'S LAST APPRENTICE - BUY IT HERE


This self-published book is the true story about how I became the Shaman's Last Apprentice.
It takes the reader from the Andes Mountains of Machu Picchu, where I was working in a hotel, to the Amazon rainforest where I found Don Juanito, an old traditional and local Ayahuasquero Shaman nestled in a tiny village deep in the heart of the Amazon.
The book gives detailed accounts of my breakdown in Machu Picchu, the vision I received that set me on the path, the miracles that led me to finding the Shaman, my secret love affair, local life in the Amazon and the sacred Ayahuasca tradition of the Peruvian Jungle; how it's prepared, the ceremonies, the visions I experienced and how it awakened me to how we are a part of nature and not apart from it. It is full of inspirational messages from the shaman and my time in the Amazon.
It is a unique book taken from my diary and recorded so that I can share my experience with you and inspire you on your own path of self discovery.
Packed with reflections and insights….a charming and engrossing true story –
The Weekly Telegraph (International, UK Derived).
I really loved your book. Your courage, sense of adventure and wisdom shone from every page. I felt the happiness and simplicity of life in the Amazon jungle. Thank you -
Diana Cooper, Author of 'Discover Atlantis'
Hi there, am reading your book and halfway through, totally enjoying it. Totally into the message of the indigenous people of the rainforest myself, -
Lynne Franks, Author of 'The SEED Handbook'
'The Shaman's Last Apprentice provides a well-written, sexy, and absorbing account of a young Englishwoman's journey into the world of Peruvian Ayahuasquero shamans' -
Fred Alan Wolf, Ph.D, Author of The Eagle's Quest and Scientist in 'What the Bleep do we Know?', San Francisco
Angeli Shori recently lent me a copy of your book 'The Shaman's Last Apprentice'. I read it in a few hours and found it both compelling and extraordinary. You are a very talented writer. –
Leda Sammarco, Writers Coach
I read your book yesterday - it was so gripping that I woke this morning at 6am to read more and I finished in on the tube on the way to work this morning - it had me in tears, laughing, feeling your fear and your strength and I am in complete admiration for everything that you went through in the jungle you really earned your surname!
Eleanor Niblock, UK
Thank you for your very interesting and highly readable book (which I finished yesterday morning). With a good director it could be made into an excellent film, all the right ingredients for a big success are there.
John Prewer, UK
I read your book pretty much straight through and really liked it. It was very inspirational and just what I needed to prompt me into action again.
Vicky Lewis, London
I read your book online and it's exceptional – couldn't stop reading! Your writing is excellent and alive – great to see photos after reading the book.
Peter Forrest UK
Thank you so much, I think reading your book has changed my life and my thinking, it was absolutely a pleasure to read - I only wish it had lasted longer!
Katie Simmons, London
I finished reading your book some weeks ago, I'm sorry I didn't get round to emailing you sooner. It really is very beautiful and I was moved by it, congratulations on this spiritual work of art! I also felt sad at the end about how you left in that way.
Justin Hoffman, UK
I was entranced by your book as soon as I saw it. I have started reading the book properly & am getting very much indeed from it. It is beautifully written too.
Mike Ryan
Imagine my delight at dawn, after dancing through the night, when I opened the first page of your book to find the poem by Rumi that we both know all too well.. After the first few pages, I get a sense of a fine adventure. I can see that you have traveled a path with heart.
Mark Grundland, UK
Ian finished your book and loved it very much. I am reading it now and taking my time because i don't want to finish it too quickly.
Nina, France
I've just finished your book which I enjoyed very much. What an amazing time you had.
Annie Tatham Mannall
Started reading your book. Gosh...I'm just holding on tight, getting ready for the ride!
Ravelle Suban, London
A few weeks ago, I finally picked up The Shaman's Last Apprentice - I don't know why it took me so long! Well, I have to tell you that I couldn't put it down - it is truly brilliant. I've read a number of spiritually inclined books in my time, but I genuinely think it's one of the best I've seen. It is truly an honour to read such a book and to know you - it made it all the more of an experience. I wish you every luck with it - it exudes quality of the highest order. Truly wonderful.
James Eckhardt, UK
Your story touched me, Rebekita. You are a very courageous person to drop it all and walk into the unknown in such a dramatic fashion. That your questions were answered in the way they were brought tears to my eyes.
Frank Campos. USA
I loved your book and it really touched me and made me cry.
Koogie Smith, UK
Hi Rebekita, I've read your beautiful gift of a book and your journey resonates so closely with mine. What the shaman said to you sang to my soul. I hope to hear from you and thank you for your story.
Julia Morton, UK
Have just finished reading your beautiful book. I feel the world is all the better for it being here and will commend it to many. Very heartening how different paths can resonate to the same truth.
Michael Finesilver, UK
Faye made notes from her reading of it and we both continually refer to them as a reference work of spiritual truth and inspiration
– Ian and Fay Lawson, Mexico
Wonderful incredible beautiful journey I enjoy reading and again and again -
Cheryl jay, South Africa
Thank you Rebekita for having the courage and conviction to follow your dream, I know that is not always an easy thing to do, yet because you did, you have brought through a most powerful, inspiring and much needed book to assist others on their journey home.
Sarah Charlton, UK
Your book was so inspiring, so honest and from the heart, it really gave me hope in these challenging times, as do your poems -
Sarah Watson, USA
---
*NEW* ASTROLOGY READING
Emma Toynbee, psychic development tutor at the London College of Psychic Studies, is available for intuitive astrology readings. Including; Natal birth chart readings, predictive reports, and relationship readings. She can also create more in depth and specific reports centered around a specific area, such as; health, love, family, money, work, career, housing, investments, spirituality, and life-purpose. For more details, or to make a booking, check out her website
http://emmatoynbee.com
or email
emma.toynbee@gmail.com
. Please quote "LUNASCOPE" for your discount.
---
Some Info About Me..
This Lunascope is inspired to help us to become realigned with the Rhythm of the Planet, through flowing with the natural cycles of the year and the eight Ancient Festivals of celebration that mark and define our annual cycle. The more we live within the natural flow, the more magic and harmony we will experience in our lives.
In 1998, while working in Peru, I was called by a Shaman in a vision that he had the answers to some of the questions I had about my existence and reason for why I am on the planet. So I flew to the Amazon and found the Shaman nestled in a tiny village deep in the Amazon Jungle. While living with him and his family I experienced first-hand that we are a part of, not apart from, Mother Earth and all life forms and Nature is a symbiotic partner for our survival. By destroying our natural world, we are destroying ourselves, and quickly.
We have been bamboozled by a corrupt calendar and even more corrupt concept of time. Through concepts like 'time is money,' we have gradually forgotten our symbiotic relationship with the Earth and natural environments. Indigenous communities, since time began had a higher vision for humanity and the Earth.
I have also written a book, 'The Shaman's Last Apprentice,' about my experiences in Peru that contains messages I received from my teacher Don Juanito and Ayahuasca. It's available to buy at my website
www.rebekahshaman.com
or
www.livingshamanically.com
I am very happy to share my Lunascope but if you do use any part of it please credit me and my website
www.rebekahshaman.com
so people can subscribe.
Thank you,
R.S x x x