FAN's Featured Blog Post
Prepare Your Landscape For The Upcoming Summer and Hurricane Season
posted by Keith Carracher, President, Complete Property Maintenance, June 5, 2017
With summer ahead, it's time to prepare for the heat, storms and humidity that occur in south Florida. It is time to prepare for the hurricane season. It is important that along with your personal and home safety, you also make sure to prepare your landscaping.
Read more

Industry News and Articles
Keep in mind that some of the articles are directed toward HOAs or condos specifically, but most can be applied to all types of community associations.

Insurance Reminders for Condo Associations at Start of Hurricane Season
posted by Laura Manning-Hudson, Florida HOA Lawyer Blog, June 16, 2017
With hurricane season now underway, Florida condominium associations should take the time to ensure that they and their owners are prepared for a storm. In addition to ensuring that hurricane shutters are operational and all of the necessary supplies are on hand, associations should communicate with owners about insurance and liability under state law.
Read more
Legislative Update: New Laws Affecting Florida Community Associations
posted by J Siegfried, Rivera, Hyman, Lerner, De La Torre, Mars & Sobel, P.A., Florida HOA Lawyer Blog, June 15, 2017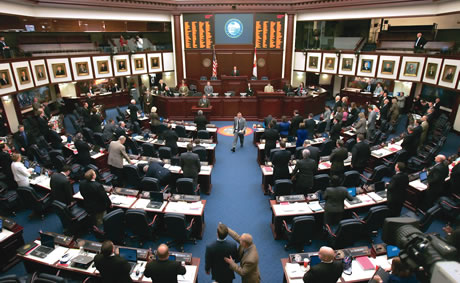 When a bill passes the Florida Legislature and is sent to the Governor for consideration, the Governor has 15 days from which to sign the bill into law, veto it, or do neither (in which case the bill will automatically become law if unsigned within such 15 days).
Read more
Cable TV … Internet … Phone Services Coax, Fiber Optics and More … There are New Opportunities for Community Associations!
posted by Jay M. Abbazia, CAM & Florida CAM CEU Provider, June 2, 2007

In the past, local telephone companies provided telephone services and local cable companies provided cable television services. That was it. For an association, selecting a service provider was relatively easy since quality choices were few. But in recent years, this scenario has changed dramatically for the benefit of community associations.
Read more
Legislative Update: Condominium Terminations Bill Signed Into Law
posted by Siegfried, Rivera, Hyman, Lerner, De La Torre, Mars & Sobel, P.A., Florida HOA Lawyer Blog, June 19, 2017
SB 1520 amends 718.117, Florida Statutes, regarding the optional termination of condominiums, making it more difficult for a Plan of Termination to be passed without full consent of the unit owners.The changes to the law reduce the amount of unit owners required to reject a plan, postpone the time until another plan can be voted on.
Read more
Maintaining Your Florida Home's Swimming Pool
posted by Ashley Dietz Gray, Marketing Director, Campbell Property Management, June 20, 2017
With the Florida weather pool maintenance is on our minds every season. Use these tips to help keep your home's pool in tip top shape.
Read more
"What's in a Name?" Quite a bit, particularly for Association Board Members who have been Defamed
posted by Donna DiMaggio Berger, Community Association Law Blog, June 5, 2017

When Shakespeare coined the phrase "the slings and arrows of outrageous fortune" in Hamlet, he probably wasn't envisioning that sentiment could apply centuries later to volunteer board members.
Read more
Can the Association Board Fill a Vacancy Without an Election?
posted by Joseph Adams, Florida Condo & HOA Law Blog, June 5, 2017
Generally, the members of the board of directors of a condominium association are elected by the members of the condominium association. However, in the event that a vacancy occurs on the board of directors, the remaining members of the board of directors likely have the authority to appoint a replacement to complete the term.
Read more
Can I Run for the Condo Board If I Haven't Paid A Fine?
posted by David G. Muller, Florida Condo & HOA Law Blog, June 21, 2017
If the fine was properly imposed, and you failed to pay the fine, the action your condominium association took is supported by the law.
Read more
Florida HOA's Can Change Rental Rules
posted by Joseph Adams, Florida Condo & HOA Law Blog, June 23, 2017
In a 2000 landmark case called
Woodside Village Condominium Ass'n, Inc. v. Jahren
, the Florida Supreme Court ruled that properly enacted amendments to a declaration of condominium could change rental rights retroactively, and that owners had no "vested rights" in the rental provisions of the condominium documents in effect when they purchased their unit.
Read more

Campbell appreciates your recommendations:
If you hear about neighbors that are considering a change in their property management and think Campbell might be a good fit, please let us know. Recommendations from our clients and partners are what has enabled us to grow over the 60+ years we have been in business.

Feel free to email us at sales@campbellproperty.com or visit us at
www.campbellpropertymanagement.com
Share this newsletter with friends by clicking on any of the share links below!