The BBC has spent tens of thousands of pounds over six years trying to keep secret an extraordinary 'eco' conference which has shaped its coverage of global warming, The Mail on Sunday can reveal. The controversial seminar was run by a body set up by the BBC's own environment analyst Roger Harrabin and funded via a £67,000 grant from the then Labour government, which hoped to see its 'line' on climate change and other Third World issues promoted in BBC reporting. A lobby group with close links to green campaigners, the International Broadcasting Trust (IBT), promised Ministers the seminars would influence programme content for years to come. --David Rose, Mail on Sunday, 12 January 2014



What is clear in the Mail on Sunday report is that funding for the 2006 BBC climate change seminar came from a government department. Also that the funds were channelled through environmental lobbyists who were organising the seminar. And it is possible that the government department that provided the funds had some input about the topics selected for the seminars. Lord Hall, as the man who encouraged Roger Harrabin to set up the seminar programme, features in this story too. However since his return to the BBC he has thrown some interesting light on the matter, contradicting just about everything that the BBC has claimed about the seminar previously. --Tony Newbery, Harmless Sky, 12 January 2014



What is certain is that the Government organised the 2005 Avoiding Dangerous Climate Change conference at the Hadley Centre, which led to a barrage of scare stories in the media, and that this was done in order to raise public awareness of the problem. A major seminar at the BBC early the following year, which was organised by environmental lobbyists who were being funded by a government department, must have seemed like a godsend to the Downing Street spin-doctors. --Tony Newbery, Harmless Sky, 12 January 2014



The new attention on the BBC's 28gate seminar has been prompted by disclosure of documents showing how the [UK Government's] Department for International Development responded to a funding request for funding from the International Broadcasting Trust a body that lobbies broadcasters on behalf of green NGOs. What we have, in essence, appears to be government paying for subversion of the state broadcaster. –Andrew Montford, Bishop Hill, 12 January 2014




In October 2007, while looking for something interesting to read, I came across a blog posting about a leaked BBC email. While it was interesting, it appeared relatively insignificant. There was no hint that this was to be the beginning of an investigation that would span more than four years and to lead to one of the greatest scandals in the history of the BBC. This long article tells the story of how two determined bloggers unearthed a plot by environmentalists and BBC journalists to subvert the corporation's output, excluding global warming sceptics from the airwaves. --Andrew Montford, Bishop Hill

The BBC and Climate Change: A Triple Betrayal
shows that the BBC has not only failed in its professional duty to report fully and accurately: it has betrayed its own principles, in three respects:
First, it has betrayed its statutory obligation to be impartial, using the excuse that any dissent from the official orthodoxy was so insignificant that it should just be ignored or made to look ridiculous.
Second, it has betrayed the principles of responsible journalism, by allowing its coverage to become so one-sided that it has too often amounted to no more than propaganda.
Third, it has betrayed the fundamental principles of science, which relies on unrelenting scepticism towards any theory until it can be shown to provide a comprehensive explanation for the observed evidence. --The Global Warming Policy Foundation, December 2011
1) BBC's Six-Year Cover-Up Of Secret 'Green Propaganda' Training For Top Executives -
Mail on Sunday, 12 January 2014
2) Tony Newbery:
What Price The BBC's Support For Climate Policy? -
Harmless Sky, 12 January 2014
3) Andrew Montford: The Propaganda Bureau -
Bishop Hill
4) Christopher Booker: The BBC And Climate Change: A Triple Betrayal -
The Global Warming Policy Foundation
1) BBC's Six-Year Cover-Up Of Secret 'Green Propaganda' Training For Top Executives
Mail on Sunday, 12 January 2014
David Rose

The BBC has spent tens of thousands of pounds over six years trying to keep secret an extraordinary 'eco' conference which has shaped its coverage of global warming, The Mail on Sunday can reveal.

The controversial seminar was run by a body set up by the BBC's own environment analyst Roger Harrabin and funded via a £67,000 grant from the then Labour government, which hoped to see its 'line' on climate change and other Third World issues promoted in BBC reporting.

At the event, in 2006, green activists and scientists – one of whom believes climate change is a bigger danger than global nuclear war – lectured 28 of the Corporation's most senior executives.

Then director of television Jana Bennett opened the seminar by telling the executives to ask themselves: 'How do you plan and run a city that is going to be submerged?' And she asked them to consider if climate change laboratories might offer material for a thriller.

A lobby group with close links to green campaigners, the International Broadcasting Trust (IBT), helped to arrange government funding for both the climate seminar and other BBC seminars run by Mr Harrabin – one of which was attended by then Labour Cabinet Minister Hilary Benn.

Applying for money from Mr Benn's Department for International Development (DFID), the IBT promised Ministers the seminars would influence programme content for years to come.
Cover-up: Former head of news Helen Boaden said the 2006 seminar affected a 'broad range of output', but that its attendees should be kept from the public
The BBC began its long legal battle to keep details of the conference secret after an amateur climate blogger spotted a passing reference to it in an official report.

Tony Newbery, 69, from North Wales, asked for further disclosure under the Freedom of Information Act. The BBC's resistance to revealing anything about its funding and the names of those present led to a protracted struggle in the Information Tribunal. The BBC has admitted it has spent more than £20,000 on barristers' fees. However, the full cost of their legal battle is understood to be much higher.

In a written statement opposing disclosure in 2012, former BBC news chief and current director of BBC radio Helen Boaden, who attended the event, admitted: 'In my view, the seminar had an impact on a broad range of BBC output.'
Plea: Part of Helen Boaden's statement opposing disclosure in 2012. She also said the seminar had sought to 'identify where the main areas of debate lie'. She is now the director of BBC radio
She said this included news reports by Mr Harrabin, and a three-part BBC  2 series presented by geologist Iain Stewart, who told viewers global warming was 'truly scary'. According to Ms Boaden, 'Editors and executives who attended were inspired to be more ambitious and creative in their editorial coverage of this slow-moving and complex issue.' She claimed the seminar sought to 'identify where the main areas of debate lie'. However, there were no expert climate sceptics present.

In an internal report, the IBT boasted that the seminars organised with Mr Harrabin had had 'a significant impact on the BBC's output'.
Blogger: Tony Newbery, who went to an information tribunal, said the seminar was 'propaganda'
Mr Newbery, who finally won his battle last month, said: 'It is very disappointing that the BBC tried so hard to cover this up. It seems clear that this seminar was a means of exposing executives to green propaganda.' The freshly disclosed documents show that a number of BBC attendees still occupy senior roles at the Corporation.

All four scientists present were strong advocates of the dangers posed by global warming. They were led by Lord May, former president of the Royal Society, who, though not a climate expert, has argued that warming is a greater threat than nuclear war. Other non-BBC staff who attended included Blake Lee-Harwood, head of campaigns at Greenpeace, John Ashton from the powerful green lobby group E3G, Andrew Simms of the New Economics Foundation, who argued there were only 100 months left to save the planet through radical emissions cuts, and Ashok Sinha of Stop Climate Chaos.

The BBC contingent included future director-general George Entwistle, Peter Horrocks, head of TV news, Stephen Mitchell, head of radio news, Francesca Unsworth, head of newsgathering, and Peter Rippon, editor of Radio 4's PM.

Mr Harrabin was the seminar's principal organiser. He ran it through the Cambridge Media Environment Programme, an outfit he set up with Open University lecturer Joe Smith. Mr Harrabin and Mr Smith did not derive personal financial benefit from the seminar.

But by teaming up with the IBT, an avowed lobby group trying to influence coverage, and accepting government funds when Labour was advocating radical policies to combat global warming, Mr Harrabin exposed himself to the charge he could be compromising the Corporation's impartiality.

During the legal battle, the BBC tried to airbrush both the IBT and its approach to the Government for funding from the record. Submissions and witness statements made no mention of it.

Mr Harrabin formed a partnership with the IBT in 2004. According to the newly-disclosed funding application to DFID, drawn up by IBT director Mark Galloway, it helped organise two BBC seminars on Third World themes with Mr Harrabin that year. These, Mr Galloway wrote, 'had clearly influenced editorial staff and resulted in several new commissions'.

DFID's budget is supposed to be devoted to overseas aid projects. But Mr Galloway asked for £115,305 for the two years from March 2005, adding: 'We have a firm commitment from the BBC to take part in seminars in 2005 and 2006 and to give all the support they can to this project.'

The DFID did not meet the IBT's full bid. But the documents show it paid £67,404 over two years.

A BBC spokesman said yesterday the seminar had 'no agenda', and that the organisers recognised BBC rules on impartiality, while the IBT's funding application was a 'matter for them'.



… and how the Corporation's lessons are still paying off



Comment by David Rose

Last week was a big one for weather news: the storms and floods in Britain, and the end of the bizarre saga which saw the Akademik Shokalskiy, the ship carrying climate scientists, tourists and a BBC reporter to inspect the ravages of global warming, trapped in Antarctic ice.
In both cases, the BBC stuck closely to its skewed, climate alarmist agenda.

David Cameron fuelled suggestions that the storms might be due to climate change by saying in the Commons he had 'suspicions' they were. The Met Office denied this was the case.

But repeatedly, the BBC followed the PM's line. Slots on the Radio 4 Today programme and Radio 5 repeated the bogus proposition on three separate days – and in none were sceptics allowed to present an alternative view.

Yet the facts are clear. Met Office records show that December 2013 was only the 20th wettest since 1910. It had just two-thirds the rainfall of the wettest, 1914.

For October to December, 2013 was only the 14th wettest year, and there has been no discernible trend in UK or English rainfall for more than 100 years.

But though the BBC was suggesting the storms were 'climate' rather than 'weather', it took a contradictory view over the icebound ship.

Radio 4's Inside Science told listeners that the ice was a freak, unpredictable event – driven by weather, not climate – and even added it had been falsely 'used by climate deniers' to advance their case.

Full story





2) Tony Newbery: What Price The BBC's Support For Climate Policy?
Harmless Sky, 12 January 2014

In the Mail on Sunday today, David Rose has reported on some startling developments in the long, long quest for information about a BBC's 2006 seminar on climate change. He has been very careful, as ever, to get his facts right, but writing for a popular Sunday paper necessarily means that much detail has had to be sacrificed in favour of a broad brush and the big picture. This is not a criticism in any way, it is just that a lot more could be said if space and the genre permitted.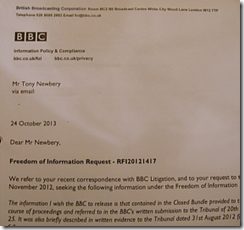 What is clear in the Mail on Sunday report is that funding for the 2006 BBC climate change seminar came from a government department. Also that the funds were channelled through environmental lobbyists who were organising the seminar. And it is possible that the government department that provided the funds had some input about the topics selected for the seminars.

The documents concerning the International Broadcasting Trust's (IBT) application to the Department for International Development (DFID) were obtained by Terry Sanders who kindly sent them to me. He deserves a very big thank-you indeed!

The Mail on Sunday article does not mention the 2005 G8 summit, which Tony Blair chaired. The subjects that he chose to lead on were development in Africa and climate change. Those happen to be the very subjects that the seminars focused on at that time. It is also interesting that when Sir David King was reminiscing at the time of his retirement as Chief Scientific Adviser to the UK Government he not only laid claim to turning Tony Blair on to climate change, but he also seems to imply that he was instrumental in getting the subject on the G8 agenda.

What is certain is that the Government organised the 2005 Avoiding Dangerous Climate Change conference at the Hadley Centre, which led to a barrage of scare stories in the media, and that this was done in order to raise public awareness of the problem. A major seminar at the BBC early the following year, which was organised by environmental lobbyists who were being funded by a government department, must have seemed like a godsend to the Downing Street spin-doctors.

Lord Hall, as the man who encouraged Roger Harrabin to set up the seminar programme, features in this story too. He had left the BBC to run the Royal Opera House before DFID got involved with the seminars, so he bears no direct responsibility for what happened in 2005 and 2006. However since his return to the BBC he has thrown some interesting light on the matter, contradicting just about everything that the BBC has claimed about the seminar previously.

Here are some of the things that the BBC has said about the seminar:

It was described in John Bridcut's landmark 'Wagon Wheel' report on BBC's impartiality, which was adopted and published by the BBC Trust in July 2007, as:

"A high level seminar with some of the best scientific experts [on climate change]"

The BBC's letter of 31st August 2007 refusing to disclose the information I had requested says:

"… information relating to the seminar is held to help inform the BBC's editorial policy around reporting climate change.…

The attendees at the seminar were made up of 30 key BBC staff and 30 invited guests who are specialists in the area of climate change."

A BBC submission to my previous Information Tribunal appeal last year had the following description:

"The requested information concerns the organisation, administration and content of a seminar concerning editorial challenges to the reporting of climate change. The seminar was held in order to provide attendees with an understanding of the existing state of knowledge on the issue of climate change, to identify where the main areas of debate lie,to provoke the imagination of the media to deal with the scope of the issue and to consider the role of the BBC in the public debate."

Lord Hall of Birkenhead, BBC Director General, in written supplementary evidence to the House of Commons Culture Media and Sport Select Committee 25/06/2013:

"The title of the seminar was 'Climate Change, the Challenge to Broadcasting ' … the guests were not 'a panel of climate change experts', nor were they 'advising the BBC on what their approach to climate change should be. Seminars such as this do not set BBC editorial policy on how it covers climate change'".

You just could not have a more explicit conflict of evidence, and surely it really is necessary now to dig down to the truth, however uncomfortable that might be.

With so much at stake where trust in the BBC is concerned, it would seem essential that, as the statutory regulatory body, the BBC Trust should now set up a genuinely independent inquiry into how editorial policy on climate change has been formulated and who has been able to exert influence on that process. If you think that this is the right next step, then you might like to write to the House of Commons Culture Media and Sport Select Committee (cmscom@parliament.uk). If enough people do so, then they just might put some pressure on Lord Patten to act next time he is hauled up in front of them. He has been on the receiving end of some pretty rough handling by that committee recently.

There is still a great deal more to come out about this matter, and I think that the best thing that I can do at the moment is attempt to answer any questions that people might have.

The Disclosed Documents

Documents that Terry Sanders obtained from DFID concerning IBT funding. These include a very recent additional disclosure which names some senior BBC executives and shows that Mark Thompson, then Director General of the BBC, was directly involved in negotiations over the seminar programme with the IBT.

1 IBT application for DFID funding.pdf

2 Correspondence.pdf

3 Grant Agreement.pdf

4 Grant Approval.pdf

5 Financials.pdf

6 Addional disclosure BBC names.pdf

The documents that I have obtained from the BBC, including lists of attendees, their brief biogs, Jana Bennett's opening remarks, and a briefing document and some administrative documents.

1 BBC diclosures.pdf

2 BBC disclosures.pdf

Some of the files are quite large and may take some time to download.

Full story



3) Andrew Montford: The Propaganda Bureau
Bishop Hill

In October 2007, while looking for something interesting to read, I came across a blog posting about a leaked BBC email. While it was interesting, it appeared relatively insignificant. There was no hint that this was to be the beginning of an investigation that would span more than four years and to lead to one of the greatest scandals in the history of the BBC.
This long article tells the story of how two determined bloggers unearthed a plot by environmentalists and BBC journalists to subvert the corporation's output, excluding global warming sceptics from the airwaves.

Previously published under the title "Conspiracy in Green" this new edition updates the story to the end of 2012, describing how the details of the BBC's mysterious seminar were finally uncovered.

Full details



4) Christopher Booker: The BBC And Climate Change: A Triple Betrayal
The Global Warming Policy Foundation
This report, published by the Global Warming Policy Foundation in 2011, reveals that the BBC has failed in its professional duty to report accurately and objectively on the issue of climate change, one of the biggest scientific and political stories of our time.





Written by Christopher Booker, one of the UK's most seasoned journalists, the report critically reviews the BBC's coverage of climate change issues against its statutory obligation to report 'with due accuracy and impartiality'.



The BBC and Climate Change: A Triple Betrayal shows that the BBC has not only failed in its professional duty to report fully and accurately: it has betrayed its own principles, in three respects:



First, it has betrayed its statutory obligation to be impartial, using the excuse that any dissent from the official orthodoxy was so insignificant that it should just be ignored or made to look ridiculous.





Second, it has betrayed the principles of responsible journalism, by allowing its coverage to become so one-sided that it has too often amounted to no more than propaganda.





Third, it has betrayed the fundamental principles of science, which relies on unrelenting scepticism towards any theory until it can be shown to provide a comprehensive explanation for the observed evidence.





"Above all, the BBC has been guilty of abusing the trust of its audience, and of all those compelled to pay for it. On one of the most important and far-reaching issues of our time, its coverage has been so tendentious that it has given its viewers a picture not just misleading but at times even fraudulent," Christopher Booker said.





In the foreword to the GWPF report, Sir Antony Jay writes:





"The costs to Britain of trying to combat global warming are horrifying, and the BBC's role in promoting the alarmist cause is, quite simply, shameful."



The full report is available here