CCNet 17/07/14
Australia Becomes First Developed Nation to Repeal Carbon Tax
Tony Abbott's Victory As Aussies Repeal Carbon Tax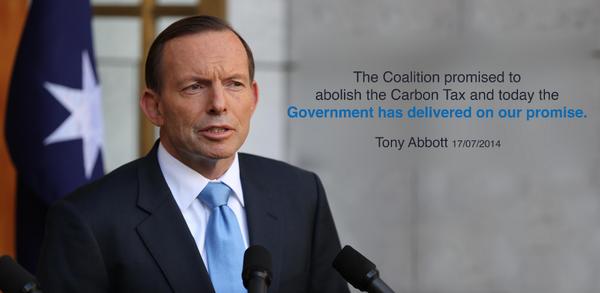 After almost a decade of heated political debate, Australia has become the world's first developed nation to repeal carbon laws that put a price on greenhouse gas emissions. In a vote that could highlight the difficulty in implementing additional measures to reduce carbon emissions ahead of global climate talks next year in Paris, Australia's Senate on Wednesday voted 39-32 to repeal a politically divisive carbon emissions price that contributed to the fall from power of three Australian leaders since it was first suggested in 2007. --Rob Taylor and Rhiannon Hoyle, The Wall Street Journal, 17 July 2014




If I could address a few words to the Australian people – you voted to scrap the tax in September last year and today the Parliament finally listened. Today, the tax that you voted to get rid of is finally gone. A useless, destructive tax which damaged jobs, which hurt families' cost of living and which didn't actually help the environment is finally gone. --Prime Minister Tony Abbott, Canberra, 17 July 2014



1) It's All Over: Australia Becomes First Developed Nation to Repeal Carbon Tax - The Wall Street Journal, 17 July 2014

2) Australia Repeals Carbon Tax, Greens Concerned, Sceptics Vindicated - The New Economy, 17 July 2014

3) Tony Abbott's Victory As Aussies Repeal Carbon Tax - The Australian, 17 July 2014

4) Australia Abandons Disastrous Green Tax On CO2 Emissions - The Daily Telegraph, 17 July 2014




Out of the confusion, conspiracy and chaos of the Senate's tortured carbon tax debate, has wrought a victory. After campaigning against a "carbon tax'' at two elections and tapping into public dissatisfaction over Labor's climate change policy for more than five years, the Prime Minister can declare the carbon tax repealed. With his budget and political standing under pressure Abbott dearly needed a clear victory. Today he has it. The carbon tax is repealed and his biggest promise is fulfilled. Climate change policy is now left in abeyance, while consumers will expect lower prices for electricity and gas. --Dennis Shanahan, The Australian, 17 July 2014





Policymakers have voted to abolish Australia's tax on carbon emissions, to the delight of some and the dismay of others. The policy change was not welcomed by all. The Climate Institute, for one, released a damning indictment of the government's stance. Other sources have seen the decision as proof that a carbon tax may not be the best fix in global effort to tackle climate change. "Today's decision is a very significant development for climate policy," says Benny Peiser, Director of the Global Warming Policy Foundation. "It is proof that unilateral carbon taxes or other costly climate policies are unsustainable in the absence of an international agreement." --The New Economy, 17 July 2014




In the history of taxes, Australia's levy on carbon emissions must go down as one of the most unsuccessful in history. Tony Abbott, Australia's centre-right Prime Minister, finally made good on his pre-election pledge after his government repealed the measure introduced by his Labor predecessor Julia Gillard. Poorly thought out and highly unpopular, the tax is almost unique in that it generated virtually no revenue for the Australian Treasury, contributed to the rising costs that have taken the gloss off the country's resources boom and essentially brought down Ms Gillard's former Government. --Andrew Critchlow, The Daily Telegraph, 17 July 2014




The lesson here is that voters are not easily deceived when politicians try to conceal the costs of their environmental ambitions. Nor do emissions restrictions grow more popular the more politicians try to sell them. Another lesson is that real leaders are not afraid to challenge a stifling political consensus. When global warming alarmism was dominant in late 2009, Mr Abbott — encouraged by people like us — had the political nerve and moral conviction to provoke people into questioning the religious fervour of carbon pricing. To wit, he has been able to pioneer a new direction in climate policy that has transformed Australian politics. Bring out the champagne! --The Spectator Australia 12 July 2014





1) It's All Over: Australia Becomes First Developed Nation to Repeal Carbon Tax
The Wall Street Journal, 17 July 2014

Rob Taylor and Rhiannon Hoyle

After almost a decade of heated political debate, Australia has become the world's first developed nation to repeal carbon laws that put a price on greenhouse gas emissions.

In a vote that could highlight the difficulty in implementing additional measures to reduce carbon emissions ahead of global climate talks next year in Paris, Australia's Senate on Wednesday voted 39-32 to repeal a politically divisive carbon emissions price that contributed to the fall from power of three Australian leaders since it was first suggested in 2007.

Australia, the world's 12th largest economy, is one of the world's largest per capita greenhouse gas emitters due to its reliance on coal-burning power stations to power homes and industry. In 2011, daily emissions per head amounted to 49.3 kilograms (108 pounds), almost four times higher than the global average of 12.8 kilograms, and slightly ahead of the U.S. figure of 48.2 kilograms.

The former Labor government, while introducing a price on carbon, said the move would help slash emissions by 160 million metric tons by 2020. It offered voters billions of dollars in compensation through tax breaks and welfare payments for increased costs stemming from one of the most dramatic reforms ever attempted in the energy-reliant economy.

But after the global financial crisis took hold in 2008, followed by the end of a decadelong mining boom in 2012 that slowed growth and employment in the A$1.5 trillion (US$1.4 trillion) economy, Australian voters turned against climate laws—recognized by the International Energy Agency as model legislation for developed countries—blaming them for rising energy bills and living costs.

The World Bank in May produced a State and Trends of Carbon Pricing report counting carbon pricing programs in 40 nations and 20 regions worth a collective US$30 billion, while also singling out repeal plans in Australia as one of the biggest international threats to the rollout of similar programs elsewhere, given its example.

Prime Minister Tony Abbott, who made a pre-election "pledge in blood" to voters and business to prioritize growth above climate shift, delivered on his promise after independent senators with deciding votes in the upper house sided with his conservatives, following a power shift this month that ended years of domination by the pro-environment Greens party.

"Today the tax that you voted to get rid of is finally gone, a useless destructive tax which damaged jobs, which hurt families' cost of living and which didn't actually help the environment is finally gone," a jubilant Mr. Abbott told voters in a news conference after the Senate's decision.

He said the carbon price was acting as a A$9 billion a year handbrake on the economy, which was adjusting to the end of a record mining investment boom that helped shield Australia through much of the recent global economic downturn.

Without matching emissions policies in other industrialized countries, Mr. Abbott has said earlier the tax was an unfair shackle on local companies and individuals, unequaled except in Europe, where an emissions market has operated since 2005.

Labor and Green opponents of the government said the repeal would make the country an international "pariah" on efforts to combat climate change.

Full story




2) Australia Repeals Carbon Tax, Greens Concerned, Sceptics Vindicated
The New Economy, 17 July 2014

Policymakers have voted to abolish Australia's tax on carbon emissions, to the delight of some and the dismay of others

After years of fraught discussion, Australia's Senate has voted to abolish the country's tax on carbon emissions, first introduced under the previous Labour government. The stance falls in line with Prime Minister Tony Abbott's "pledge in blood" to "axe the tax", and has been welcomed by Liberals who have long maintained the policy punishes legitimate businesses.

The carbon-pricing scheme came into effect only two years ago, and was but a single facet of Australia's complex stance on climate policy. Public concerns over the country's wayward emissions have long come up against the might of the country's mining and hydrocarbons sectors, which together represent a significant share of the national economy.

However, the policy change was not welcomed by all. The Climate Institute, for one, released a damning indictment of the government's stance. The organisation's CEO, John Connor, called it: "An historic act of irresponsibility and recklessness."

"With the Senate's vote today, Australia not only lurches to the back of the pack of countries taking action on climate, but sees the responsibility of emission reductions shift from major polluters to the taxpayer," he added. "The last seven years have been a sorry and sordid tale of greed, incompetence and rotten luck, which has reduced Australian policy making to scaremongering, self-interest and reckless short termism."

Other sources have seen the decision as proof that a carbon tax may not be the best fix in global effort to tackle climate change. "Today's decision is a very significant development for climate policy," says Benny Peiser, Director of the Global Warming Policy Foundation. "It is proof that unilateral carbon taxes or other costly climate policies are unsustainable in the absence of an international agreement."

Full story




3) Tony Abbott's Victory As Aussies Repeal Carbon Tax
The Australian, 17 July 2014

Dennis Shanahan

Out of the confusion, conspiracy and chaos of the Senate's tortured carbon tax debate, Tony Abbott has wrought a victory.

After campaigning against a "carbon tax'' at two elections and tapping into public dissatisfaction over Labor's climate change policy for more than five years, the Prime Minister can declare the carbon tax repealed.

With his budget and political standing under pressure Abbott dearly needed a clear victory.

Today he has it. The carbon tax is repealed and his biggest promise is fulfilled.
Climate change policy is now left in abeyance, while consumers will expect lower prices for electricity and gas.

Full comment




4) Australia Abandons Disastrous Green Tax On CO2 Emissions
The Daily Telegraph, 17 July 2014

Andrew Critchlow

Prime Minister Tony Abbott has finally won backing to end the tax on carbon emissions Down Under, signalling the pointlessness of such schemes

Australian Prime Minister Tony Abbott abolishes carbon tax on emissions Photo: AFP/Getty Images

In the history of taxes, Australia's levy on carbon emissions must go down as one of the most unsuccessful in history.

Tony Abbott, Australia's centre-right Prime Minister, finally made good on his pre-election pledge after his government repealed the measure introduced by his Labor predecessor Julia Gillard.

Poorly thought out and highly unpopular, the tax is almost unique in that it generated virtually no revenue for the Australian Treasury, contributed to the rising costs that have taken the gloss off the country's resources boom and essentially brought down Ms Gillard's former Government.

The repeal of the tax, which will be replaced by a scheme that will offer companies grants to help Australia meet its target of cutting emissions by 5pc by 2020, is a bitter blow for campaigners who have claimed that harsh green taxes are required to head off climate change.

Although British Prime Minister David Cameron has so far resisted calls for a direct tax on carbon emissions in the UK, the bill for green policies is rising in the UK. Households and businesses paid a record £43bn in green taxes in Britain last year.

The total green tax revenues for 2013 are the equivalent of £1,629 for every household - up from £1,564 in 2012 and £1,221 per household in 2003.

A series of environmental disasters Down Under coupled with the Australian Labor Party's reliance on an uneasy coalition with the Greens forced Ms Gillard – who had come to power after ousting her predecessor and long-term political rival Kevin Rudd – to press ahead with a controversial so called "carbon tax" on emissions.

The tax, which almost cost the Australian government more to collect than it raised in actual revenue, or achieved in terms of a better environment, was politically motivated and poorly thought out in terms of hard economics.

The tax was designed to hit the country's biggest emitters of carbon pollution such as mining and energy companies. Instead it added to the uncertainty hanging over the resources boom, the main driver for the Australian economy.

It also ignored the impact that China is having on global carbon emissions. China's polluted capital Beijing is probably a bigger threat to the world's environment than a small country like Australia.

Unfortunately for Ms Gillard, the carbon tax policy was so unpopular that it contributed to her downfall just weeks ahead of a general election at the hands of her long-time political foe Mr Rudd.

Full story