CCNet 26/02/14
German Government Advisers Call For Abolition Of Renewables Subsidies
Energy Costs: BASF To Shift Its Investment Outside Europe


German Chancellor Angela Merkel won't like to hear this advice from her advisers: While her government is working hard to reform renewable energy laws, a commission of experts appointed by the Bundestag is recommending to completely abolish the Renewable Energy Sources Act (EEG). In its annual report, the the Expert Commission on Research and Innovation concludes that the Green Energy Law is neither a cost-effective tool for climate protection nor does it have any measurable impact on innovation. "For both reasons, therefore, there is no justification for the continuation of the EEG ," concludes the report which will be presented to the Chancellor on Wednesday . --Andreas Mihm, Frankfurter Allgemeine Zeitung, 25 February 2014


BASF, the world's biggest chemical maker by sales, will make the most of its capital investments outside Europe for the first time, as it responds to the continent's higher energy costs and growing demand in North America and emerging markets such as China. "In Europe we have the most expensive energy and we are not prepared to exploit the energy resources we have, such as shale gas. We have relatively high wage costs and we have a stagnating market," said Kurt Bock, BASF chief executive. Mr Bock has been a prominent critic of German and European Union climate and energy policies, arguing these are ineffective, raise costs for industry and cause job losses. --Chris Bryant, Financial Times, 26 February


As Europe starts to emerge from its worst recession since the Second World War, policymakers are reconsidering the EU's global leadership on climate change for fear that it might hinder the fledgling recovery. For industry ministers, this means environmental policies such as climate change need to be considered in a broader context, which also looks at their impact on industrial activity. "The political climate is totally different" today than it was before the financial crisis erupted in 2008, said Kostis Hatzidakis, the Greek minister for development and competitiveness who chaired last week's ministerial meeting. "There is a shift towards industrial policy," Hatzidakis added. "I think all of us have realised the mistakes committed in the past." --EurActiv, 25 February 2014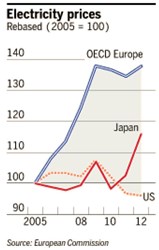 If anyone thinks Germany's move to renewable energies has been a success, you may want to take a few minutes and read what center-left news weekly Der Spiegel has just written. Overall Germany's energy revolution has made the country's energy unaffordable, unreliable and has ruined its own idyllic landscape, and ravaged rainforests abroad as well. "Rising energy costs are becoming a problem for more and more citizens in Germany. Just from 2008 to 20111 the share of energy-poor households in the Federal Republic jumped from 13.8 to 17 percent." Much of the rapid increase in energy prices is owing to Germany's growth in expensive wind and solar energy. Ironically, despite more than 20% of Germany's energy now being supplied by renewables, CO2 emissions have been rising just the same. --Pierre Gosselin, No Tricks Zone, 24 February 2014

The great irony of Germany's Energiewende – its recent "green" energy transformation – has been a sudden revival of the country's coal industry. Environmentalists held up Germany as a global green paragon at the start of the Energiewende; its spectacular failure is a warning to the rest of the world of the dangers of letting starry-eyed greens push through reactionary energy policies. --Walter Russell Mead, The American Interest, 18 February 2014




The biggest issue facing the American economy, and our political system, is the gradual descent of the middle class into proletarian status. Neither party has a reasonable program to halt the decline of the middle class. Previous generations of liberals recognized broad-based economic growth was a necessary precursor to upward mobility and social justice. However, many in the new wave of progressives engage in fantastical economics built around such things as "urban density" and "green jobs," while adopting policies that restrict growth in manufacturing, energy and housing. --Joel Krotkin, Forbes, 16 February 2014



1) German Government Advisers Call For Abolition Of Renewables Subsidies - Frankfurter Allgemeine Zeitung, 25 February 2014

2) Energy Costs Force BASF To Shift Its Investment Outside Europe - Financial Times, 26 February

3) EU Eyes Softer Climate Policies To Fuel 'Industrial Renaissance' - EurActiv, 25 February 2014

4) 17% Of All German Households Now In Energy Poverty - No Tricks Zone, 24 February 2014

5) Germany's Green Energy Fiasco: A Warning To The Rest Of The World - The American Interest, 18 February 2014






1) German Government Advisers Call For Abolition Of Renewables Subsidies
Frankfurter Allgemeine Zeitung, 25 February 2014

Andreas Mihm

Germany's Chancellor Angela Merkel won't like to hear this advice from her advisers: While her government is working hard to reform renewable energy laws, a commission of experts appointed by the Bundestag is recommending to completely abolish the Renewable Energy Sources Act (EEG).

In its annual report, the the Expert Commission on Research and Innovation concludes that the Green Energy Law is neither a cost-effective tool for climate protection nor does it have any measurable impact on innovation. "For both reasons, therefore, there is no justification for the continuation of the EEG ," concludes the report which will be presented to the Chancellor on Wednesday .

The expert commission lists a number of reasons for their radical advice: There is the spiraling cost of 22 billion euros in green energy subsidies last year; there is also the over-estimated impact of climate change and especially the threat posed by the promotion "very low technology-specific innovation impact in Germany " . The technology argument in particular plays an important role in the political debate. [...]

The EEG stipulates the subsidies for the sale of electricity from renewable energy sources. This enlarges the market for renewable technologies. The result is that the subsidies incentivise companies to exploit market potential rather than invest in research and development. Due to the rapid expansion of old technologies, accompanied by cost reductions, barriers to entry for new technologies could also emerge. The conclusion of the expert committee is devastating: "The EEG can not be justified in its current form, not least from the perspective of innovation policy."

The Commission also state that the promotion of renewable energy does not contribute to climate protection since the EU's carbon dioxide emissions for energy-intensive industries are capped by the emissions trading scheme. Consequently, the EEG-triggered expansion of renewable energy for electricity supply in Europe would not avoid any additional CO2 emissions, but only shift them. "The Renewables Energy Sources Act does not produce any additional climate protection but it makes it much more expensive."

Full story






2) Energy Costs Force BASF To Shift Its Investment Outside Europe


Financial Times, 26 February

Chris Bryant

BASF, the world's biggest chemical maker by sales, will make the most of its capital investments outside Europe for the first time, as it responds to the continent's higher energy costs and growing demand in North America and emerging markets such as China.

Compared with the US, where chemical companies are enjoying a resurgence thanks to low-cost shale gas, and China, where producers are switching to inexpensive coal as a feedstock, European chemical makers are competing at a significant disadvantage.

Meanwhile, Europe's chemical market is stagnating because of the recession, making investments in the US and emerging markets appear more attractive.

Therefore over the next five years BASF plans to invest 49 per cent of its €20.2bn capital expenditure budget in Europe, compared with two-thirds of total capex (including acquisitions) in the 2009-2013 period.

"In Europe we have the most expensive energy and we are not prepared to exploit the energy resources we have, such as shale gas. We have relatively high wage costs and we have a stagnating market," said Kurt Bock, BASF chief executive.

Mr Bock has been a prominent critic of German and European Union climate and energy policies, arguing these are ineffective, raise costs for industry and cause job losses.

Full story

Euro Area Unemployment Rate
Europe Industrial Production Index
Source: European Central Bank

3) EU Eyes Softer Climate Policies To Fuel 'Industrial Renaissance'
EurActiv, 25 February 2014

As Europe starts to emerge from its worst recession since the Second World War, policymakers are reconsidering the EU's global leadership on climate change for fear that it might hinder the fledgling recovery.
Inspired by France and Germany, which are seeking ways to re-start European manufacturing to fuel a new generation of jobs, the talk in Brussels is now all about re-balancing business and environmental objectives.

"Several member states pointed to the need for a more balanced approach between the EU's industrial, energy and climate policies," stated the EU's 28 industry ministers after a meeting of the Competitiveness Council in Brussels last week (20-21 February).

Policymakers should take "a systematic consideration of competitiveness concerns across all policy areas," said the ministers, who were preparing for a discussion on industrial policy among the European heads of states and governments later in March.

Antonio Tajani, the EU commissioner in charge of industry and enterprise, has taken several initiatives over the past years to tackle Europe's industrial decline. In a new policy strategy unveiled in October 2012, he declared the aim to raise industrial activity to 20% of EU gross domestic product by 2020, compared to 16% today, taking it back to pre-crisis levels.

According to the Italian commissioner, those initiatives are starting to pay off politically, with a growing realisation that manufacturing activity in Europe also generates investments and jobs in other sectors, including services.

Political climate is 'totally different'

For industry ministers, this means environmental policies such as climate change need to be considered in a broader context, which also looks at their impact on industrial activity.
"The political climate is totally different" today than it was before the financial crisis erupted in 2008, said Kostis Hatzidakis, the Greek minister for development and competitiveness who chaired last week's ministerial meeting.

"There is a shift towards industrial policy," Hatzidakis added. "I think all of us have realised the mistakes committed in the past."

Underlining this new approach, Tajani said the European Commission's industrial renaissance strategy, unveiled in January, for the first time looked at energy policy, climate change, and shale gas "altogether" in a single package, putting them on equal footing.

"It's important to have an achievable target for our companies," he added, referring to the EU's proposed new climate and energy objectives for 2030.

The ministerial statement is music to the ears of employer association BusinessEurope, which has long been pushing for the EU to reconsider its "unilateral" stance on climate change.

Business groups have long complained about the EU's 2020 climate policy, which commits European manufacturers to reduce carbon dioxide emissions by 20% by the end of the decade. Competitors in Asia or the US have no such commitments, warns BusinessEurope, making investments in Europe less attractive.

Full story




4) 17% Of All German Households Now In Energy Poverty
No Tricks Zone, 24 February 2014

Pierre Gosselin

If anyone thinks Germany's move to renewable energies has been a success, you may want to take a few minutes and read what center-left news weekly Der Spiegel has just written.

Overall Germany's energy revolution has made the country's energy unaffordable, unreliable and has ruined its own idyllic landscape, and ravaged rainforests abroad as well.

Spiegel focuses on the costs in its article titled: Cost explosion with electricity, oil, gas: energy poverty in Germany is increasing drastically. The online flagship news weekly writes:

"Rising energy costs are becoming a problem for more and more citizens in Germany. Just from 2008 to 20111 the share of energy-poor households in the Federal Republic jumped from 13.8 to 17 percent."

Energy poverty is defined by the number of households that must pay more than 10% of their net income on energy. All told 6.9 million German households (every 6th household) finds itself in energy poverty, Spiegel writes.

Much of the rapid increase in energy prices is owing to Germany's growth in expensive wind and solar energy. Ironically, despite more than 20% of Germany's energy now being supplied by renewables, CO2 emissions have been rising just the same.

Full story




5) Germany's Green Energy Fiasco: A Warning To The Rest Of The World
The American Interest, 18 February 2014

Walter Russell Mead

The great irony of Germany's Energiewende – its recent "green" energy transformation – has been a sudden revival of the country's coal industry. It is a warning to the rest of the world of the dangers of letting starry-eyed greens push through reactionary energy policies.

In the wake of the 2011 Fukushima disaster, Berlin elected to bow to public pressure and phase out its nuclear reactors. At the same time, it heavily subsidized wind and solar energy with guaranteed above-market prices for producers. But this wasn't a like-for-like replacement.

Nuclear energy is a baseload power source, while renewables—which struggle to produce when the wind isn't blowing and the sun isn't shining—are best used as a supplementary source for when demand peaks over the course of a day. Which is why, after Germany shut down its (zero-emissions) nuclear power plants, it has had to start digging up one of the dirtiest fossil fuels around: brown coal. And, as the NYT reports, the energy imperative to get that coal out of the ground may bring about the razing of entire villages as a kind of collateral damage.

It may not be the end of the world, but it could be the end of Atterwasch, population 241. While Chancellor Angela Merkel has promised her country a future virtually free of fossil fuels, it may seem strange that this village in eastern Germany, and two neighboring ones, are still fighting plans to wipe them, quite literally, off the map.

But Germany's sudden hunger for coal has emerged as the dirty side of Ms. Merkel's ambitions to shut down the country's nuclear power plants by 2022 and eventually move Germans mostly to renewable energy. In fact, last year Germany burned more brown coal than at any time since its Communist-era factories began closing in 1990, according to AG Energiebilanzen, an association that tracks energy consumption.

When nuclear plants fail, they often do so in spectacular and devastating fashion, as we saw in Chernobyl and Fukushima. But the technology and safeguards in place have come a long way since Chernobyl, and most countries aren't as dangerously situated along tectonic faults the way Japan is. Properly sited, the risks of disaster are minuscule, which makes Germany's decision to shut it all down curious (if we're being kind).

But the German greens got their way, and are now reaping what they sowed: rising electricity costs, rising emissions, and rising coal use. Environmentalists held up Germany as a global green paragon at the start of the energiewende; its spectacular failure is a warning to the rest of the world of the dangers of letting starry-eyed greens push through reactionary energy policies.