Somerset Local Food Update, November 2013
Hello & welcome to the Somerset Local Food Update brought to you by
Incredible Edible Somerset.
We hope you find this information useful & inspiring.
Community Growers Come Together in Taunton
More than 30 people came together for the Community Growers Gathering that took place on Saturday 19th October 2013, three days after World Food Day.
People traveled from across the South West to participate in the day. Click here to read a write-up of the day & see the links to resources generated.


Could you help organise with Incredible Edible Somerset?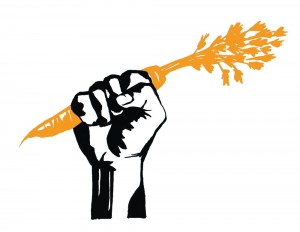 Incredible Edible Somerset is fortunate to have received funding & support from local Somerset Community Food as part of the Somerset Land & Food Project, which unfortunately comes to an end in December.
Now its up to the 170+ people that are on the website, and the hundreds more that have participated in events and projects for the last four years to decide what next for Incredible Edible Somerset, how to keep this fruitful network going.
If you would be interested in joining a working group to support this grassroots network to stay alive and connected please email
nicole.vosper@somersetcommunityfood.org.uk
. A working group meeting is planned for January and exciting ideas are already circulating.
New Course with Charles Dowding
Somerset Market Gardener & Author Charles Dowding has designed a new course to introduce learners to No Dig Market Gardening at more of a commercial scale. It is taking place on December 14th & 15th 2013. For more information and to book visit:
http://incredible-edible-somerset.ning.com/profiles/blogs/weekend-course-on-no-dig-market-gardening
Featured Project: Oxford Real Farming Conference
So its not in Somerset but we wanted to promote an important food & farming event that takes place every January - The Oxford Real Farming Conference. The ORFC gathers farmers, activists, researchers and consumers to discuss the future of food and farming. It is full of interesting speakers, workshops & farm visits and looks at all the social, economic and ecological issues involved in transforming our food system. Click here for full information about the Conference: http://www.oxfordrealfarmingconference.org. Book your place today.

Send us your news
The Somerset Local Food Update is your chance to let other people know about all the great projects happening around the county. Please share your story and keep us updated with latest events, volunteering opportunities and ways people can support you. Email Nicole if you would like to be featured