An Archipelago event in New York City!
---
Friday, September 14: Archipelago Books presents
A fall celebration with lively readings by Archipelago translators
@ BookCourt
163 Court Street
Brooklyn, NY
Friday, September 14, 7-10 p.m.
Join Archipelago Books and BookCourt for an evening of readings of international literature with Archipelago translators. Wine and cheese reception to follow.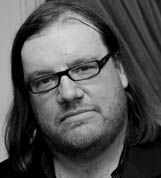 Sinan Antoon is an Iraqi poet, novelist, and translator. His translation of Mahmoud Darwish's In the Presence of Absence has been shortlisted for the Banipal Translation Prize and received an Honorable Mention for the PEN Translation Prize. He is the author of The Baghdad Blues, I`jaam: An Iraqi Rhapsody, and The Pomegranate Alone. He is Assistant Professor of Arabic literature at New York University
.
Ross Benjamin's translations from the German include Joseph Roth's Job and Friedrich Holderlin's Hyperion. His work has appeared in Bookforum, The Nation, The Times Literary Supplement, The New York Times, and other publications. He was a 2003-2004 Fulbright Scholar in Berlin, and he won the 2010 Helen and Kurt Wolff Translation Prize for his rendering of Michael Maar's Speak, Nabokov.
Richard Sieburth
's
translations from the French include Henri Michaux's Stroke by Stroke, Gérard de Nerval's The Salt Smugglers, Maurice Scève's Emblems of Desire, and from the German, Georg Buchner's Lenz. His English edition of the Nerval won the 2000 PEN/Book-of-the-Month-Club Translation Prize, and his translation of Maurice Scève was a finalist for the PEN Translation Prize and the Weidenfeld Prize.
Alyson Waters' translations from the French include Eric Chevillard's Prehistoric Times, Albert Cossery's A Splendid Conspiracy and The Colors of Infamy, Vassilis Alexakis's Foreign Words, Re
né
Belletto's Coda, and
—
with Donald Nicholson-Smith
—
Yasmina Khadra's Cousin K. She was named a Chevalier dans l'Ordre des Arts et des Lettres by the French government, and lives in Brooklyn and teaches at Yale University and New York University.
Peter Wortsman
's translations from the German include
Selected Tales of the Brothers Grimm
(forthcoming from Archipelago Books, April 2013), Heinrich Heine's
Travel Pictures
, Peter Altenberg's
Telegrams of the Soul
,
Selected Prose of Heinrich von Kleist
, and Robert Musil's
Posthumous Papers of a Living Author.
Wortsman was the recipient of the 1985 Beard's Fund Short Story Award, the 2008 Gertje Potash-Suhr Prosapreis of the Society for Contemporary American Literature in German, and the 2012 Gold Grand Prize for Best Travel Story of the Year in the Solas Awards Competition. He was a Fulbright Fellow in 1973, a Thomas J. Watson Foundation Fellow in 1974, and a Holtzbrinck Fellow at the American Academy in Berlin in 2010.